Self Caring
Why It's Important to Ask, "What Are My Limits?"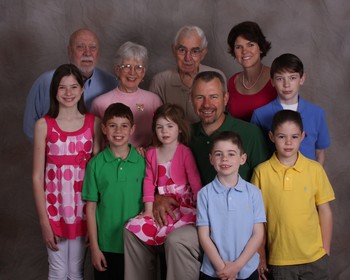 All Rights Reserved
I know a lot of caregivers. But the uber-caregiverest of them all has to be Laura, my sister-in-law. She's a mom of six young kids, ages 4 to 13, and caregiver to her live-in semi-independent parents, in their 80s. (Her mom has congestive heart failure.) My dad (dementia, strokes, renal cancer) lived there, too, until he died last fall. Laura gave up her study, which her husband, my brother Paul, converted to a bedroom suite by adding a door to the adjoining bathroom and converting Laura's kitchen pantry into a shower. (He's not only an ubercarer, as well, but also a darn handy builder.)
Everybody who knows Laura wonders, How does she do it? It was only after the roughest patches that I learned her secret. (And no, it doesn't involve alcohol, magic, cloning, or extensive outsourcing.)
It's knowing your boundaries. Through trial and error, she (and Paul) had to figure out their limits and then figure out how to work within them, as well as what to do about the stuff that threatened to push them over the limit.
Which is harder than it sounds, of course. But it really is how they survived.
Laura had started by trying to "do it all" -- a.k.a. be everything to everyone. She ended up in the E.R. It was a couple of years into her mega-caregiving, when in one dark patch she broke her ankle, her 28-year-old cat died, and several family members got sick simultaneously. She developed terrible insomnia but couldn't get out of bed. She couldn't eat. She flat-out couldn't function. Doctors finally pronounced her physically healthy but emotionally and mentally exhausted.
The couple re-evaluated. They looked at where their time, energy, and money were going to assess what was working well and what was hooey. They took others up on offers of help more often than in the past. They called a family meeting to get the kids on board with some new ideas. Laura began seeing a therapist, too, for a nudge toward putting herself first and learning tools to make it happen.
In defining limits, they decided things like:
Can take Dad in, can't mind him 24/7. Solution: Use Dad's savings to hire an elder companion (from a local branch of Home Instead) to play cribbage with him, drive him to doctor appointments, where my brother would meet them, taking less time out from work.

Can cook for everyone, can't manage all the food bills. Solution: The elders help pay for groceries (and utilities), in exchange for hot meals.

Can clean house, can't do it perfectly. Solution: Lower personal standards and learn to "bless this mess" "" and ignore the raised eyebrows of her mom, who prefers less clutter.

Can continue the busy activities of family life, can't do everything, though. Solution: Cut back on the number of sports and activities the kids are involved in, lean more heavily on church carpools. On summer Friday evenings, they host "open barbecue pool parties," in which neighbors are invited to drop by without an RSVP, just swim clothes and something to grill -- keeping their social life alive in a manageable, low-key way.
But here's the real secret, in Laura's own words: "Once your parameters are set, don't dust off the superhero cape and assume more responsibility than you knew you could handle back when you were in your normal mode."
In other words, figure out before it gets nuts what you can reasonably manage and stick to it. As circumstances warrant, bring in more outside resources rather than pulling much more from within. Don't be the poor frog who swims along in the pail of water, struggling to adjust to the gradually increasing temperature instead of hopping out -- until it's too late to hop and he's boiled alive.
Boiled frog, fried caregiver, same ouch!