Dad Has Dementia
Week 27: Suddenly, Dad Is Dying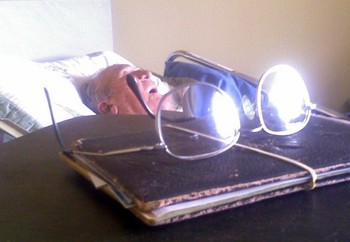 All Rights Reserved
It's going to be difficult to summarize this in 500 words or less, so bear with me.
When I returned from my disastrous trip to the family home after Father's Day, I discovered that Dad could barely walk -- and was dismayed that no one was taking him to the doctor to treat his ailments. Let me recap.
Dad fell twice in the two weeks prior to my trip to see Mom. I witnessed the first fall, in his bedroom, and assessed him for fractures. He seemed okay.
The second fall occurred about two days before my trip. Lee, coming to bed at 12:30pm, found Dad lying on his bedroom floor, with the light on, his mattress and box spring strewn about. We have no idea how long Dad was lying there "" or how he found the strength to dismantle his bed. Nonetheless, I again assessed Dad for fractures, but he seemed all right. Lee (mainly) got Dad up off the floor and onto his walker. We reassembled his bed and put Dad in it. He was limping around with his walker the next day.
He definitely wasn't all right when I returned from my trip.
Severely hobbled on the right side, Dad could barely walk. I took him to urgent care the next day, and X-rays were negative (thank goodness!). The physician said he suspected Dad had a groin pull and a torn bursa on the right hip. He recommended not bed rest but walking 5 to 6 times per day. We complied.
The following Wednesday, I had to help Dad get to the toilet in the morning. He fell getting up, but I was there to catch him and pivot him onto his walker. Then Dad, the man who could endure anything, admitted to me, "I can't walk anymore. Please wheel me out to my recliner." I did as he asked, but he could no longer bear weight on his good leg, so I couldn't transfer him to his recliner. At that point, as an alternative to nursing home placement, I called a hospice provider to assess him, fearing the worst.
Dad was admitted to hospice that day. The consummate farmer and outdoorsman has been bed-bound ever since.
Within 24 hours of my call to hospice, a hospital bed was delivered, Dad was moved out of his bedroom, a nurse was assigned, and his medications were titrated to maximize comfort. As I write this, he's well-sedated and peaceful in his new bed in what formerly was our dining room.
My dad is dying. Maybe it's the dementia. Maybe it's his congestive heart failure. Maybe it's the many mini-strokes he's had.
Whatever the cause, my dad is dying. How did he go from vital gardener to barely coherent invalid in just two short weeks? And how will I ever survive without him?