Dad Has Dementia
Week 1: Dad Moves In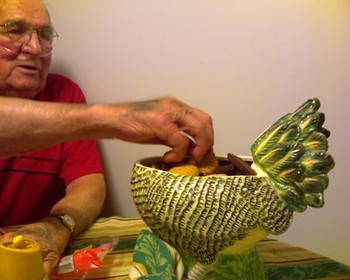 All Rights Reserved
It started with a frantic phone call from my mother. "Your dad just threatened to kill me."
I tried to remain calm, asking Mom what, exactly, Dad had said.
"He barged into my bedroom after I was asleep. You know that big flashlight Margaret and Dave got him for Christmas last year? He shook it at me and told me he was going to kill me for cheating on him."
Three months ago, Dad was diagnosed with dementia.
It wasn't supposed to be like this. Dad was always the sane one in the family, the one who stood by my mom through a serious bout with mental illness. Dad was the one who held the family together and maintained a sense of normalcy for his three children. He was a man known for common sense and rationality. He was the guy everyone in the extended family consulted on important matters. He was our rock.
Now, suddenly, he's not rational. He thinks my mother is having affairs with numerous men and has become obsessed with punishing her for her "transgressions."
After this overt threat of violence, I realized intervention was in order. I talked it over with my husband and siblings.
My sister lives in a remote area of the Colorado mountains. She has a husband and small son. My brother and sister-in-law recently saw their youngest child graduate from college. They're successful professionals in Texas. They already care for my sister-in-law's dad, recently widowed and suffering from a stroke.
I'm a nurse. My husband, Lee, and I have no children at home. We live about 400 miles away from Mom and Dad in sunny Albuquerque. We have a large, ranch-style home with plenty of space for a roommate.
My siblings and I agreed that we wanted to keep Dad out of a nursing home for as long as possible. I told them Lee and I would welcome Dad into our home. My brother and sister seemed relieved to hear it.
And so, the weekend before Christmas, I traveled to Colorado to pick up Dad. Dad thinks he's moving in with us until Mom can sell the house and move to Albuquerque, too. I wasn't entirely comfortable using a pretext to lure Dad here, but I knew he wouldn't come any other way.
Dad has been living with us for three weeks now, and I frequently feel overwhelmed. What am I supposed to do when he breaks down in tears over my mom's "infidelity"? How could I forget to give him his morning pills? Do we need to get in-home caregivers to stay with Dad during the days I'm at work?
My goal with this blog is to share my home care journey with you: the heartbreak and triumphs, the problems and the solutions, even the conversations about how to treat a sweaty scrotum (which has already occurred).
Welcome to my new reality. Maybe it's yours, too.