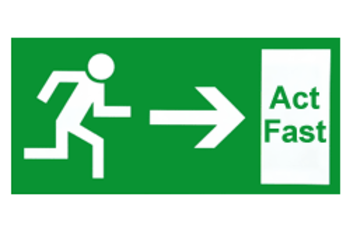 All Rights Reserved
You've noticed that your loved one with dementia is suddenly more confused than usual -- and is perhaps showing other signs of delirium. Now what?
You're right to be concerned. Delirium is common among older adults with dementia and can be a surprising red flag to an undetected serious illness. Here's what to do:
1. Get a medical evaluation, fast.
Delirium can be the primary outward sign of a life-threatening illness.
If you're not already in a hospital setting, consider calling 911 or going to the emergency room if:
There's been a head injury.

There's been a fall or trauma that might have caused a broken bone or other significant injury.

The person is having difficulty maintaining consciousness.

The person is having more trouble breathing than usual.

The person is much weaker than usual or is having difficulty standing.

You notice other signs of an emergent medical problem, such as chest pain or signs of stroke.
If your loved one seems to be delirious but the above situations don't apply, take him or her to an urgent-care appointment. Preferably this should be with the person's primary care provider or someone else familiar with his or her medical history.
If your loved one is hospitalized, bring your concerns to the attention of an attending doctor or nurse immediately. Trust your instincts about what you're observing; you know the person's normal status better than anyone.
Whatever the setting, make sure that the person with dementia doesn't see a medical professional alone or with someone who's unfamiliar with his or her care. It's especially important with suspected delirium that the accompanying person be a caregiver who knows what's typical behavior for the person with dementia.
2. Gather up all medications to bring to the medical evaluation.
Medications are one of the most common causes of delirium in people with dementia. Even if your loved one's delirium isn't found to be due to medications, seeing exactly what he or she has been taking will be helpful to the doctor.
Be sure to include all over the-counter medications used (such as drugs for pain, cough or cold, allergies, and supplements). Also include medications that your loved one should be taking but perhaps hasn't been taking regularly or at all, and medications whose prescriptions have recently ended.
Another step to take if you suspect a loved one with dementia is delirious
3. Be prepared to convey essential information to the medical personnel.
Whenever you discuss delirium with medical personnel, whether at the emergency room, in the hospital, or in the doctor's office, you'll get better help if you're sure to cover certain points.
Note: Doctors often prefer to get most information from caregivers instead of from patients with dementia, because there's a lot to cover and time is often at a premium during a medical visit. You're also likely to be the more accurate reporter of symptoms, medications, and other conditions. (You can invite your loved one to add additional details, when you finish, if he or she feels up to contributing.)
What to cover:
Information about the change in mental status
How long has the person seemed different? What specifically seems worse than usual? Describe the signs of delirium that you see.
Any other abnormal symptoms you notice
Is your loved one grimacing due to pain? Experiencing increased or new incontinence? More short of breath than usual?
Other changes in the person's health situation
For example, was there a recent fall or an increase in falls? Have there been any recent changes to medications prescribed or used? Any new diagnoses?
Whether there are any recent life changes
For example, has your loved one moved to new facility or out of a longtime home? Experienced a change in caregivers? Suffered the death of a spouse or other loved one?
A description of the person's dementia
What stage is the dementia? When was he or she diagnosed? What's your loved one usually like?
For example, explain his or her mental status:
Mildly/moderately/severely forgetful

Mildly/moderately/severely disoriented (not knowing where he or she is or what's going on)

Explain your loved one's functional status -- that is, how well he or she moves:

Can/can't usually manage walking, transferring (getting out of bed/chair)

Moves around with nothing/cane/walker/wheelchair

How far the person can usually walk: just a few feet, around the house, less than a block, a few blocks or more

Whether he or she can usually manage dressing, getting to bathroom, feeding self
A summary of other physical conditions
What other medical conditions (besides dementia) is the person being treated for? Especially relevant conditions may be Parkinson's, previous stroke, COPD, heart failure, coronary artery disease, cancer, and diabetes.
A summary of the living situation
Make sure doctors understand where the person lives: With you? In a nursing home? In assisted living? With a full-time caregiver, or independently with caregivers dropping in?
Whether the person uses drugs or alcohol
If so, say how much.
Contact information
The treating physicians need to know who the person's primary medical doctor is, along with an address and phone number, and how to reach you.