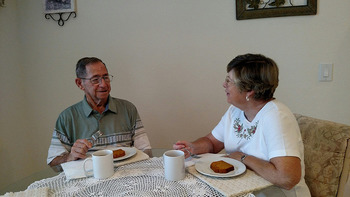 All Rights Reserved
For the more than 40 million Americans now caring for elderly family members, the word "stress" takes on a whole new meaning. While for most of us stress comes in the form of work, financial, or time pressures that come and go in waves, for family caregivers stress is unrelenting and inescapable. That's the picture that emerges from a survey of caregivers conducted by Caring.com in July, 2015. According to these data, four out of ten caregivers spend more than 30 hours a week on caregiving tasks, and caregivers are shouldering a wide range of responsibilities for aging loved ones, from shopping and cooking to bathing and dressing. It's an enormous job, and one that comes at a high cost, affecting caregivers' personal lives, emotionally, socially, and financially.
These impacts include:
1. Emotional Stress
Fear, anxiety, and guilt are a caregiver's constant companions, says Ann Cason, a geriatric care manager in Portland, Oregon. "You're spending an enormous amount of emotional energy all the time worrying," says Cason. And long-distance caregivers don't have it any easier than those who are just a quick drive away. "No matter what's going on, you visualize that your parent is having a hard time, and you feel guilty that you're not there," Cason says. "And if you're flying back and forth all the time, that's disruptive and stressful, too." What takes the biggest, toll, Cason says, is the feeling of not being in control. "It's a feeling of helplessness – anything can happen and you have to be ready." For those providing live-in care, the pressure of having to be on-call all the time can be overwhelming, Cason says. "It's claustrophobic."
2. The Stress of Never-Enough-Time
"I never feel like I'm able to give Mom enough time and attention," says Liz Joyce of Hummelstown, Pennsylvania, who cares for her 80-year-old mother. Like many other caregivers, Liz has children (she's a mother of four!) and feels torn between the needs of both generations. For example, she says, "Don't ever try to take an 80-year-old with a walker to the grocery store while babysitting an infant. First of all, you can't fit a stroller and a walker in the car at the same time, and second of all, nobody's happy after about 10 minutes." The constant juggling act leaves her feeling like she's always neglecting somebody or something, Liz says.
"My life came to a screeching halt when Mom moved in," says Camilla White of Huntsville, Alabama, who moved her mother, Lillian, into her home when dementia and a series of falls made it unsafe for Lillian to remain in the family home. A peek into Camilla's daily schedule paints a daunting picture of what it takes to juggle caregiving while holding a full-time job. "I got up at 4 a.m. to get ready, then I had to wake mom up at 5 and help her get dressed," Camilla says. "I'd have breakfast on the table by 5:30, then get her in the car and take her to the Alzheimer's Center so I could be at work by 8 a.m. I had to pick her up by 4:30, but I couldn't always get there, so I'd have to ask the girls from the Center to take her home and sit with her until I could be there."
Camilla's only break from caregiving was a couple of hours on Saturday mornings, when she had an in-home caregiver come in so she could take an exercise class. Her social life? Nonexistent. "It was a very regimented life, and it showed. People at work would look at me and say `You're looking rough.' It took its toll," Camilla says. Eventually it became clear that a better situation had to be found, and Lillian moved into an assisted living community. "I'm still there for her, but I can get my life back together," Camilla says.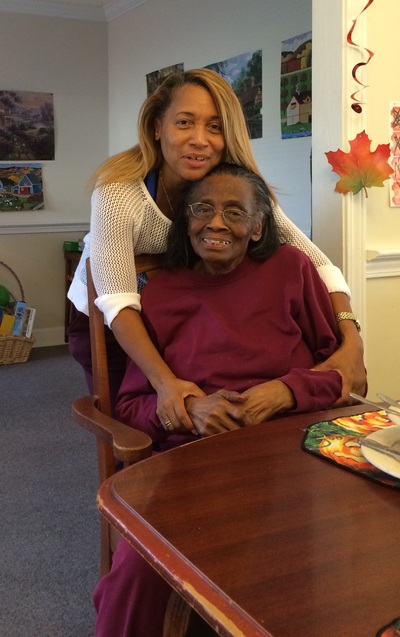 Camilla White and her mother, Lillian
3. Family Conflicts While we'd like to think parents are always grateful for the care their adult children provide, that's not always the case, which can lead to conflict. For example, caregivers may become concerned that a parent's living situation isn't safe, while a parent insists everything's fine. "Children are always worried about their parents' safety and the parents are always worried about preserving their independence," says Cason. The resulting tug-of-war isn't always pleasant.
Even more commonly, sibling relationships become strained by caregiving, particularly over differing perspectives on what parents need. "If the siblings aren't involved, they think that if mom or dad is in a senior living facility, then there's nothing to do," says Janet Gruber of Florida, who cares for her 89-year-old father, Delbert. "It's an emotional roller coaster for the family, especially if the siblings aren't in accordance or aren't helping at the same rate."
4. Financial Stress Finances are a leading cause of stress for Americans today, and that stress is multiplied for caregivers. Half of respondents to this year's survey reported spending more than $5,000 on caregiving expenses in the past year. For a significant number of families, caregiving expenses run sky high. Almost 10 percent of the caregivers surveyed were spending more than $50,000 a year to care for a loved one, while another 12 percent were spending between $20,000 and $50,000. Over time, many families exhaust their resources. "Financially we're about at rock bottom right now," says Florida retiree Janet Gruber, 67. "I may have to quit work and bring Dad home, but then I worry about what happens to Dad if something happens to me and my husband."
5. Health issues
All this stress can put an enormous strain on caregivers' health. Many Caring.com survey respondents report experiencing medical problems that may be exacerbated by stress, including high blood pressure, depression, arthritis, and other types of chronic pain. Almost 40 percent of those surveyed reported suffering from sleep problems. And many feel that the stress of caring an elderly parent, spouse or other loved one is causing them to age faster themselves.
6. Living Arrangements Play a Role in Caregiver Stress Whether an aging parent lives with an adult child, independently, or in a senior living community plays a significant role in the amount of physical and emotional stress caregivers experience, Caring.com's survey found. In the15 percent of families surveyed in which the parent continues to live in their own home, 38 percent of caregivers worried about the safety and health of their loved ones, and 27 percent were concerned about the burden of supporting the parent's independence on other family members. Only a quarter of these seniors were able to live without some form of in-home care, often at significant cost to the family. In terms of satisfaction, only 24 percent of families were happy with this situation, while a third were dissatisfied.
More than 60 percent of the caregivers surveyed had a parent living with them, and in these families stresses were particularly high. Only 23 percent of those caring for an elderly parent in the home were satisfied with their situation, while 44 percent were unhappy. Perhaps not surprisingly, caregivers whose loved ones lived in a senior living community felt most at ease, particularly because they were saved from the constant worry that their parent was lonely or in danger.
Liz Joyce is still haunted by the memory of how her mother suffered a stroke while living by herself 25 miles away. "It was a nightmare realizing that something was amiss and racing out to her apartment to find her in the middle of a stroke, and it was terrifying for her, too," Joyce says. "I worry SO much less about falls, about people taking advantage of her (or worse), and about her social opportunities."
--
If there's one constant that caregivers can count on as their loved ones age, it's change, as caregivers are called on over and over to meet their parents' evolving needs. And overcoming those ever-increasing challenges takes a high toll in stress, fatigue, and personal sacrifice, as evidenced by Caring.com's 2015 survey results. Today's family caregivers bring enormous dedication and creativity to the job of helping their loved ones age safely and in good health, but they need help. The hope is that as the number of Americans caring for an elderly loved one rises, the resources available to support those caregivers grow, too.
Senior Care in 2015 | Next: The Rising Price of Family Caregiving