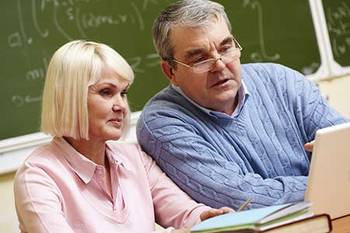 All Rights Reserved
Retirement planning can be stressful. There are so many options that it can be hard to fully comprehend even the most basic assessments. Conducting the appropriate research in advance is critical if you're going to keep your sanity throughout the planning process -- and so you can be certain what you can and cannot afford.
It's crucial that you consider how much money you're going to need in order to maintain that "golden" retirement, factoring in all the income methods that are available to you. To crunch these numbers, you can start by using tools such as online retirement calculators, and seek the counsel of an experienced retirement planner to double-check your math.
Finding a Retirement Advisor
Finding an experienced retirement professional is critical. Skilled and certified advisors can help walk you through your retirement goals while providing real answers and expert advice when it comes to hitting your financial target.
Choosing Healthcare
Being able to afford healthcare is a significant concern when planning your retirement. Even the most basic healthcare plan can be expensive. Due to rising medical costs, many retirees find themselves paying large out-of-pocket expenses for treatments. While Medicare covers a percentage of medical bills, many beneficiaries find themselves spending nearly 30 percent of their gross income on medical expenses alone. That's not even counting prescription drugs. Contemplate the costs associated with Medicare (Part A), Medical Insurance (Part B), and the Medicare Advantage Plan (Part C) along with the rules, providers, and co-payments provided by each plan.
SEE ALSO: Find Assisted Living Near You
Consider long-term heathcare. Long-term health care plans are for people who are unable to care for themselves due to stroke, Alzheimer's, Parkinson's or other diseases. These services are costly and, unfortunately, very few people make such plans in advance. Since many families have gone into financial ruin trying to pay for the long-term care of a loved one, experts agree that it's important to include this type of plan alongside your basic healthcare insurance.
Maximizing Social Security Benefits
Individuals between the ages of 62 and 70 are eligible to claim and access their social security benefits. In order to expand upon this government reimbursement program without depending on it entirely, it's vital to remain working until full retirement age (66 to 67). By deferring your retirement, you can increase your benefits by 5 percent for every additional year you wait to collect.
Using a Reverse Mortgage to Supplement Your Income
When it comes to the important topic of retirement planning, a reverse mortgage can be a valuable option you may want to consider to help you live the comfortable lifestyle you've always anticipated during your golden years. Though there are a variety of alternative ways of supplementing your income, a reverse mortgage can be a useful, tax-free way of using the equity in your home as part of your retirement strategy.
While a regular mortgage requires you to make monthly payments to your lender, a reverse mortgage is money you receive from your lender without having to pay it back as long as you live in your home.
SEE ALSO: Find Assisted Living Near You
Do your research. A reverse mortgage comes without any income or credit-worthiness requirements; most borrowers over the age of 62 with home equity of around 50 percent of the total value of the home will qualify. Even though it is easy to qualify, it's wise to speak with a financial advisor or a lender to determine which option makes the most sense for you.
The three basic options are the standard, the saver, and the for-purchase. The standard reverse mortgage option is only available with an adjustable interest rate and is best suited for seniors who need the most money available to them.
The saver option is a lower-cost version. The savings result from a lower up-front mortgage insurance premium (MIP). This option is well suited for people who don't need as much money compared to the standard or want to reduce the cost of borrowing. It can also be a good alternative to a home equity line of credit because it doesn't require monthly payments.
The for-purchase option allows a growing segment of the senior population to purchase a home that better suits their needs -- often downsizing. Like other reverse mortgages, this loan leaves you with no monthly mortgage payments.
It's never too late to understand the options associated with retirement. Take control over the future by doing your research. Protect the investments you've worked so hard for and factor in what it takes to care for yourself and your loved ones. Make a plan. Ask questions. Take a deep breath. You can do this!