A Guide to Aging in Place
Chances are, you've heard the term "aging in place." Simply put, aging in place means choosing to remain at home instead of moving to a senior living arrangement. More than three-quarters of Americans age 50 or older want to stay in their own home for as long as possible, even if they will need assistance, according to a survey by the American Association of Retired Persons (AARP).

Aging in place typically means that older adults get to retain a level of autonomy and independence not available with other senior living options. Not only does it allow them to continue to live in a familiar home, surrounded by treasured possessions, but they can remain close to neighbors and shopkeepers, whom they may have known for decades. On the financial end, the cost of care at home is often lower than the cost of care in a senior living community or skilled nursing facility — although this is not always the case.

There's rarely one perfect solution for providing daily care. It boils down to weighing and balancing many factors to settle on the best option for your loved one, whether it be aging in place, finding them a housemate, or moving them into your home or a senior living community.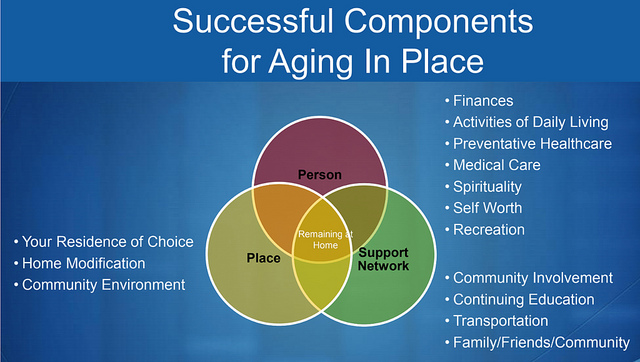 Courtesy of the National Aging in Place Council – Charleston, SC Chapter.
It's best to consider three aspects of the situation when determining whether aging in place is a good choice for you or your loved one. These are:
The person
The place
The support network
Where these three factors overlap is often where the best solutions are found.
When is Aging in Place a Good Solution?
While studies show that most people prefer to remain in their homes as they age, in reality this works best when the person, the place and the support network are all in place. Aging in place is a good choice if the person has made preparations, the home is safe and accessible, and there is a good support network in place. All of these things can be greatly enhanced by early planning (which we'll cover in more detail on this page).

Aging in place is a good choice for people who are proactive and like the idea of making their own decisions. When aging in place, all the services that might be available at a senior living community must be provided for by the person aging in place or their support network. It is a good choice for people who like to call their own shots and live life on their own terms.

When Aging in Place Doesn't Make Sense
In many cases, older adults are in an awkward in-between stage in which they want to be independent, but physical, emotional or cognitive issues interfere with their ability to function. Poor health alone does not preclude aging in place but the following factors can decrease the chance of success:

You are a long-distance caregiver.
There are few friends and neighbors you can draw upon for caregiving support.
You are not comfortable building and coordinating a network of formal and informal caregivers.
You are in poor health yourself or do not have the emotional support to look after a frail older adult.
You must continue to work full-time. (In some cases, managing home care is only possible if you, your spouse, or another caregiver leaves a job or works reduced hours.)
Your loved one's home requires extensive adaptations for it to be accessible and safe.
Your family does not have the financial means to cover in-home services.
There is no sleeping space for an overnight caregiver, if needed, or not enough space for equipment or supplies like an adjustable hospital bed.
Your loved one is not comfortable having paid "stranger" caregivers in the home.
Your loved one feels lonely and isolated.
He or she can no longer drive and there are few alternate transportation options.
Your gut tells you it's an unworkable situation.
Planning for Success: 10 Steps to Take
The likelihood of aging in place being successful is much greater if everyone involved does some conscious planning. It's far better to have the necessary support in place before a health crisis forces your hand. Here's a look at 10 steps you can take to ensure that aging in place is effective.
1. Set Up a Meeting
A meeting is the first step towards building what Ann Cason, geriatric care consultant and author of Circles of Care: How to Set Up Quality Home Care for Our Elders, calls a "circle of care." This network may include paid caregivers, health care providers, friends, and neighbors as well as family members.

Spouses, kids and grandkids can all be affected by caregiving so make sure to include them, so you and they can discuss changes, fears and expectations.

Most importantly, a meeting allows your loved one to express what type of help they would like. It's also a time for you and other potential caregivers to talk about what tasks you are (and aren't) willing or able to take on. (Not everyone would be comfortable bathing, toileting or feeding their loved one, for instance.) A frank conversation upfront can help avert potential resentment or disappointment down the line.

2. Get a Medical Consultation
Another early step is to talk to your loved one's doctor about housing options. Be sure to ask how their needs could change over time, which may influence your decision.

3. Observe Your Loved One's Routine
Spend a day with your loved one, writing down their daily routine. This will let you know when they are most alert and active and when they're most likely to be tired, depressed or anxious. Then you can help plan activities for when they're at their best, and perhaps build in extra care during the low points of the day. it will also give you an idea about which household tasks they can they still handle, and which ones they need help with.

4. Contact an Area Agency on Aging Office
Calling your local Area Agency on Aging, a nationwide network of more than 620 organizations servicing local elderly populations, is one of the best actions you can take to learn about elder care options. Staff can answer common questions and help you find out what kinds of programs, facilities and expertise you can access.

5. Tour Your Loved One's Home
Take a tour of your loved one's home, focusing on ways you can make it safer and more navigable. The local Area Agency on Aging may be able to refer you to an occupational therapist who can help identify hidden hazards and ways to make your loved one's home easier to navigate as they get older.
Certified Environmental Access Consultants (CEAC) and Senior Home Safety Specialists are also reputable organizations whose professionals are trained to assess safety and accessibility within the home.

6. Review Transportation
Driving, which your loved one may perceive as the key to their independence, is a touchy subject, but talking about it is crucial, as is assessing their ability to continue to drive safely. If your loved one can no longer drive or you suspect they will soon lose the ability to do so, you need to develop a viable transportation plan.

7. Talk About Money
Although money is a sensitive topic for many people, it's vital that you find out whether your loved has enough resources to cover their needs. Make sure to factor in such costs as in-home care and home renovations as well as airplane travel if you live long-distance. If financial resources are tight, you will need to research the public or private resources you can draw on for help. Additionally, it's important to find out whether your loved one needs or wants assistance with personal finances, and make sure you have a conversation about setting up a financial power of attorney.

8. Reassess Regularly
Jot down some notes about how your loved one is doing — physical mobility, capacity to take care of themselves and their home — and then reevaluate every six months or so to make sure you aren't missing a new need or issue.

9. Make a Contingency Plan
Don't get caught unprepared by an illness or sudden change in health that makes aging in place impractical. Get to know local senior communities and skilled nursing facilities and ask your parent where they'd prefer to go should the need arise. If possible, visit those communities and keep a file with information about eligibility requirements, costs and application processes.

10. Make Time for Joyful Activities
Finally, avoid getting so wrapped up in the practical details that you forget about the things that bring your loved one pleasure. Whether it's a meal with the grandchildren, a drive in the country or a weekly card game with friends, try to find ways to help them continue to pursue those things they enjoy.

Senior Care and Services To Support Aging in Place
Although some people think aging in place refers to adapting the physical environment for mobility, this is only part of the picture. You also must create or find support systems for other aspects of your parent's life, including healthcare, transportation, meals and housekeeping.

Nearly every county in the United States has a network of services that allow older adults to stay in their home. Most of them are available to any senior, regardless of income or assets. Traditional services include delivered meals, visiting nurses, transportation services and senior centers that offer outings and social engagement. In some communities, a network of service providers — handypersons, landscapers, house cleaners, dog walkers, etc. — provide services to seniors at lower-than-market prices.

Besides your local Area Agency on Aging, another good source for finding service providers is the National Aging in Place Council, especially if there's a local chapter. You can also find many of these caregiving resources right here on Caring.com. (Keep in mind that many of these support systems are included in senior living communities.)

In-Home Care Options
If your loved one needs a significant amount of care and you don't have a large network of family and friends to draw on, consider hiring a professional caregiver. Here's a quick look at the different types of in-home care:


| | |
| --- | --- |
| | Services Provided |
| Care (or elder) companions | Provide company for older adults who live alone, especially those who are shut-ins because of frailty or mild to moderate dementia. Companions might spend time chatting or playing cards with the older adult in their care or reading aloud to them. |
| In-home caregivers | Help seniors with the activities of daily living, such as shopping, meal prep and grooming, and some provide help with personal care like toileting and bathing. These caregivers cannot provide medical care, though. While they may provide medication reminders, they are not allowed to administer medication. They are also not housecleaners, although they often do some light housekeeping. |
| Home health care | Unlike in-home care, can only be arranged under a physician's order. This short-term skilled medical care is delivered or supervised by nurses and therapists (physical, occupational, and speech). It's typically provided while someone is recovering from a serious illness, accident or surgery. |
Finding a Caregiver
To find a professional caregiver, you can contact an in-home care agency, which will do the job of hiring, training and supervising for you. You could also find someone through an in-home care registry, a referral service that will match you with an independent contractor.

Alternately, you could find a caregiver by word of mouth. If you choose to hire an in-home caregiver independently, remember that the tasks of screening the worker and setting up a tax withholding system will fall to you. If you go this route, consider providing insurance in case the caregiver suffers an injury or accident on the job.

In some cases, especially if your loved one requires a high level of care and/or lives in an urban area, in-home care can cost more than an assisted living community. Most in-home caregivers charge between $20 and $40 per hour, although in some places care can be significantly more or less expensive. The average monthly cost of a full-time home health aide in the U.S. is roughly $4,000, according to the Genworth Cost of Care Survey 2018.
Paying for Care
Most non-medical in-home care is either paid for privately or by using a long-term care insurance (LTCI) policy. For those who qualify, veterans benefits or Medicare and Medicaid may also help cover the costs. In some states, being a Medicaid recipient automatically qualifies a person for homecare (some states also offer payment for family caregivers).

"When a low-income senior qualifies for a skilled nursing facility (i.e., a nursing home) but wants services provided at home, they can be eligible for several programs that can help," says Alicia Sheerin of Amada Senior Care in Philadelphia.

"These programs go by different titles in each state, but they are all part of what's known as 1915(c) Home and Community-Based Services Waivers," Sheerin says.

Recipients can use the allotted funds to bring in a home care agency to help with activities of daily living (ADLs), such as toileting, dressing, washing, housekeeping, and meal preparation. As with all Medicaid benefits, 1915 waivers are contingent on income and assets.
Adult Daycare Programs
Adult daycare programs can be a godsend for families who can't afford full-time in-home care and need some way to keep their loved ones busy and safe. They offer a supportive supervised environment even for those with dementia or who are so frail they'd otherwise have to be cared for in a skilled nursing facility.

Many adult day programs deliver door-to-door transportation and at least one hot meal, which your loved one can enjoy while socializing with other seniors. They also offer activities ranging from trivia games to painting to fitness and movement activities like stretching and chair exercises. Some centers provide a limited range of health services.

The cost of adult day care ranges from $25 to $100 per day, depending on geographic region and the services it offers. Some centers allow you to pay hourly rates of $5 to $15 per hour. Many adult day programs have a sliding fee scale for lower-income families, and, in many cases, the cost is covered by the Veterans Administration, Medicaid, state or local services, or private-payer insurance. Adult day services often operate as stand-alone centers or in connection with senior centers, churches, hospitals or residential care facilities.
Food Prep
When it comes to caring for senior loved ones, few responsibilities are as critical or as time consuming as buying, preparing and cooking nutritionally balanced meals.

"Providing nutritional meals for seniors is a huge issue on many different levels," says Lynette Whiteman, executive director of Caregiver Volunteers of Central Jersey, a nonprofit that helps older adults remain independent.

"Not only are many homebound seniors unable to get themselves to the grocery store, but some of them also have dietary restrictions or even problems chewing and swallowing," she says. "When we're younger we take it for granted that we just go to the store and get food, but for older people it can be a real struggle and something they worry about all the time."

Unfortunately, many older Americans are not getting the meals (or nutrition) they need. A study published in 2010 in the Journal of the American Geriatrics Society showed that about two-thirds of participants were at nutritional risk. That being said, participants living at home fared much better than those in nursing homes or hospitals.
"Eating well is so important to seniors living at home and remaining independent, because eating poorly has so many downsides for general health, mobility, and overall quality of life," says Tim Murray, founder and president of Aware Senior Care, a North Carolina-based in-home care organization for seniors.

"Not only is it challenging for older people to shop and prepare meals, but their motivation is also sometimes pretty low, because it's not always a lot of fun to make a meal for just one or two," Murray says.
The good news is that many non-profit organizations, like Meals on Wheels, offer low-cost delivery ready-to-eat or easy-to-heat meals for caregivers and their homebound loved ones. Some also provide nutritional counseling and social and personal care services. Contact the local Area Agency on Aging for referrals for services in your area.
Driving Alternatives for Seniors Aging in Place
Having an alternative form of transportation waiting in the wings in case driving is no longer viable is another extremely important piece of the puzzle for seniors looking to age in their homes. Starting early to make sure that you have a transportation plan will go a long way towards making aging in place successful.

Although friends, neighbors and family members might help drive your loved one to appointments from time to time, you'll likely have to come up with some additional options. Public transportation might work if your loved one lives in a place where buses run regularly, they are comfortable using this service and they are mobile. (Keep in mind that some municipalities operate senior-friendly systems that allow seniors to hail a bus on non-designated stops while some connect older adults with a traveling companion.)

Your local Area Agency on Aging can connect you to other transportation resources including agencies that operate wheelchair accessible vans for seniors with limited mobility.

They could also link you to social service organizations that have volunteer drivers who escort riders to the door and may even waiting while their rider is in a lengthy appointment. (The National Volunteer Transportation Center provides resources to about 800 volunteer driver programs nationwide, especially in rural areas.)

If your budget allows it, also consider hiring someone from a home care agency to take your parent shopping or to appointments.

Taxis are another option as are the newer ride-sharing programs, though they don't operate in all communities. Uber and Lyft, which dominate the market, have both targeted services toward older adults including those without smartphones.

Lyft is taking steps to improve its outreach for seniors and access for people with disabilities, and Uber offers UberAssist vehicles that can accommodate folding wheelchairs, walkers and collapsible scooters.

Besides the two ride-sharing giants there are a few other options. In the San Francisco area, for instance, seniors can use SilverRide, which offers a more comprehensive service. Drivers are trained in how to assist riders in and out of vehicles and wheelchairs and they sometimes accompany seniors on their outings if necessary.

In New York, Chicago and Washington, D.C, there is Via a carpooling service in which a shared car picks up passengers at nearby street corners.There are also call-in services that help people who don't use smartphones to arrange rides with Uber or Lyft. Go Go Grandparent, which is one such service, can alert caregivers when their loved one is booking a ride. Common Courtesy also bridges the gap between riders in need and Lyft and Uber. Arrive is a similar but smaller service that operates between 9 a.m. and 6 p.m. PST and is used mainly on the West Coast.
Helpful Home Modifications for Aging in Place
Many people live in homes that are not conducive to the mobility impairments that a lot of older adults face. Houses usually have too many stairs; the doorways and hallways are too narrow for wheelchairs (they should be at least 36 inches wide); the floors, too slippery and the bathrooms, too small. These conditions can be inconvenient at best and hazardous at worst, leading to falls or other serious injuries. It's imperative that you assess the home's safety level and address key issues as early as possible.
Make sure there are no trailing extension cords or clutter that could present a tripping hazard. Consider setting up a bin or a basket in each room where you can put objects that are out of place.
Attach non-slip backing under throw rugs to increase traction and greatly decrease the chances of a fall. Of course, you can also solve the problem by simply removing throw rugs as long as your loved one doesn't have slick, waxed wood floors, which also can be a hazard. Ensure that carpets are firmly attached to any stairs.
Install handrails throughout the home, particularly at stairs and along the way from bedroom to bathroom. One great way to ensure there are continuous handrails in the home is by using Promenaid handrails, which are modular and can be installed throughout the house as needed.
Make sure there is plenty of bright, glare-free lighting throughout the home — in walkways, hallways, and entryways as well as rooms — and that light switches are installed at both ends of stairs and halls. Battery powered lights with built in motion sensors are a low-cost way to add extra lighting at the baseboard. Also place night lights in the bedroom, bathroom and hallways and make sure there are flashlights are in the bedroom.
Put clear plastic bumpers over sharp furniture corners to soften the edges and make sure to replace unsteady chairs.
Replace conventional knobs with easier-to-use lever door handles.
As people get older, bending down or reaching up can become an ordeal. To combat this, put extra shelves in closets, pantries, or cabinets at heights your loved one can reach without a struggle.
If your loved one cannot handle the steps leading to the entrance to the home, consider putting in a ramp.
Pay special attention to the bathroom, typically the most hazardous place in the home. Put adhesive strips or a bath mat in showers and tubs. Also install grab bars in bath tubs as well beside the toilet, which will help your loved one lift and lower themselves. Think about installing a walk-in bathtub which includes a chair or stool, so that your loved one doesn't have to step over the side to get in to the tub. Another option is anti-scalding devices, which automatically turn off the water if it gets too hot and can easily be installed in the sink, shower or tub (or kitchen sink, for that matter).
Did You Know? Seniors are eligibile to receive free, non-binding quotes for bathroom safety modifications. Get started now.
Finding a Renovator
Senior home remodelers specialize in retrofitting homes to make them safe and accessible. They assess danger spots and inconveniences in existing homes and making safe upgrades, such as widening access for wheelchairs or building ramps, and designing new living spaces.

Many also create new construction (called accessible homes) with elder care needs in mind. The National Association of Home Builders (NAHB) provides a training program for home remodelers who want to serve the aging-in-place market; those who complete the program are designated as Certified Aging in Place Specialists (CAPS). You can find CAPS in your area on the NAHB website.
How Technology Can Help a Loved One Age in Place
There's no doubt about it, caregiving is a high-stress job. Fortunately, there's an ever-increasing slew of gadgets and tools that can make it easier to help older adults age in place. Here's a look at some helpful tech solutions.

Smart homes
Investing in a smart home, which contains seamlessly embedded sensors, could go a long way towards helping your loved one age in place. Smart home technology includes appliances like smart stoves that automatically shut off to sensors that control climate, detect fire and flooding and check carbon dioxide or carbon monoxide levels.

Many smart homes contain motion sensors that automatically turn on lights. They can also alert caregivers if the resident has stopped moving for long periods.

One of the benefits of smart sensors is that they can unobtrusively collect and process data as residents move around the home. In fact, some smart sensors can identify the progression of dementia by tracking a senior's behavior and will alert caregivers about any unusual behavior.
A system for comprehensively using this type of technology to help supplement physical caregiving is referred to as "remote activity monitoring." Incorporating many of the technologies mentioned below, these systems are able to remotely send alerts to a caregiver if certain conditions are met. For example, if wandering is a concern for someone with dementia who is living alone, the system could automatically alert a family member or caregiver if an exterior door opens during certain hours.

With the need for elder caregivers expected to rise precipitously in the coming years, this type of technology will be in high demand. Smart home technology can be more reliable than a PERS because it operates in the background and requires no input from the user, who may be reluctant to ask for help

Emergency Response Systems
For many older adults living alone, a personal emergency response system (PERS) can be a lifeline, ensuring they get help in the event of a fall, slip or other medical emergency.

PERS, which have been around for decades, come in the form of lightweight pendants or wristbands that your loved one can wear while going about their normal daily routine. With some units, seniors must press a button to contact emergency services, while other systems automatically activate when a fall is detected.

This AARP report also notes that technology has advanced so much that some systems include fitness trackers, movement sensors and more.

In either case, an operator at an emergency response center will respond, diagnosing the seriousness of the situation and deciding whether to call an ambulance or a designated caregiver to check on the senior.
If you buy a PERS, you'll have to pay an installation fee and a monthly monitoring charge. (Medicare, Medicaid, and most insurance companies typically don't pay for the equipment, though you may be able to get a subsidy if your income is low.)

For more information about PERS, visit our guide to the Best Medical Alert Systems for Seniors.

Wearables
Meanwhile, wearable devices like watches, smart activity trackers and smart clothes can record vitals like heart rate and blood pressure, automatically alerting patients, family members or doctors if measurements get dangerously low or high.
Sensors that emit ultrasound waves to detect objects can be clipped to clothing or woven into vests to help people with poor vision move around safely.
Another benefit of wearables is that they can allow you to remotely monitor your loved one without being intrusive, for instance, by inserting Smart Soles, an orthotic with a GPS tracker, into their shoes.
Virtual Medicine
Keeping as healthy as possible is vital for anyone aging in place. With telemedicine, patients can communicate with healthcare providers from home using two-way video calling equipment.

This eliminates traveling to clinics or medical offices, making it easier for seniors and their caregivers to take care of their health.
Medication Reminders
Like many older adults, your loved one may have an extensive pharmacopoeia of prescription medicines. Taking a plethora of different pills all at different times of the day can be confusing for anyone, let alone if they have dementia.

Medication reminders can make this process simpler by notifying them and/or you when it's time to take medication and keeping track of missed doses. Options include a dedicated set-up, such as a pillbox that vibrates when it's time to take meds, or one of the many smartphone apps that send out digital reminders when the next med is due.
The Challenges of Living Alone
Loneliness and isolation can be a huge challenge for people aging in place. Consider that about 20 percent of Americans aged 65 to 74 live alone, and about 40 percent of Americans 85 and older. For elderly women, the figure jumps to 56 percent.

"We know that loneliness and isolation are prevalent among America's older population and can have increasingly detrimental effects on mental, emotional and physical health," says Dr. Romilla Batra, chief medical officer at SCAN Health Plan, an HMO plan serving Medicare patients.

Sometimes an older adult lacks a network of family and friends; other times a senior may withdraw into isolation as a result of health conditions, depression or mental illness.
Physical limitations such as a fear of falling can keep an older adult isolated in their home, as can fatigue, chronic pain or shame over memory problems.

Many older people become are nervous about driving long distances or can no longer drive after dark, and they may fear or resist using public transportation options.

As a result of these factors, older adults may be alone for days or even weeks; research in the United Kingdom shows that that 17 percent of adults over 75 reported having contact with friends, family and neighbors less than once a week, and 11 percent said they might see a visitor less than once a month.

In the U.S., one third of adults age 45 and older reported feeling lonely, according to a 2018 survey by AARP. (An interesting sidenote: Unpaid caregivers have a loneliness gap that's eight percentage points higher than non-caregivers, according to the study.)

Isolation and loneliness are prime signs that an older adult is without the support and tools needed to live a healthy, independent life and may be in danger of spiraling into decline. In fact, research shows that loneliness can have detrimental effects on mental, emotional and physical health and increase the risk of dementia.
Conclusion
Over the next few years, as the population ages, there will be rising demand for new models and technologies to help people live in safety, comfort and dignity in their later years. With proper planning, aging in place offers one of the best models for care, both in terms of people's preferences and cost savings.
This page was reviewed by Chris Moore, an expert on universal design principles to build and remodel homes to help seniors age in place. He has more than 33 years of experience in the residential construction industry and is the founder of building, remodeling and consulting business Solid Rock Enterprises, Inc.

Chris is a charter member and chairman of the Western and Central Virginia Chapter of the National Aging in Place Council. Chris also speaks to groups throughout the Southwest Virginia area on aging in place, universal design, home modification, and home safety. He is a certified aging in place specialist (CAPS) as well as a CAPS instructor. He is a Certified Environmental Access Consultant and a Certified Graduate Remodeler and Senior Home Safety Specialist and serves on Age Safe America's advisory team.

He holds an executive certificate in home modification from the Andrus Gerontology Center at the University of Southern California, a bachelor in business administration from Averett College in Virginia and an associate of arts degree from Simon's Rock College in Massachusetts.