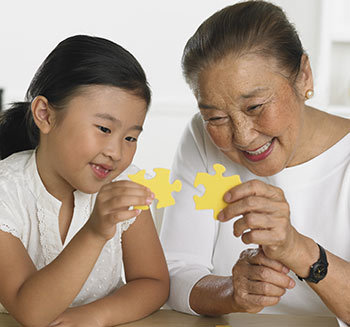 All Rights Reserved
As dementia progresses, finding appropriate, engaging activities to do with a loved one can be challenging. Puzzles can be a great option. One of our Caring.com experts, Monica Heltemes, offers puzzles in her dementia activities store, MindStart. We asked her to send samples of her 26-piece puzzle to our community members who are caring for loved ones with dementia. Here's the feedback they provided.
What Is MindStart?
Occupational therapist Monica Heltemes had been working with people with dementia for more than 15 years when she founded the company MindStart to give patients activities that were easier to do yet geared for adults. Activities include memory books, coloring books, basic word search, and puzzles.
What Is the MindStart 26-Piece Puzzle?
The 26-piece puzzles come in a variety of picture options that are aimed at capturing the interest of different people with dementia. Whether the theme is baking or baseball or all four seasons, each puzzle has 26 pieces that are cut to a size made easy for someone with mild to moderate dementia to pick up and piece together.
What Caring.com Users Liked About MindStart 26-Piece Puzzles
The pictures are big and colorful.
"My mom was a bit reluctant to start the puzzle, but she really liked the picture on the box, so after a few hints, she began," says Carol. "She was very pleased to correctly identify a missing piece and showed a feeling of accomplishment as the puzzle progressed. My daughter and I encouraged her to reinforce her positive feelings."

The puzzle pieces were easy to use.
Since many people with dementia have problems with coordination or manual dexterity, this size and amount of puzzle pieces makes it easier for people with dementia to use. "I asked her what she liked about it and she said, 'It being small was better than the big ones.' She liked the size of the pieces," said Patricia, who cares for her mother.

"The pieces were well cut, the picture was clear, and my mother liked the colors in the puzzle. She also liked having the picture of the puzzle on the box," said Carolyn, another caregiver and tester.

The puzzles brought a sense of accomplishment.
Activities that can be completed and repeated time and time again can help bring a sense of accomplishment and joy to the person with dementia. "After receiving the puzzle, we worked on it a couple of times together. The next day I showed her where it was. She went straight to it and started working on it by herself. It took her a little while, but she enjoyed it and was proud of herself for doing it alone," said Patricia.

It seemed to help with hand-eye coordination.
Puzzles are a fun way to get a person with dementia to use multiple skills. "All in all, I think the puzzle is a very good idea to get the patient to use their thinking ability," says Barbara, who cares for her mother. "It's good for hand-eye coordination." Another caregiver said, "I had a very positive experience just watching my mother work the puzzle and not getting tired or bored. She really enjoys doing it."

It gave caregivers and loved ones something to talk about.
"Oftentimes, a puzzle can be the beginning of a beautiful conversation between the patient and their caregiver," said Carolyn. "'Look at the cute doggie; did you have a doggie?' or, 'Look at these toys; what is your favorite toy/game?'"
What Caring.com Users Didn't Like About MindStart 26-Piece Puzzles
The box is not easy to use or travel with.
A couple of caregivers had issues with the puzzle box. "The box was really flimsy. It may be good to have a box that is one piece instead of a more conventional two-piece box. If the puzzle pieces are not put in the bag, and instead are put straight in the box, they will fall out upon opening the box again."

"Box suggestion: You could provide a sturdy ziplock bag (with glide closer) with the picture glued to the bag and sealed over with clear tape, and eliminate the box altogether. This would also make traveling with the puzzle much easier (great for caregivers). Great for travel/doctor's visits."

"When she handed the box back to me, the instruction/information sheet fell through the cracks of the box onto the floor. That was distressing to her," said another caregiver.

The box has "dementia" written on it.
One caregiver was taking care of her mother, who is still early the stages of dementia. She mentioned, "I wish the back of the box had not referred to dementia, because she can still read."
You Should Try MindStart 26-Piece Puzzles If You're . . .
Looking for an activity to help you connect with your loved one with dementia.
Searching for an activity to help practice manual dexterity for a loved one.
Finding ways to engage your loved one with mild to moderate dementia.
Hoping to give your loved one a stimulating activity while you gain respite.
How to Try MindStart 26-Piece Puzzles
You can choose from one of eight 26-piece puzzles or four 12-pece puzzles for $12.99 plus shipping by going to the MindStart website.
Note from MindStart: "We are currently working on offering a puzzle box that is more sturdy and that does not include the word dementia."