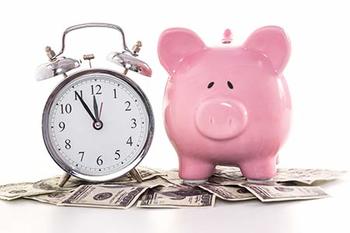 All Rights Reserved
When the need for full-time care for your older parent suddenly goes from "someday" to "now," it can come as a shock, even if you knew the time would come. Your first thought is likely to be, "I hope we can find a good place that has room for her!" And your second thought is almost certainly going to be, "But how in the world will we pay for it?" Of course, it's ideal to do some advance planning for how to pay for senior care, but many people never get around to it.
1. Count up What You Have
Cost is going to loom large in your family's decision-making, so now's the time to figure out exactly how much you have to spend, and compare the costs of the options available. There are two considerations here: up-front costs and long-term costs. While the situation may feel urgent, you want to take the long view as much as you can, and choose a community you'll be able to pay for the foreseeable future. In addition to savings, families find many ways to pay for care, such as selling or borrowing against the equity of the parents' home.
2. Understand What Medicare and Medicaid Will Pay -- and What They Won't
Many people believe that Medicare pays for residential care, but this is true only in the short term, and only under specific circumstances. To qualify for a Medicare-covered stay in a skilled nursing facility, your loved one has to have been discharged from the hospital within the past 30 days after a stay of at least 3 days, and the doctor must authorize an order for skilled nursing care. The rules for in-patient rehabilitation are even stricter, requiring your doctor to certify that your loved one needs at least two types of rehabilitative therapy for a total of at least 3 hours a day. In either case, your loved one's stay is only covered until her condition improves, and you're very likely to need a long-term care option in place after that. Medicaid is entirely separate from Medicare and is designed to apply only to those of extremely limited means. You will need to apply for Medicaid and undergo under strict financial scrutiny, including documenting that your parent has less than $2,000 in assets. And your choices will be restricted to Medicaid-certified senior care communities that accept these payments.
3. Take Financial Control if Needed
If your parent or loved one's capacity to take care of her finances has diminished, this is the time to obtain power of attorney for finances, if you haven't done so already. This will enable you to manage her money and make payments on her behalf.
4. Pay off Outstanding Bills
Before you can fully assess all your options, you'll have to figure in debt. That may be harder than you realize, if your parent hasn't kept good records or if you don't have access to her accounts. Start with the physical bills you can find, checking them against your parent's bank statements to make sure matching payments have been made. Review credit card bills, making sure your parent is making the required minimum payments and totaling up the outstanding balances.
If you can't find records of the utility bills, call and check on them; you don't want to have the power, water, or phone turned off and then accrue fees for having them turned back on. If you're concerned about outstanding medical bills, call the hospital, insurance company, or an HMO's member services department to check what's been paid and what's in process. Last but not least, make sure your parent's taxes, including real estate taxes, are paid up. Federal tax penalties can mount quickly if your loved one hasn't filed, and counties can seize a house or property for unpaid property taxes.
5. Assess Potential Assets
The first step in this process is to find out and add up the balances in all of your parents' liquid accounts, including savings and any investment funds that aren't tax-deferred. Next, you'll want to total up her monthly income, including social security, and payments she receives from pensions and tax-deferred accounts. In addition, anything your parent owns can be considered a financial asset, including her house, car, possessions, business, and farm. Life insurance policies, annuities, and reverse mortgages are other common types of assets. It may take some research, but you should be able to put together a clear financial picture that will help guide long-term budgeting.
6. Research Real Estate Options
Many a family has believed that selling their parents' home will finance long-term care, only to find there's little or no equity because of loans against the house. To determine how much of an asset your parent's home really is, you'll need to check the balance on the original mortgage, as well as the balance on any equity line of credit or second mortgage. Then you can have the home appraised to see how much you would actually clear by selling it. If you or your parent prefers not to sell, another option is to take out a reverse mortgage. However, look into this option carefully; reverse mortgages can become problematic for seniors lucky enough to live a long time, because they put strict limitations on what you can do with the property once the bank holds the interest.
7. Pool Sibling Resources
In many families, when money for care is needed quickly, siblings must work together to chip in. It may be uncomfortable to talk about money with your brothers and sisters, but in this situation it pretty much has to happen. Here are some tips on how to share caring costs with siblings with as little conflict as possible.
8. Consider Credit Cards in an Emergency
If you have funds available but can't access them that fast, one option is to use credit cards, then pay them off when funds become available. And many families do in fact do just this. But the interest rates on credit cards can be very steep, raising your costs over time if it's necessary to make monthly payments. Experts advise this option only if you're certain you'll be able to pay the balance in full within a month or two before considering.
9. Beware of Move Costs
Some families deal with emergency situations by choosing one facility for Mom or Dad's immediate needs, then moving a parent once her condition is more stable. And of course, when the situation is urgent, you may have to take what you can get. But "We'll cross that bridge when we come to it" is not a good philosophy in this situation, because there are so many variables involved, many of them with the potential to increase overall long-term costs. And, as many families find out the hard way, multiple moves can multiply costs.
_ One pitfall to avoid: _ Putting a parent into a community at a higher level of care, and hoping costs will go down as she recovers and becomes more independent. First, you'll want to get an accurate prognosis that she's likely to regain the skills she needs to be independent. Second, this may involve a move to a new room or unit, in which case you'll want to make sure in advance that one will be available when the time comes. Moves also frequently happen when a parent requires a specialized type of care not provided by their community. If, for example, you're debating about how serious a parent's memory issues are, consult a doctor before choosing a community that doesn't take people with dementia or Alzheimer's.
10. Make a Budget for Long-Term Care
Even if your parent's situation forces you to make a decision in a hurry, you'll still need to have a long-term plan to pay for increasing care needs. That's because senior care costs rise over time, both due to yearly fee increases and because most residents eventually have to move to a higher level of care, which comes at a higher cost. You'll also want to be aware of what's included in the basic fees and what's extra. Many assisted living communities offer additional services "a la carte" at extra cost, so you'll want to factor in which of these your parent needs, or is at risk of needing in the future.