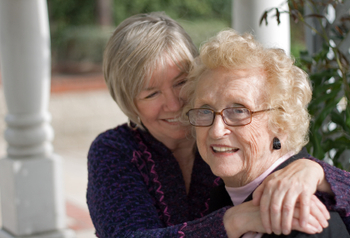 All Rights Reserved
Practical steps you can take when you're wondering, "Where do I start?"
Let reality sink in.
Whether you've suspected the diagnosis for ages or it's come as a shock, absorbing the reality ahead of you can be a sobering -- but critical -- process. Especially if much of the burden of care will fall on your shoulders, it's useful to start out recognizing that Alzheimer's disease can be an emotional roller coaster. Uncertainty about the disease's pace can make planning for the future difficult. Alzheimer's is considered a chronic disease that can continue for 15 to 20 years or more, with progressively more challenging stages whose length and experience can vary widely from person to person. The average life expectancy after a diagnosis depends on one's age at diagnosis and the severity of symptoms; a major long-term study has found that in general the disease shortens life expectancy to about half that of someone the same age without the disease. A person with severe symptoms at diagnosis is apt to be shorter-lived than someone with mild symptoms, whose downward spiral may begin quite slowly and last 15 years or more.
Even as your focus is on your loved one's health, it will be critical to stay aware of what you're experiencing and how it affects the many dimensions of your life. Disbelief, denial, grief, fear, and financial worry are just some of the very common feelings you can be expected to have.Talk to other family members to help make the situation more "real" and to get a reality check on how you're handling it.
Get to know the turf.
Alzheimer's is seldom a disease people in midlife have much firsthand experience with. Take some time to learn a bit about what you're dealing with. You'll find masses of information out there. Shortcuts on what's critical: Alzheimer's stages , common care-giving issues, and what treatments are available, including any medications your loved one's doctor prescribes and any lifestyle practices that can forestall the disease's progress.
One particularly insightful kind of reading is a book written by someone who has the disease, which may help you step into your loved one's shoes and anticipate issues. A good choice is Alzheimer's From the Inside Out by Richard Taylor.
Talk to a geriatric care manager or consultant.
Many people skip this invaluable step. A professional with experience advising people with Alzheimer's and their families can be a shortcut to navigating the labyrinth of resources and questions you're facing. Geriatric care managers typically have training in gerontology (the study of aging), social work, nursing, and/or counseling.
Use this person to:
Locate good local resources
Help coordinate care if your parent has other medical issues
Advise you on how to handle symptoms and behavioral issues
Help you safety-proof your loved one's home -- or your home
Track routine care, from appointments to prescriptions
Mediate family disagreements
Make home visits
Refer you to specialists
At first, you may just want a go-to person to answer initial questions, even if you don't wind up hiring a consultant over the long term. Ask if the office of your loved one's doctor has someone like this on staff or can give you a referral. The National Association of Professional Geriatric Care Managers offers a directory of members.
Diagnosis of Alzheimer's Disease: More Tips
Get organized.
About money: If you haven't done so already, have a frank talk with your loved one about his or her financial situation. To start off, you'll need to know what kind of resources are available monthly and over the long term as you plan ahead for the future care he or she will need. Early-stage Alzheimer's is the ideal time to take the legal and practical steps necessary to protect assets.
About records: Put systems in place for your record-keeping. In designated files or binders, store your loved one's medical records, financial records, and helpful personal information (such as the names and contact information of his or her friends and neighbors, hair stylist, pastor or rabbi, and others). It's best to do this now, while your loved one can help you gather information and give medical professionals permission to share information with you. This is doubly important to do early on if you're dealing with other health issues on top of Alzheimer's.
About dates: Set up a central calendar in your loved one's home to help him or her remember appointments, support group meetings, and other commitments. Many geriatric care providers who work with dementia issues also recommend using a portable dated diary or journal where he or she can, with your help, develop the habit of writing down notes, details of conversations, and other day-to-day things he or she wants to recall.
About help: Start your own running resource list of the names and contact information of people who can help provide care, from local Alzheimer's organizations to friends and family who can run errands and otherwise aid you and your loved one. Discuss with siblings and other family members a way to keep everyone in the loop.
Plan ahead for care.
It's possible that nothing in your loved one's life needs to change immediately following diagnosis. (One exception is driving. Now's the time to give up the keys if he or she hasn't done so already, since getting lost and poor judgment are hallmarks of the disease.) Most people with early-stage Alzheimer's can remain in their own homes with sufficient checks and supports. Living independently for as long as is practical can empower him or her and perhaps slow the pace of decline. But practical is the key word. As judgment and problem-solving skills become increasingly impaired, he or she will eventually need more-elaborate help -- a live-in aide or an assisted-living facility. In the meantime, with some research on your part, you can identify needs that will likely come up in the near future. Examples include self care, cooking, home maintenance, bill paying, and safety around the house. A basic outline of these issues, near and far, and possible ways to deal with them, will help everyone feel prepared.
Consider any care plan a work in progress that you'll need to update and revise periodically. You can get insider input on issues you're liable to encounter from your loved one's doctor, a geriatric care manager or consultant, your local Alzheimer's associations, and online support groups.
Diagnosed With Alzheimer's: More Things You Can Do
Encourage your loved one to share the diagnosis.
In the early stages, it's best to defer to him or her about whom to tell. At the same time, do nudge him or her, if you're comfortable doing so, to share the news with at least some close friends and family so that they can offer support. (They'll probably be relieved to know he or she is addressing the lapses they've been noticing.) If your loved one refuses to spread the word out of a sense of shame, try telling him or her that Alzheimer's is a physical disease just like cancer and heart disease -- and that it's one that more than 4 million people in the United States share. It's nothing to be ashamed of.
If this becomes a contentious issue, think about asking a neutral party, such as a nurse or geriatric care consultant, to talk to him or her about the benefits of sharing some information about the condition as well as strategies for how to make this as comfortable as possible. You may eventually find it necessary to discreetly tell close friends and family yourself.
Check out support for you and your loved one.
Joining a support group, whether online or in your local area, can be useful, even if your loved one has just been diagnosed. There are groups specifically organized for people with early-stage Alzheimer's as well as for their family members and friends. You also may learn a lot and draw support by attending care-giving seminars or classes available in your area.
One specific kind of support to consider is informal caregiver training. Regular meetings with a social worker or other professional can advise you on how to apply Alzheimer's care in your specific situation.
Confide in an inner circle of friends and family. Identify who can help you with day-to-day caregiver responsibilities, especially when you're unavailable or need some respite or a compassionate listener.
Have "the talk" about financial and legal inquiries.
Make the most now of your loved one's ability to understand and make some good decisions about financial and legal issues, since they have implications for everyone.
Reassure your loved one that your goal is to help him or her maintain control, with some support from you (or someone else) when needed, rather than to take over control. Plans may involve asset management, wills, guardianship, and powers of attorney. Try pointing out that if your loved one doesn't handle these issues while he or she can make certain decisions, you may have to go through expensive, distracting court proceedings later on to help take care of financial or healthcare matters. If he or she hesitates or refuses to make any concrete plans, try to coordinate a meeting with a qualified professional who can serve as a neutral third party, such as a financial planner, a lawyer, or a social worker.