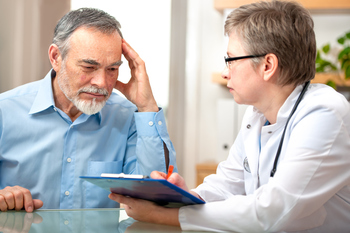 All Rights Reserved
The Clinical Dementia Rating Scale, known as the CDR, is a five-point detailed rating system meant to determine the level of impairment in people with suspected cognitive problems. Developed in the late 1970s by scientists at Washington University School of Medicine in St. Louis, it's currently the most widely used dementia staging scale, according to James C. Jackson, Psy. D., a neuropsychologist and associate professor at Vanderbilt University Medical Center in Nashville, where he specializes in research on brain injuries, dementia and aging.
A health care professional uses the Clinical Dementia Rating Scale to evaluate the person with suspected dementia in different areas including judgment and problem-solving, memory and orientation. From there, a clinician is able to assign one of the five stages. The five possible ratings are:
0 = Normal
0.5 = Very Mild Dementia
1 = Mild Dementia
2 = Moderate Dementia
3 = Severe Dementia
"The CDR relies on data obtained from a semi-structured clinical interview instead of detailed neuropsychological testing or neuroimaging," says Jackson. "It assesses impairment across a range of dimensions like personal care, home and hobbies, memory, and assigns numeric ratings ranging from 0 which is normal to 3 which indicates severe dementia."
Using the Clinical Dementia Rating Scale
The CDR is widely used by researchers. It's also a popular tool relied on by neurologists, neuropsychologists, geriatric psychiatrists and in some instances geriatricians (physicians who specialize in the treatment of aging patients).
"These are all professionals that care for patients with dementing illness, in particular, Alzheimer's disease," says Jackson. "In many cases, these individuals are certified CDR raters, which means they have completed a course in CDR scoring offered through Washington University."
When assessing patients using the Clinical Dementia Rating Scale, medical professionals ask those with memory complaints, as well as patients already diagnosed with general dementia or Alzheimer's disease, specific questions to help determine their cognitive functioning. Some of those questions include being asked to recall a recent event in the person's life within one week and within one month.
Doctors also ask patients how often they know the exact date of the month, and assess his or her ability to perform problem-solving tasks like balancing a checkbook, making change and/or leaving a tip at a restaurant.
Jackson says other questions used in the Clinical Dementia Rating Scale might include when and where a person was born, the last school he or she attended, the last job they held and other details the average senior should be able to recall.
"This assesses patient functioning across a diversity of relevant domains: cognitive, social, functional, etc.," he says. "Experts using the CDR obtain information from both a patient and their informant, which is typically a spouse or child. This helps interpret the accuracy of the information to determine the degree to which a person might be impaired."
Crunching the numbers
Most experts agree that the Clinical Dementia Rating Scale is a very useful tool that helps health care professionals identify cognitive problems that other testing might not detect, according to Jackson. "It's designed to ask questions and have a conversation that provides a specific look into those suspected of living with Alzheimer's or other types of dementia. And the CDR often plays a key diagnostic role by gleaning information that might be difficult to obtain via other methods," he says.
Along with helping to diagnosis Alzheimer's disease, Jackson adds, "The CDR is often particularly useful in identifying Mild Cognitive Impairment (MCI), an early precursor to Alzheimer's disease, where symptoms are very subtle and difficult to detect."
All of the information gained from the Clinical Dementia Rating Scale can help clinicians determine whether patients have cognitive impairment and how mild or severe this impairment is.
"It can also tell them what area of daily functioning these problems tend to the most severe," says Jackson. "Guided by findings from the CDR and perhaps augmented by neuroimaging and cognitive testing, clinicians can typically make a confident diagnosis and develop a treatment plan that helps patients—and their families—understand the nature of the cognitive decline they are experiencing."
Medically reviewed by Dr. Farrokh Sohrabi