Dementia and Sex
How Your Sex Life May Change When a Partner Has Dementia
97% helpful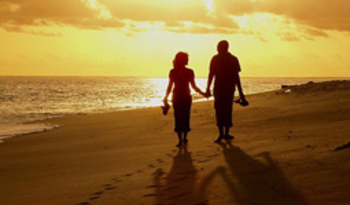 For many people, dementia remains an uncomfortable subject to talk about. Sex is another. Put the two together in a sentence -- like, What happens to my sex life when my partner has dementia? -- and the silence is deafening.
"There are a lot more questions than answers," says Ken Robbins, a geriatric psychiatrist at the University of Wisconsin who's also board-certified in internal medicine and a Caring.com senior medical editor. "But it's a significant issue for couples, and one that will continue to grow."
Here are some of the most common dilemmas that come up for caregivers of mates who have Alzheimer's or another form of dementia:
"My wife has dementia. Is it ethical to have sexual relations even when she's not quite sure what's happening?"
The "right" answer depends on each individual situation, Robbins says. Someone in the early stages of dementia is likely to be well aware of his or her sexuality and continue to experience desire and arousal. Many couples find intimate time to be a source of mutual comfort and reassurance at a turbulent time. Even as the disease progresses, emotional memories associated with sex may endure and cause the person to seem like his or her "old self."
Or not. Eventually the disease progresses to a stage where the person is increasingly dependent and childlike, and your partner may indeed have little understanding about what's happening. She may even be frightened or upset by sexual advances. For some caregivers, cognitive changes are a turnoff, leading to guilt or sexual frustration.
Knowing how to proceed lies in the realm of ethics: Is it fair to either party to continue sexual activities under such circumstances? Is it still a marital "duty" when the spouse doesn't understand? What would the person think if the situation were reversed? What does your conscience tell you?