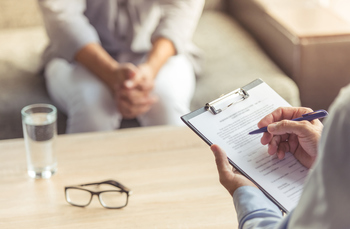 All Rights Reserved
The process of finding a therapist can be daunting, especially for family caregivers whose days are filled with juggling not only their own daily needs, but those of a loved one, too. Many mental and emotional health care providers recommend that caregivers add a therapist to their own support system to create a space where they can nurture and care for themselves.
"If you're giving all of your time and energy to someone else, you end up feeling drained and empty. Being attentive to your own health and needs helps keep you well enough to help someone else," says Erin Parisi, a licensed mental health counselor (LMHC) and certified addictions professional in Orlando, Florida.
But finding the right therapist can feel like a daunting task that your over-flowing to-do list just can't bear. We've identified some key factors to keep in mind to hone in on the right professional for you.
1. Set your goals
Rob Cole, LMHC, Clinical Director of Mental Health Services at Banyan Treatment Center in Boca Raton, FL, suggests asking yourself a few questions to narrow down the type of professional you're looking for. You can also jot down notes or make a "wish list" of considerations to take into account when choosing a therapist.
Questions to ask include:
What kind of therapy am I seeking? Individual? Family?
Am I struggling with anxiety? Depression?
Am I more comfortable speaking to a male or a female therapist?
What is the person's first language and are they bilingual (if your situation warrants)
Does the therapist incorporate religion/spirituality (if that's a consideration for you)?
How far am I willing to travel?
Once you have these questions answered, you'll be in a better position to begin your search. Many counselors have specialties, or areas of expertise, that may include family and marriage counseling, addiction and behavioral health services, grief counseling, etc. "Determining the type of issues you're struggling with and hoping to address can help lead you in the right direction," says Cole.
2. Know who you're talking to
Parisi says it's important to understand the letters behind a professional's name, to find the person best-suited to work with you.
While the credentialing requirements and lingo may differ from state to state, in general, therapists' credentials indicate the following:
Psychiatrist
A medical doctor (MD) who specializes in mental health. They prescribe medications, but 99 percent of the time aren't doing too much talk therapy. Parisi says meetings with these professionals may be a 10-minute check in every month, or every few months when things are stable.
Therapist or counselor
These titles are interchangeable and indicate that the person has at least a Masters degree (though a psychologist could be called a therapist or counselor as well) in fields like psychology, counseling or social work. These professionals work with clients to learn how to better cope with life challenges and mental health issues.
Psychologist
These individuals hold a PhD and are often focused on research, publishing and testing. As noted above, a practicing psychologist may also be referred to as a therapist or mental health counselor and often does the same type of counseling work with clients.
Life coach
This is a title that doesn't require mental health training or credentialing of any sort. "There is no supervising body governing life coaches," notes Parisi. A life coach typically works to address a client's personal or professional goals, relationships and life transitions, according to LifeCoaching.com.
3. Point and click
Before booking an appointment, search a practice's website to see if the therapist has worked with clients impacted by the health issues affecting your loved one, recommends Beatrice Tauber Prior, Psy.D., a clinical psychologist and owner of Harborside Wellbeing, PLLC in North Carolina and author of "Grandma and Me: A Kid's Guide for Alzheimer's and Dementia."
"Working with a therapist who specializes in neuropsychology or health psychology can be helpful because that professional is trained in chronic illness and they will know the challenges that care providers face each day," Prior says.
4. Don't be shy
Prior suggests asking if the therapist provides a free consultation. This session, which is often shorter than a typical counseling appointment, allows for a "meet and greet" setting to gauge comfort level with the therapist and the style of therapy provided.
"I provide a 15-minute phone consultation to answer questions and provide needed information for the client to determine if my practice is a good fit for them," she explains.
During this appointment, or before scheduling your first session, it's a good idea to ask the therapist if they have been or currently are a caregiver. "Although I've been a mental health professional for many years, it wasn't until my own family was impacted by progressive illness that I began to fully understand the journey of the care provider," Prior shares.
5. Stay focused
During the consultation, provide the therapist with a brief overview of your current situation and your ideal outcome of therapy. "This goal can—and probably will—change over time, but having this information helps the therapist focus the sessions so you can get the best results," says Eboni Harris, a relationship therapist and co-founder of Melanin and Mental Health.
And stay on topic. It may be tempting to explain the health history of the person you're caring for, but remember this time is carved out for you and your well-being. If you get side-tracked talking about your loved one's needs, your therapist won't be able to work with you to ensure that your emotional needs are also being met.
6. Be open to change
Parisi acknowledges that making a change in therapists can be scary. But she says it may often be necessary. "It's never better to stay with someone you feel is judgmental, not helpful, or that you dread going to see," she says. "That could turn you off to counseling all together."
She suggests evaluating the relationship after three or four sessions. "If you don't feel the therapist is a good fit after that amount of time, move on. There are therapists that will connect with you."