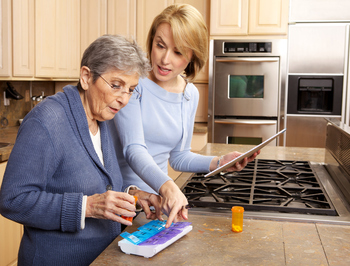 All Rights Reserved
When she noticed that her mother had stopped showering or changing her clothes, Shannon Ainsworth knew that her suspicions were right. Ainsworth, 43, had believed for a while that her mother, then in her late 60s, had dementia, an illness that runs in the family.
Her mother was diagnosed with dementia and began taking medication to help manage it, but was stubborn about staying in her own home, says Ainsworth. For about six years, the Oklahoma City resident juggled looking after her mom with a full-time job and caring for her two children.
She would check in daily, spending about four hours every night to prepare dinner, clean up the cat feces scattered around her mother's previously well-kept home and make sure she took her medication, among other tasks. But when Ainsworth's mom started writing big checks to her neighbors, hiding her medications and wandering down the street alone on scorching summer days, she knew she could no longer manage her mother's care alone.
Her mother now lives in a memory care community about a 15-minute drive from Ainsworth's home, where she receives excellent care, she says. But it has been a rocky road to get to that point – one that's included battling an estranged relative for legal guardianship of her mother, finding the right care facility, and grappling with her mother's cognitive decline.
"I didn't know much about Alzheimer's, I had no idea how much assisted living costs," she says. "There were many days where I thought about moving away and giving up, but I can't do that."
Ainsworth is among the estimated 34 million people in the U.S. providing unpaid care for an aging loved one, many who similarly found themselves unprepared for the onslaught of emotional, physical and financial repercussions of taking on that care.
"As the very frail and oldest among us are still living, it puts a big burden on not just working family caregivers, but on those early retirees that thought retirement was going to be something else than caring for an aging family member," says Linda Fodrini-Johnson, a certified care manager and founder of Eldercare Services, a senior care agency in Walnut Creek, Calif. "It's hitting families I think pretty hard."
The hefty financial responsibility of caregiving
In a new Caring.com survey of more than 2,700 family caregivers, 44 percent said they spent between $5,000 and $10,000 out of pocket on caregiving-related expenses for their aging loved one last year. Another 10 percent said they spent between $10,000 and $20,000 on caregiving costs, and 15 percent spent more than $20,000.
Caregivers' most common expenses included food, clothing, transportation and medications for their loved one. Among other top expenses were travel costs to care for their loved one, help from a paid in-home caregiver, legal services or other caregiving assistance such as an adult day care program.
"The cost of care is huge - and if someone is taking care of your loved one, you want that person to be skilled, but even [hiring] the lowest skilled worker is still going to cost a lot," says Eve Gelb, senior vice president of healthcare services at SCAN Health Plan, an HMO plan serving Medicare patients.
Many family caregivers pay for caregiving-related costs through a combination of funds that most often includes their loved one's social security or retirement benefits, Medicare (which often does not cover assisted living or in-home care costs), personal savings, or other combined family funds. Selling the aging family member's home, or in some cases the caregiver's own home, is another way some caregivers are helping to cover expenses.
Cynthia Spencer, 64, said the sale of her parents' San Antonio-area home has given her octogenarian father and step-mother the funds they need to cover the costs of the care home where they now live and receive round-the-clock care.
Nearly all of the survey respondents (90 percent) said they were concerned about having affordable care for their loved one in the future. That's hardly surprising when you consider the cost of senior care services today. According to Genworth Financial, a unit in an assisted living community in the U.S. costs around $3,750 per month on average, while the national average cost of a full-time in-home caregiver is around $4,000 per month.
Ainsworth says her mother's retirement and social security benefits cover a little more than half of the $4,200 monthly rate for the memory care community where she lives, and her mother's personal savings cover the rest. But she's not sure what will happen once the savings are gone.
"The money will last five years. If she lives any longer than that, I don't know what's going to happen," she says. "She'll have to go to a place that's probably not going to be as nice, and she may have to share a room. I worry about that."
When providing care becomes a full-time, unpaid job
Spencer not only cares for her aging parents, but also the 93-year-old mother of her late husband, who was an only child. A few years ago, when her parents' health worsened, Spencer was spending more than 40 hours each week caring for all of them.
"When everybody's health started failing, I realized there really wasn't going to be anybody else around who could do everything," she said.
Although she'd sold her home to be closer to her parents, it was a roughly 90-minute drive round-trip to their home to check in each day. She helped dress her parents' wounds, take them to doctor's appointments and manage their medications, among other things.
Meanwhile, Spencer was tasked with finding a professional caregiver to help out her mother-in-law, who's intent on staying in her own home. She's also the first point of contact when her mother-in-law is hospitalized and checks in on her once or twice a week.
Now that her parents live in a care home, she sees less of them. Still, between her parents and mother-in-law, she spends about 20 hours per week on visits and outings, doctor's appointments, and taking care of their bills, among other responsibilities. All this is on top of her full-time job as a real estate agent.
"It's the up and down of it all that is the most mind-blowing for me," says Spencer. "You just never know how they're going to be from one day to the next and which day I'm going to have to get up in the middle of the night and get an ambulance."
Spencer is far from alone. Caring.com's survey found that nearly 40 percent of respondents spend at least 31 hours per week on caregiving tasks and activities. The survey showed that the most common activities for caregivers include shopping for a loved one's food and personal items, attending doctor's appointments, managing their loved one's finances and communicating to others about the person's condition.
Oftentimes, those caring for a spouse spend even more time on caregiving, especially since they tend to live together. More than half of survey respondents caring for a spouse said they spend at least 31 hours a week on caregiving tasks, while just 23 percent of those caring for a parent said they spend that amount of time on caregiving.
Susan Joyce, 69, says about six to eight hours each day are spent caring for her 71-year-old husband, who has cancer. Much of that time is taken up by doctor's appointments that are sometimes more than an hour's drive from their Kitsap County, Washington home. The couple's son helps out several times a day with physical care tasks, she says. But as her husband's primary caregiver, Joyce's earlier plans for her retirement have faded.
"The things I had planned for retirement, like volunteering and taking my grandchildren on trips, are not feasible," Joyce says.
Even when spouses no longer co-habitate, the caregiving spouse often continues to handle coordinating care, visits and managing finances.
Such is the case for 70-year-old Ohioan Carol Burns, who has provided some type of care for her husband, a veteran, since they married some 35 years ago. Before they met, two aneurysms had left him paralyzed on the left side of his body and dependent on a walking cane.
About five years ago, he started having serious vision problems and a series of falls that resulted in multiple hospitalizations, and Burns began taking on even more responsibilities. Burns's husband was diagnosed with vascular dementia, and now lives in a Veteran's Administration care facility more than a 3-hour drive from their home.
"Now, even though I'm not with him on a daily basis and I don't prepare his meals or wash his laundry, everything that sustains the parameters of his life -- any calls for medication or any oversight – I manage all of that stuff," she says.
Caregivers shoulder heavy emotional weight
"The biggest challenge for caregivers is often more emotional than anything else," says Fodrini-Johnson. "It's [questions like] 'When do I intervene? When do I take the keys away from Dad, who's not a safe driver anymore or has dementia? How do we talk to Mom and Dad about moving to a place that's going to be safer for them?'"
Bearing witness to a loved one's physical or mental decline is a devastating fact of life for many caregivers, particularly when that loved one has dementia.
Ainsworth says seeing her mother, a schoolteacher for 29 years who she describes as "probably one of the smartest women" she knew, forget something as basic as where she lives has been one of the hardest aspects of caregiving.
"I had depression after my dad died, and now it's back in full force," she says.
Many caregivers also say they feel lonely and isolated.
Tom O'Toole, 76, is the main caregiver for his wife Ann, who has multiple sclerosis, though he receives daily help from professional caregivers in their Minneapolis, Minn. home.
These days, he does just about everything for his wife, from helping her get dressed and to the toilet to keeping "night watch" and fetching pills on nights when her pain becomes unbearable. Still, he says "lonesomeness" and depression have been the hardest parts.
"When you gradually are losing the person you lived with for 50 years, it causes a great deal of sadness," he says.
Medication helps, O'Toole says. So does seeing supportive friends, neighbors and relatives, including the couple's great-niece, who recently moved in with them to attend college nearby and has been a "godsend," he says.
The Multiple Sclerosis Foundation and the National Multiple Sclerosis Society have also provided support, helping the O'Tooles finance a motorized wheelchair and other mechanical aids in recent years.
"Just the idea that someone's out there batting for you and actually trying to fight the disease, that' s a support and it's more than a little thing," he says.
Fodrini-Johnson notes that emotional support is crucial for overtaxed family caregivers. She advises many of the caregiver clients she sees to go to a support group to meet others going through similar situations, not only to find a sympathetic ear, but also to exchange caregiving tips and lessons learned.
"Find your support group in your community," she says. "When you get in a support group, you're going to get permission to take care of yourself."
Sanity-saving steps for family caregivers
1. Seek Respite Care
When caregivers take on so much of their loved one's care that they never get a break, the result is often burnout – a state of physical, mental and emotional exhaustion that leaves them ill-equipped to provide care.
"I always say that your love is endless, but the hours in the day to provide care are limited," Fodrini-Johnson says. "You can always love somebody wherever they are and provide that love, but caregiving, when it becomes 24/7, is too much for any one person."
Like many caregiving experts, she recommends seeking respite care to prevent burnout, and notes that taking needed time off often means you'll be able to care for your loved one longer.
Gelb, of SCAN Health Plan, echoes the need for caregiving backup.
"I think people are hesitant because they think it's going to be very expensive and they don't realize the range of help that's available," she says. "I think the number one support for caregivers is an hour of respite a week."
That could mean bringing your aging loved one to an adult day care program for a few hours a couple of days a week, or hiring an in-home caregiver to help while you're at work. It may also include having a sibling or other family member come to relieve you when you need a break.
2. Meet with a Care Manager
Both Gelb and Fodrini-Johnson say one of the best starting points for family caregivers seeking help and guidance is an appointment with a geriatric care manager. These certified professionals include psychologists, nurses, social workers and others trained in different aspects of elder care.
Even one hour-long appointment, which could cost anywhere from $100-$200 depending on where you live, can help save considerable time and money in the long run.
"Families often don't know the extent of the benefits available to them," Fodrini-Johnson says.
For example, the care manager had a Bay Area-based client who'd been sending $1,000 ever month to her aging parents in Oklahoma to help cover their senior care costs. She hadn't realized that as a veteran, her father was eligible for $1,700 per month through the VA's aid and attendance benefit.
What's more, care managers are often highly knowledgeable about local resources like free caregiving services offered by churches, hospitals and non-profits, she says. And they can help with a variety of other elder care-related priorities like getting a second opinion on a medical diagnosis, getting discounted prescriptions, or practical advice on how to deal with a loved one with dementia.
3. Have a plan
The stress of caregiving often comes from the fallout of having to deal with financial, legal and medical decisions without knowing your loved one's preferences or who you can call for help.
That's why having conversations early and often with your aging family members is essential, as uncomfortable as they might feel initially.
"The number one thing you start with is a conversation with your loved one before he or she starts having problems about what kind of aging experience he or she wants to have," says Gelb.
It's important to discuss where your loved one wants to live when they're older and need more help – whether that's in their own home, with you or another relative, or in a senior living community. Finding out about your loved one's financial resources for the future is another crucial step, along with talking with siblings or other family members about pooling time and money to help cover those costs.
"People are afraid to ask money questions of their parents, their spouses and their siblings," says Gelb.
But knowing how much each person can contribute, whether it's money or time spent keeping an aging parent company, is a crucial step to ensuring they get the care and attention they need as they age.
Reading books and articles or taking classes in your community about preparing to be a caregiver can also help, Fodrini-Johnson says.
"Before you get the call in the middle of the night, if you've done your homework, you're going to deal with the crisis much better than that call that comes when you're in the middle of a business deal or you're about to have your first grandchild and you're getting pulled away for parent care," she says.