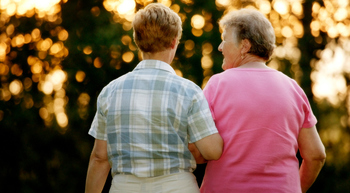 All Rights Reserved
Being a family caregiver of an elderly loved one is a journey that requires time, money, and extreme sacrifice. Caring.com's annual aregiver Journey Survey for 2016 shows that many of today's caregivers not only sacrifice large chunks of income and energy but sometimes their homes, hobbies, or even their jobs to provide care for an aging loved one.
Diann Hasseman, 65, is no stranger to those types of sacrifices. It was almost five years ago when she realized she could no longer care for her 90-year-old mother while maintaining a fulltime career as a social worker. Her father had recently passed away and Hasseman was making regular monthly trips from her home in North Carolina to visit and care for her mother in Florida. She had used up all of her vacation time and sick days. Something had to give.
"I was making that trip every other month since 2002 when my father had his first stroke, and it was just getting to be exhausting," says Hasseman. "When my father passed and my mother was by herself, I knew she was going to need me around even more. I had no choice but to leave my job."
It was a difficult but unavoidable decision, one that became increasingly apparent as her mother's health continued to decline. In 2015 she suffered small strokes, leaving her with mild dementia and prompting her to move into a continuing care retirement community that costs about $5,000 per month.
Although her mother pays for her senior living costs, Hasseman and her husband also pay for various other essentials, including clothes and toiletries, a weekly private caregiver, upkeep on a small house in Orlando and a car, which Hasseman uses whenever she visits. With the added expense of monthly flights to and from Florida, Hasseman estimates she and her husband spend an additional $8,000 a year on her mother's care.
"She has savings that we're using, but they're going down faster than we expected. But my husband and I have worked all of our lives and saved money. And we don't have children of our own, so we're able to make this work," she says. "You don't like to spend that kind of money, but it's needed, we have it, so we're doing it."
To be sure, Hasseman's experience is not unlike many of 2,512 caregivers who responded to the survey.
2016 Caregiver Journey Survey Highlights
Caregiving is, in a word, expensive. According to the survey,
42 percent of family caregivers spent more than $5,000 on caregiving expenses in the past year
18 percent spent up to $10,000
And 5 percent paid $50,000 or more
Caregiving is also time-consuming. Nearly four out of ten family caregivers, or 39%, spend more than 30 hours a week on caregiving tasks. How that time is used depends on the circumstances.
According to the survey, caregivers were far likelier to spend time on tasks like shopping (84 percent reported doing this), taking their loved one to doctor's appointments and managing finances (82 percent said they did both) than more basic activities of daily living such feeding (24 percent) or toileting (26 percent).
Other common caregiving tasks included:
Transportation for loved one (77 percent)
Communicating with friends and family about loved one's condition (73 percent)
Laundry (68 percent)
Preparing meals (67 percent)
Managing loved one's medications (66 percent)
For those who are also holding down a part-time or full-time job, caregiving can have a major impact. In fact,
The majority of caregivers (73 percent) said caregiving has had a negative impact on their job.
A whopping 79 percent said they missed at least one day of work over the past year due to caregiving.
Many caregivers are juggling employment and caregiving, with nearly 4 in 10 respondents working or looking for work.
Caregiving has a strong impact on employment, with 13 percent reporting that they had to leave their job due to caregiving duties.
Caregiving often requires co-habitation with the loved one being cared for. According to the survey 59 percent of respondents live with the person for whom they are caring. The most common triggers for living together are safety concerns (61 percent ) or a medical condition or diagnosis (also 61 percent).
Half of survey respondents said they're caring for someone who has been diagnosed with Alzheimer's disease or another form of dementia. Only 11 percent said their loved one shows no sign of memory issues.
Caregivers spending significant amounts out-of-pocket for their loved ones' care
Only 15 percent of survey respondents said they do not contribute financially to the care of their loved ones. The rest are shouldering various caregiving-related financial burdens.
Food and clothing for a loved one are the most common caregiving expenses, with 62 percent of respondents taking on this financial responsibility. Transportation is a close second, with 60 percent of caregivers absorbing this cost. And 44 percent of caregivers said they pay for medications and other medical costs.
Other common caregiving costs include travel to care for loved ones (26 percent), in-home care expenses (also 26 percent), legal services (22 percent), caregiving services (13 percent), senior care facilities (11 percent), and caregiving technology such as in-home monitoring (9 percent).
Those with a loved one in an assisted living facility were more likely than other segments to spend $30,000 or more each year related to their loved one's care. More specifically, half of family caregivers with a loved one in assisted living communities spend more than $5,000 a year, 7 percent spend between $30,000 and $50,000 a year, and 11 percent spend more than $50,000 annually on their loved ones.
Hasseman says she's fortunate that she and her husband can afford to care for her mother. Nonetheless, she says she would have done some things differently in retrospect.
"When my parents were healthy I begged my father to get long-term care insurance, but he said he couldn't afford it," says Hasseman. "If I had it to do over again I would have insisted that my husband and I pay the premium. Had I been smarter, that would have been the best thing."
Caregiving is a fulltime job
Karen Roberts, 62, has been living with her 91-year-old mother since 1997, the year she decided to leave her home and job as a journalist in San Francisco to care for her parents fulltime. Her father's health was failing and her mother had suffered two severe strokes within the same year.
"I think I've always known I would be taking care of her," says Roberts. "I'm an only child so there was no one else to rely on. So when she got sick it wasn't much of a consideration, just a matter of knowing, 'Okay, now's the time.'"
Roberts, who said an assisted living facility "was never an option," is able to work sporadically as a freelance writer, but caring for her mother is more or less a fulltime job requiring up to 10 hours of her time each day.
She said she believes families should take care of one another, no matter what. "I would prefer something else, but she refuses to live elsewhere, and our financial situation doesn't allow for any other arrangement."
Since suffering another stroke in 2014, Roberts' mother is mostly wheelchair-bound. She has diabetes and high blood pressure, and Roberts is responsible for everything from preparing her mother's meals to administering her medications, shopping for food, maintaining their shared home and feeding her cats.
"There's no real direct financial strain because my father had a great pension and health insurance as a postal worker," said Roberts. "The strain comes from not being able to work outside the home. I pick up freelance work here and there but I'm certainly making a lot less than I had before."
Roberts's situation is not unique.
Even when they're able to work, caregivers' responsibilities have a significant impact on their jobs. Ninety-two percent of employed respondents said they've experienced caregiving-related impacts to their work situation. Two-thirds of working caregiver respondents (65 percent) said they're distracted on the job, and more than half (60 percent) have had to change their work schedules due to caregiving. What's more, 4 in 10 have missed work while many employed caregivers arrive late or leave early (31 percent) and some (15 percent) feel they may need to leave their jobs entirely.
Caregiving can mean missing a lot of work, with four-fifths of employed respondents having missed at least one day of work in the past year. More than half (55 percent) said they've missed one or more weeks of work.
"If my father hadn't been conscientious with enough foresight to make sure she had health care and his pension, the only option would be to put her in a home. And I would have to work fulltime to support her," says Roberts. "But we're very fortunate that we had my father. He's been our savior. Especially hers."
Attitude is everything
For caregivers like Roberts and many others, attitudes are generally positive.
According to the survey, about half of those living with their loved ones (47 percent) said they are happy to give back to someone who gave them so much, and 45 percent said "it's working for now."
However, about a third (33 percent) said they expect a change will soon be needed, and 12 percent said they feel unable to continue caring for their loved one.
"I think I had a very vague, idyllic picture of what this would be like. I didn't envision all the nuts and bolts," says Roberts. "I didn't envision cleaning up potty chairs or soiled beds. I didn't imagine distributing medications and monitoring blood sugar levels. I didn't envision all the phone calls to ensure everything is being taken care of. I don't think anyone can envision this until they're actually doing it."
For Hasseman, the strain of caregiving has led to frequent insomnia and personal sacrifices like foregoing vacations and time with friends. Nonetheless, she says a positive attitude and emotional support from her husband has meant everything.
"I know I've been much more fortunate than a lot of other people, but it still takes an emotional toll," says Hasseman. "Family caregivers really need to prepare and expect these challenges. It's not an easy road."
For more information about Caring.com's 2016 Caregiver Journey Survey, see Caregiving in 2016: A Snapshot of Family Caregivers of Seniors in the U.S. Today.
---
With three million visitors per month, Caring.com is a leading senior care resource for family caregivers seeking information and support as they care for aging parents, spouses, and other loved ones. Caring.com provides helpful caregiving content, online support groups, and a comprehensive Senior Care Directory for the United States, with nearly 120,000 consumer ratings and reviews and a toll-free senior living referral line at (800) 325-8591. Connect with Caring.com on Facebook, Twitter, Google+, Pinterest, LinkedIn, and YouTube.