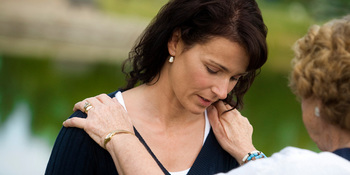 All Rights Reserved
Moving your aging loved one into assisted living could mean getting well acquainted with a feeling of guilt. Researchers have found that guilt is pervasive among caregivers. Caregivers who feel a lot of guilt may themselves have poorer physical and mental or emotional health, according to research published in the November-December 2008 issue of Psychosomatics.
"When older adults move to assisted living, it is rarely because they want to," observes social work expert Ruth Dunkle, Ph.D., Associate Dean for Faculty Affairs at the University of Michigan's School of Social Work. Many older adults are reluctant to leave their own home, and they may feel that a move to assisted living means less freedom or independence.
Further, you may already be feeling guilty because you and your family want to be the primary caregivers for your loved one.
"People tend to beat themselves up over the big 'should' – as in, I should take care of my wife/husband/mother/dad myself. This is a guilt that is deeply embedded in their own vision of their role with the person they love, and they can feel it is a direct reflection of their own value as a person if they don't measure up to their own internal standards," explains Vassar Byrd, CEO of Rose Villa Senior Living in Portland, Oregon.
Cost Can Be a Source of Guilt
The cost of assisted living can also become a particular source of both friction and guilt even if the move is necessary for health and safety, points out Kathy Stewart, RN, vice president of nursing and care for Aegis Living in Bellevue, Washington.
"Parents who are now in their 80s and 90s are from the generation that were savers. But now the adult children are taking their nest eggs and spending it on their care setting," she says. You may be feeling both guilty that you cannot afford the highest quality of care or living – and possibly even angry with your loved one for failing to save or have a long-term care insurance policy.
Between the emotional toll of the move and the associated costs, chances are your loved one is feeling angry, resentful, sad, powerless, or fearful – and seems to blame you. And you, in turn, can face tremendous amounts of guilt.
It's worth knowing that you are far from alone in feeling this guilt – nor do you have to stay stuck in that feeling. Bearing in mind that each situation and family is unique, we've put together some ways to cope with guilt while helping ensure your loved one gets the care they need in assisted living.
Ways to Cope With Caregiver Guilt
1. Be proactive about financing care.
"If parents are truly low-income, a geriatric care manager can help to identify benefits for which they may be eligible," advises social worker Leslie Kessler, LCSW-C, at Jewish Social Service Agency, which serves Maryland, D.C. and Northern Virginia.
She adds that adult children shouldn't feel obligated to impoverish themselves or their families. Lawyers and accountants specializing in elder care are also experts you can turn to.
2. Give the new community a chance.
Ron St. John, director of memory care at Encore at Avalon Park, an assisted living community in Orlando, recalls his personal experience moving his mother into a memory care unit after caring for her at home. He soon saw that she was doing better there than at home.
Byrd echoes this observation: "We often hear the comment from families that, 'My mother seems more like the person she used to be' once she has moved in and gotten adjusted."
3. Set clear boundaries.
Be firm with yourself, your family, and your loved ones about what you can and cannot do. Guilt can arise because of poorly defined limits, says Kessler.
"The caregiver needs to personally examine what they feel they can realistically give in to the older person once he or she moves to assisted living. Setting limits is very difficult for both the caregiver and the older person," acknowledges Dunkle.
A social worker, mental health professional, or faith leader can help with this.
4. Let your loved one make choices.
"Any place where a resident is in charge of almost all the decisions of their own daily life restores that person's sense of autonomy and independence," says Byrd. You may feel less guilty as you see your loved one take more control of different aspects of their new living arrangement.
5. Reassure yourself about the assisted living community's staff.
Guilt can arise because you feel obligated to take care of your parent personally, even though, as noted in the 2015 Caregiving in the U.S. report, almost half of caregivers report feeling highly stressed and inadequately prepared to care for themselves and their loved one.
Reassure yourself by getting to know the staff and learning about their training and qualifications. "If the child is seeing to the parents' proper care, it is completely ok to allow professional caregivers to perform the duties," says Kessler.
6. Visit during events with set times.
Visiting during time-limited events can ease goodbyes, recommends Stewart, who authored "Mom's Losing Her Memory, I'm Losing My Mind."
"There will be social interaction, and a defined end," she explains. Leaving at the end of a luncheon, bingo evening or party could be easier on everyone because your loved one knows that all visitors will be leaving at the same time.
7. Build connections for your loved one.
Fear that an aging parent is alone or bored can feed guilt. Work with the assisted living community and your loved one to identify activities and people they might enjoy. "The facility can also help the older person by maximizing their independence and facilitating social interaction in the facility," says Dunkle.
Some communities have shared spaces such as kitchens and gardens where residents can still enjoy some of their home based hobbies.
8. Join a support group.
All of the experts we spoke to recommend caregiver support groups as a coping mechanism. "Adult children come from all corners and they share in a way that only other adult children can really understand," Stewart says. Also look for educational sessions and lectures the facility provides to help you understand your loved one's experience.
You might also consider caregiver support groups facilitated by condition-specific organizations such as the Alzheimer's Association or groups for caregivers of those who have had stroke or cancer.
9. Rediscover your own life.
St. John points out that many people let their own hobbies and social connections slide during full-time caregiving. When your loved one moves to assisted living, it's an opportunity to rediscover those parts of your life – or explore new hobbies and connections.
10. Rediscover your parent.
Also, says Dawn Maligno, executive director of The Atrium at Faxon Woods in Quincy, Mass., a Benchmark Senior Living community, this is a time to connect to your loved one in a new way. "Decreasing the stress of caring for a parent can allow you to rebuild the parent-child relationship and make your time together more meaningful," she says.
11. Treat depression.
A move to assisted living comes with a risk of depression for everyone involved. Seek help for depression if you find that you or your loved one are feeling hopeless or sad, or if you notice that you're avoiding hobbies, social connections, or your sleep and eating patterns are changing.
---
Don't Be Afraid to Seek Help
Don't let guilt sideline your relationship with your loved one in assisted living or the rest of your family. Seek help to resolve specific sources of guilt.
"The most positive aspect of having a loved one move into a situation where they have support and caregiving provided is that you as a family member are now free to be their son or daughter, husband or wife, and not a daily caregiver," says Byrd.
"Life is short and precious and the opportunity to deepen and appreciate your relationship with someone you love should be savored."