All Rights Reserved
For the growing number of employees who are also caregivers, work often gets workier. Nearly 40 percent of the caregivers responding to a new Caring.com poll said they are also working full-time or part-time. Here, a look at some of their challenges -- along with practical advice about how to make the life/work balancing act more stable.
Know your legal rights.
The most sweeping federal law aimed at helping workers balance job and caregiving is the Family and Medical Leave Act, or FMLA, which allows employees up to 12 weeks of leave in a year to take care of a child, spouse, or parent. Workers must also be able to return to the same or a similar position as they held before the leave.
Next: Boomers Delay Arrangements for Selves
The leave has limitations. It applies only to workplaces with 50 or more employees and to workers on the job a year or more. The biggest drawback: The leave is unpaid.
But most states, and a growing number of cities and municipalities, have also passed laws guaranteeing leave -- most of them more liberal than the federal protections. Still, those laws vary wildly on important particulars, including the size of the workplace and types of workers covered, reasons for leave, and whether it is paid. Some workplaces have also established their own leave policies.
The various leave laws have created a patchwork of protections embroidered with loopholes and knotty exceptions confusing to employees and employers alike.
Need Assisted Living? Let Us Help.
As a worker interested in leave, your first best step is to do your own research to suss out your legal rights. Take some time to actually read that employee manual, talk with your union representative -- and check with your state labor department; most have websites summarizing state and local rules, and many have advisors who will answer questions online or by phone.
Inform your employer.
Workers traditionally stayed mum about their off-the-job caregiving duties, fearing their bosses might view them as distracted or disinterested in the job. But that's changing. In the recent 2014 Caring.com Usage and Attitudes Family Caregiver survey, more than three-fourths of those polled said their employers know about their situations.
The transparency is a good thing -- especially because it bears on another reality: If you're like most people, caregiving will have some effect on your ability to concentrate and perform your job.
In fact, about 60 percent of those polled reported that their caregiving duties negatively affected their employment situations. About two-thirds said they experienced distractions related to caregiving while on the job, including phone calls and e-mails from their loved ones, other family members, medical and social workers -- and emotional repercussions from all of it. A smaller percentage -- 16 percent -- said they were forced to miss a significant amount of work.
Ask your employer for a confidential meeting so you can briefly explain your situation. Reassure that you remain willing and able to do your job, but that you may also need some help and understanding while attending to caregiving demands.
Emphasize the positive. Mention specific ways you can accommodate work: Your dad's dialysis site is now equipped with wifi so you can keep up with work e-mail while there, or your mom will be starting at an adult care center three days a week.
If your need for leave is part of the discussion, you will already have the firm foundation of having researched your legal rights in the matter -- and you can steadfastly insist on them.
Get help.
It often takes both a financial and an emotional toll to work as both employee and caregiver. Contact the Area Agency on Agency for local leads on free and low-cost help with social visits, errands, and light housekeeping. Also find out what financial help may be available. Karen Ballou, an employee at a government research facility, recently found herself strapped for time off, with no vacation or sick days to spare, when she needed to care for her ailing husband. Ballou became a beneficiary of her company's Catastrophic Leave Program, in which the generosity of employees who have accrued vacation time can donate it to others. She lost only six days of pay during the three months she took off work to tend to her husband's end of life.
Lobby for workplace change.
The idea of getting your workplace to change may seem as pie-in-the-sky as the advice well-meaning experts give caregivers about the need to take care of themselves: Get plenty of sleep, eat balanced meals -- and exercise regularly, too. But the truth is, something's got to give, even in the most hidebound workplaces. The problem of balance is not going away, and it will become more pressing in time. Due to economic necessity, psychological need, or sheer perversity, the average age of retirement has increased rather steadily since the mid-1990s. Many baby boomers now need care themselves -- and there are fewer family caregivers to share the burden.
Nearly half the workers in the recent Caring poll said they had to make changes to work schedules to accommodate their caregiving duties; 30 percent said they often arrived late or left early.
While paid or unpaid leave can be a lifesaver and a jobsaver, there may need to be changes in job duties and work hours if caregiving is required for an extended time. Make clear to management that you want to work together on potential changes. Suggest some possible solutions: a job-sharing arrangement, perhaps with a coworker who also has caregiving duties; flexible scheduling; company information sessions on local resources for caregivers.
If your employer has a sympathetic ear but is stumped about how to help, you might recommend the toolkit "Four Steps for Supporting Employees With Caregiving Responsibilities" by the employer-focused coalition ReACT (Respect a Caregiver's Time), AARP, and the National Alliance for Caregiving.
A number of groups established early on to help workers balance childcare duties have morphed to focus on changing company culture for those who care for adults. Among them are:
Reassess your work life.
A sizable number of workers recently polled -- 15 percent -- felt they may need to leave their jobs to attend to caregiving.
That may not be a bad thing. Most workers experiencing the stress of juggling job and caregiving also cop to some of its incredible rewards: a closer relationship with a loved one, pride in providing care and support, new understanding of aging and dying.
For many people, the profound experience of caregiving proves far more valuable than climbing the corporate ladder. The experience may prompt them to look more closely at a job and realize it is no longer a good fit.
When their caregiving duties have ended, a growing number find it a gift that keeps giving. They use the experience to shift gears in their careers -- becoming geriatricians, home care aides, geriatric care managers, and volunteers in the burgeoning sector of healthcare jobs.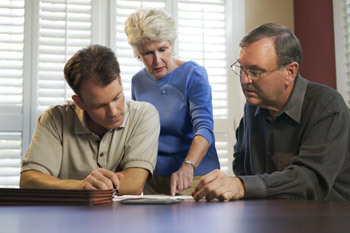 Out-of-Pocket Caregiving Costs | Next: Boomers Delay Arrangements for Selves