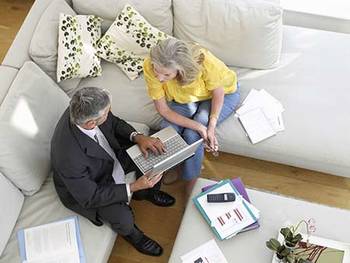 All Rights Reserved
Sometimes it seems like no matter how carefully we plan, we're blindsided by the unexpected and thrown into "crisis management" mode when it happens. That can be the case with senior care -- families are often caught by surprise when their loved one's costs rise over time. But it doesn't have to be that way. There are specific factors you can take into account to plan realistically for the future.
Here are the five most common reasons why senior care costs rise, and how that might impact your loved one. Understanding and anticipating these situations will help you be prepared for change and deal with it without losing your cool.
1. The Necessity of Moving to a Less Independent Arrangement
When a parent or other loved one makes a move to an independent senior living community, we tend to focus on their needs at the time. These communities ease many of the burdens of daily life, like cooking and driving, and there may be services such as beauty salons and banks available.
However, while some have doctors who provide appointments onsite, these communities aren't usually set up to provide daily care if your loved one develops mobility issues or comes to need help bathing, getting dressed, or taking care of other tasks of daily living. Some senior living communities, often called continuing care communities, have assisted living and skilled nursing facilities available on the same campus. Of course these options are priced differently, and moving up a level can cost significantly more. In other cases, your loved one will need to move to a new assisted living or nursing facility. In either situation, you'll want to take both the cost of the move and the cost of the higher-level of care into account as you plan.
2. Declining Health
If your loved one needs the additional care offered by assisted living, you'll want to understand the cost structure that's going to guide your future planning. Most assisted living communities have a cost scale that's based on the level of care each resident needs -- which is likely to change over time. Some communities set a base cost, then add a separate charge for services such as incontinence care or nursing supervision of medications. In some facilities, specialized types of care, such as incontinence care, are charged separately. This can save money overall for the residents who don't need this type of care, but means those with this need can expect to pay more.
Typically, your loved one's independence is the primary factor. If your loved one has incontinence issues but can take care of them herself, an additional incontinence charge wouldn't be necessary. Other assisted living communities structure costs according to a point system, based on their assessment of a resident's needs. If your loved one requires assistance with bathing, dressing, and grooming, or needs help getting up and moving, or is on a medication that she can't take without help (such as one given by injection), these would all be taken into consideration. (For more information on how assisted living facilities calculate costs, see how assisted living facilities determine levels of care costs.) No matter how assistance costs are structured, you can anticipate that as your loved one's health or mobility declines, the charges for her care will go up.
3. Memory Issues Can Affect Care Costs
If your parent or other loved one has dementia or Alzheimer's, or you're worried that her memory is failing, you'll want to explore how memory care is handled in her community to plan for the future. General forgetfulness is generally not a problem, but Alzheimer's and dementia can require monitoring and cause behavioral issues that are going to increase the cost of care. Some senior care communities offer specialized memory care facilities; others treat these conditions within the assisted living setting.
4. Yearly Cost Increases
Most senior living communities reassess costs at the end of the calendar year and increase rates based on cost of living increases and inflation. A 2014 study by Genworth found that over the past five years, the average cost increase for assisted living across the country was 4.29 percent. Nursing home care increased by an average of 4.19 percent over the past five years. In contrast, the cost of in-home care has remained relatively stable, increasing an average of 1.32 percent across the country. The cost of in-home care is affected by the national economy and employment situation, so this could change in the future if economic growth and job growth continue to improve.
5. Medical Care
While not a direct component of long-term care costs, the medical treatment your loved one needs is almost certain to increase as she gets older, and you'll want to take this into account. A stroke, heart attack, broken hip, or other catastrophic event can turn things upside down, requiring rehabilitation, skilled nursing, and of course out-of-pocket hospital costs. One thing many family members are surprised by is the cost of hiring skilled nursing care, if your loved one's needs require an attendant with medical credentials and training. If your loved one was previously able to prepare at least some meals for herself and now needs cooking help or all meals provided, this can significantly impact costs as well.
The good news is that there are professionals such as geriatric care managers and planners who can help you work out a long-term plan for caring for your loved one.