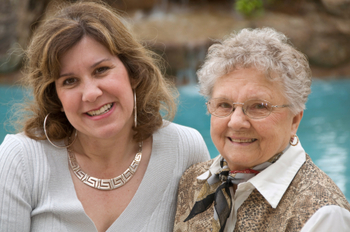 All Rights Reserved
Coping with a loved one's dementia symptoms can be stressful beyond belief. Whether symptoms are caused by Alzheimer's or another form of dementia, knowing what to expect and what you can do to help -- while getting the emotional support you need -- can greatly improve the quality of care you offer and help preserve your health and sanity.
Here are seven of the best resources available to those caring for someone with dementia:
1. Your local Area Agency on Aging
What it is: Your local area agency on aging is a government-mandated clearinghouse for general information about nearby eldercare services. These agencies also offer free referrals to local services that provide transportation, meals, adult day services, in-home caregivers, legal assistance, home-based training programs for caregivers, and other forms of help.
The names of these agencies often vary by community. But the services they refer to are usually free or low-cost, and calling the agency is free.
How it helps: Area agencies on aging are one of the best first calls a caregiver can make to learn the local lay of the land on eldercare: what kinds of programs, facilities, and expertise are available in the community. Staffers can answer common questions and refer you to resources that are most likely to match your family's specific needs -- speeding your research process and perhaps making you aware of resources you never knew existed.
2. Caring.com Steps & Stages
What it is: This first-of-its-kind, customizable, online resource for Alzheimer's care walks family members through everything they'll encounter while coping with a loved one's disease, including both expert guidance and support from fellow caregivers. Users of Steps & Stages answer a few basic questions to determine which stage of dementia-care advice they need. Then they receive weekly Steps & Stages e-newsletters tailored to the common concerns of that stage, gain access to stage-specific discussion groups, receive critical self-care advice, and can ask experts questions or access a huge library of practical caregiving advice.
How it helps: Because Alzheimer's is a progressive disease that's different for everyone, finding the specific help you need at a particular time can be overwhelming. Caring.com's stage-based Steps & Stages simplifies the challenge by tailoring advice to the point that a loved one's condition is right now. Caregivers can easily find answers to symptoms such as aggression, behavior problems like wandering, or complications including delirium and depression as they come up. Other caregivers using the resource -- which was developed by a team of experts -- add a dimension of moral support as well as practical, real-world idea-sharing.
More resources for Alzheimer's help
3. The Alzheimer's Association
What it is: Founded in 1980 as the first national organization devoted to advancing Alzheimer's disease awareness and research, the Alzheimer's Association now has more than 75 chapters and runs more than 4,500 local support groups. The Alzheimer's Association also delivers educational programs in local settings and promotes disease research through such fund-raisers as the annual Walk to End Alzheimer's and an international conference on Alzheimer's disease.
How it helps: Local chapters provide a handy way for caregivers or the newly diagnosed to tap into support groups and educational programs or connect with local experts. The Alzheimer's Association has also partnered with MedicAlert to provide a 24-hour emergency response service for medical emergencies or to find those who wander off. Another service, called Comfort Zone, lets families remotely monitor someone with Alzheimer's through automated alerts.
4. Local dementia support groups
What they are: Support groups come in many formats, but most involve small groups of people sharing common experiences under the guidance of a trained expert (such as a social worker or nurse) or a fellow caregiver. They're often held at hospitals, community centers, and places of worship. Participants meet at regular intervals to hear speakers, learn about local resources, and exchange practical ideas and emotional support.
Some groups target spouses or those dealing with a specific stage of dementia. There are also groups for the newly diagnosed, which may be run by hospitals or memory clinics, organizations such as the local Alzheimer's Association, social-services agencies, or self-starting individuals who are reaching out to fellow caregivers.
How they help: Participating in a support group outside of the home helps caregivers feel less isolated (a common complaint) both physically and emotionally. Others who are going through the same experiences share their stories, mistakes, and successes; strong friendships often form. Groups may feature expert speakers who discuss such relevant concerns as neuroscience, behavioral issues, Medicare, self-care, or family dynamics.
Research shows that participants in caregiver support groups report less stress and depression, and they may be better able to delay institutionalization of a loved one.
More resources for Alzheimer's help
5. The Alzheimer's Disease Education and Referral Center
What it is: Run by the National Institute on Aging, the Alzheimer's Disease Education and Referral Center (ADEAR) is the government's consumer information center about Alzheimer's disease. ADEAR provides research summaries, free publications on memory loss and caregiving in English and Spanish, and general information about Alzheimer's disease.
ADEAR manages a list of National Institute on Aging-funded Alzheimer's Disease Centers, which are research centers at major medical institutions across the country. ADEAR also manages the Alzheimer's Disease Clinical Trials Database, a joint program of the U.S. Food and Drug Administration and the National Institute on Aging.
How it helps: The ADEAR's Alzheimer's Disease Centers can be good starting places for creating an action plan to cope with memory loss. They may offer diagnosis and medical management as well as access to clinical trials of dementia drugs. Participants in clinical trials usually receive free treatment and follow-ups in exchange for helping to advance drug research to slow or cure the disease.
6. The Family Caregiver Alliance
What it is: The leading nonprofit organization supporting long-term family caregivers of all kinds (those caring for anyone from ill children to elders), the Family Caregiver Alliance focuses on education, services, research, and advocacy. Much of what FCA does is "behind the scenes" to the average caregiver: advocating for caregiver-friendly policies, conducting and promoting influential research, working with corporate human-resources officers, and advancing the profile of the growing army of unpaid family caregivers. But the organization also offers many practical services.
How it helps: Its National Center on Caregiving offers tip sheets on such topics as family meetings and end-of-life choices. A resource called Family Care Navigator helps users locate publicly funded caregiver support programs in all 50 states. It also conducts caregiver workshops and professional training around the country.
7. Online support groups for caregivers
What they are: A newer twist on the conventional support group, online support groups and chat groups provide the same kind of emotional understanding and practical advice-sharing, without requiring participants to stick to a particular schedule or even travel from their homes. Some online support groups require enrolling as a member, while others are open to the general public. Most are sponsored by organizations or companies and are monitored. To find an online support group, look at websites specializing in Alzheimer's care or caregiving. (Caring.com Steps & Stages, for example, provides stage-based community groups for those who use this resource.)
How they help: Connecting with other caregivers in the same boat provides an outlet to vent when needed -- no saving up tales of woe for, say, Thursdays at 7 p.m. You can also get the benefit of "group think" -- hundreds or thousands of fellow caregivers share their answers and tips. Unlike conventional groups, you can get help right when you need it, even if it's 2 a.m. And because participants don't have to leave home, these groups are often a more practical option for those grappling with a loved one's moderate- to severe-stage dementia.