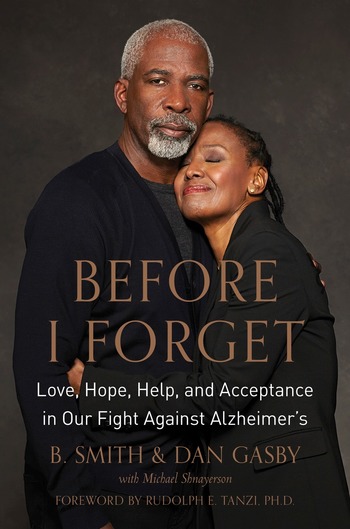 All Rights Reserved
She's been a fashion model, TV host, restaurateur, magazine impresario, and renowned lifestyle guru. Now Barbara Elaine Smith, known as B. Smith, is adding Alzheimer's patient, advocate and author to her many titles.
At 64, Smith was one of the approximately 200,000 individuals under age 65 diagnosed with early onset Alzheimer's disease. In the more than two years since, she her former television media sales executive and producer husband Dan Gasby have worked tirelessly to raise awareness of the disease.
There's no doubt that "Alzheimer's patient" is her toughest role yet. The epitome of beauty and ambition throughout her life, Smith never expected to face such a daunting diagnosis in her mid- 60s.
Afflicting 5.3 million Americans, Alzheimer's is the sixth leading cause of death in the United States. Notable in Smith's case, almost two-thirds of Americans with Alzheimer's are women. In 2015, Alzheimer's and other dementias cost the nation an estimated $226 billion. The Alzheimer's Association projects that this figure could surpass $1 trillion by 2050.
Now Smith and Gasby, together 24 years, have published a memoir of their struggle against her disease. Their story, "Before I Forget: Love, Hope, Help, and Acceptance in Our Fight Against Alzheimer's," debuts this month.
I was curious to find out how they're coping since finishing the book. With a disease like Alzheimer's, progression marches to an often quite fast beat.
On the day of our scheduled interview, B. wasn't doing well and, to Dan's credit, he didn't want to sugarcoat what was happening.
"She's having a tough day," he said. Something set her off and she had left their home with a caregiver to calm down. "There's nothing worse than being dishonest or disingenuous about how excruciatingly difficult it is to be a caregiver."
As a caregiver myself, I understand what it's like trying to manage unpredictability and volatility. I shared with Dan that my stepfather had Alzheimer's and my mother has dementia. "Then you're in the club, too," Dan said in a powerfully direct way. As you'll read in the following Q&A, Dan is passionate about telling it like it is, warts and all.
How have you two been since finishing your book?
Overall, OK. But today is a good example. She was very upset and needed to leave the house for a while.
What's your caregiving experience been like?
I liken it at times to being a victim of domestic terrorism. You never know what's going to set an Alzheimer's patient off. You have to have an inner resource to keep yourself from getting to the precipice and wanting to jump. Why do you do it? The reason is because you're in a club. In today's world, there's reality and there's virtual reality. You have to have a moral compass to do what's unpleasant and thankless at times.
I've found in my own caregiving that many people shy away from hearing about how things are really going, the dark stuff. Have you had that experience? Most people don't want to deal with it because it reminds them about their own vulnerability. Until they have to deal with it and then they have a "eureka moment" and they're in the club. In our case, B. still has model good looks and continues to be social as much as she can. People see a snapshot and think they know what's happening. They see one tenth of it. They don't see the other nine-tenths.
What drives you to speak out about Alzheimer's?
We have to make a point to these people who don't see the other nine-tenths. I have two charges, two points to get across to people: One, the mind you save might be your own; and two, we have to get a body politic that is totally constipated and averse to the noble qualities our founding fathers set for us. Our government builds roads, sends people to the moon, and ships troops off to war. They need to mitigate and ultimately eliminate Alzheimer's through research, which, of course, requires a lot of money.
I also want to get across how Alzheimer's is impacting more black lives than the police brutality splashed across the headlines. It is the 21st century civil rights issue. An African-American is more likely to have cognitive issues, and two out of three people who are likely to have Alzheimer's are women, and people who have limited resources have to give up what little they have to take care of the ill person and it breaks down the family. This disease hurts people of little means more than anyone.
How has this changed your view of quality vs. quantity of life? It's fascinating to me that, as Alzheimer's and dementia rates skyrocket and quality of life for many plummets, there's an equally skyrocketing focus on longevity and length of life.
I think a car without a driver is just a paperweight. A body without a mind is just being warehoused.
Safe to say, this disease has changed your views on what's really important then?
The little things are the big things and the big things are the little things. We have had a beach house, penthouses, and associate with people who have big incomes and think of flying first class as de rigueur. The only true measure of a human being is what he does with what he has. The only true thing that matters is making the world a little better.
As a caregiver, how do you manage your own energy?
I did this by myself and I felt like a cat in a dog kennel. Initially, I was a caretaker with B. for eight hours a day. Now I have some help. I'm working out. I am meditating. Every so often I go out and curse God and then ask for forgiveness.
Part of my energy comes from purpose, too. I know I can make a difference. I had to resolve in my mind that this is reality. I don't want to ever look you in the eye or my maker in the eye and wonder did I do what I could do?
What would you like to see in terms of help for Alzheimer's?
More money towards research. If it's costing Americans $220 billion every year in time and money to take care of Alzheimer's patients, then is spending 5 percent of that on research worth it? You either pay now or pay later. I'd like to see us make a difference with Alzheimer's like we do with cancer.
What's changed since you finished writing the book a few months ago?
I see differences even since we finished the book. There are times when she'll have an almost out of body experience and say "I'm broken" and she's cognizant. And at those moments, it's the worst look you can see. It's like looking at someone who's about to fall and you want to save them. You want to say, 'I got you.' But they're saying, 'I'm letting go.' Those moments make me realize I have to fight for this disease beyond just her.
Is B. going to be able to participate in the book promotions?
I hope so, and as much as possible. This is a woman who could look at a piece of paper and memorize it. She was in 100 commercials. She could look at a food dish and know exactly how to make it.
Is there any upside to life with this diagnosis?
The brain is a beautiful instrument. Many with Alzheimer's don't have endless stress. They get angry and then they get over it. It's hard to be deceptive. In a way, I've learned to live the Alzheimer's way; to live in the now, not in the past. It's a great thing for caregivers to realize and adapt to…if you have trauma, in 15 minutes it may be gone.
Do you have any specific advice for caregivers?
Know that no matter what happens, what you're doing is the morally right thing. You'll never have to look in the mirror and know you ran away or backed out. Channel the frustration of what you're dealing with into making a difference on a grander scale, whether it's writing a letter or making a phone call or telling someone else the truth about what it's really like so maybe they'll write a letter or make a phone call.
Also, no one is going to criticize or kick you in the butt more than yourself, so don't do be so hard on yourself. You'll do it all too well. Do what you can and move on. Live in the moment. Dying is easy compared to living like this. Being in the club changes you.