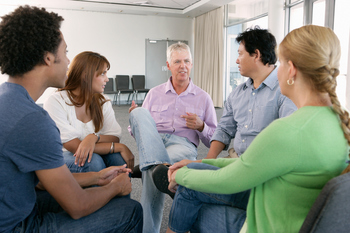 All Rights Reserved
The basics of Alzheimer's support groups
Nearly every professional involved with Alzheimer's or other forms of dementia recommends support groups for caregivers and loved ones of people with the disease, simply because it can be so challenging -- emotionally, mentally, and physically. As the disease progresses and alters a person you know, you're bound to experience a range of reactions and face ever-changing problems.
Being with other people in similar situations can be a source of practical help as you learn about new ideas and resources. But most of all, it's helpful to talk to or listen to others wrestling with similar problems and the complicated feelings they bring.
What are support groups?
Support groups come in different shapes and sizes:
They may meet weekly, biweekly, monthly, or bimonthly.
Some have fixed start and end dates, just like a series of classes.
Others meet on a regular basis for anyone who drops in.
Most are free.
The individual meetings typically last about two hours each, and many are scheduled during evenings or weekends, to fit around working hours.
Groups vary in size, usually being open to between six and 20 people per session. Ideally, they're small enough for everyone to contribute and feel comfortable with one another.
Who attends?
It depends on the group. Some are specifically organized to help a particular subgroup of caregivers -- adult children, for example, or male caregivers. Some are set up for those whose family member is in a certain stage of the disease. Groups for early-stage Alzheimer's groups are increasingly available. Some gatherings have a faith-based or spiritual component.
Typical Alzheimer's support group meetings
Who leads support groups?
It's helpful to know about the group leader's background. Groups are generally led by medical professionals, social workers, experienced caregivers, or volunteers who've been trained to lead support groups (and who usually have had firsthand experience with the disease). If the facilitator isn't a professional, ideally she should be sponsored, supported, or trained by a trustworthy organization such as the Alzheimer's Association or the Alzheimer's Disease Research Center.
Facilitators should be able to wear several hats: They may lead discussions by introducing specific topics, may balance group members' opinions and advice with other perspectives, may teach or share useful information, and may offer reassurance and encouragement.
What happens at meetings?
Groups vary in their purpose, organization, and "feel." Some support groups are formal, with guest lecturers scheduled to talk about common topics of interest to caregivers, like managing problematic behaviors or financial planning. Others are informal, inviting members to share stories about their experiences and give one another moral support. Many groups use a combination of these approaches, alternating candid conversations among members with lectures from special guests
What's the Benefit of an Alzheimer's Support Group?
Despite the differences among support groups, they have one thing in common: All have the potential to become an essential component of a caregiver's well-being and success. By blending psychological support and practical knowledge, an Alzheimer's support group is a resource that can't be replicated just by reading up on the disease or by leaning on friends or a partner for moral support.
Support groups offer caregivers and family members the opportunity to ask questions, share stories, give and receive comfort and advice, and learn more about Alzheimer's disease (including its different stages, care-giving strategies, relevant legal advice, housing and other care options, local care contacts and resources, and more).
For many caregivers, a support group is a place to exhale. You may hesitate to confide certain information or experiences with family or friends who also know the person with Alzheimer's. You may fear that you'll be judged or criticized, or worry that what's said can affect family dynamics. It's often easier for any of us to talk with strangers who aren't involved in our particular situations.
And because the other group members have "been there," they may be more likely to listen compassionately to your expressions of guilt, frustration, or anxiety, or to stories about mistakes you feel you've made or challenging situations you've faced. A confidential, positive setting for sharing your experiences -- and releasing your emotions -- is known to be a tremendously important factor in how well one copes with caregiver stress.
Identifying the right Alzheimer's support group
Where can I find a group?
Groups are sponsored and organized by local Alzheimer's Association chapters, hospitals, churches, or other social-service or community organizations. Ask any of these institutions or the patient's doctor if they can suggest programs to investigate. These days they're easier to find than ever, as the disease affects ever-larger numbers and continues to lose its stigma and mystery.
Good sources of information on support groups, in addition to your local Alzheimer's Association chapter, include your local Area Agency on Aging, other social-service agencies, local hospitals, the patient's physician(s) and other health care professionals, a geriatric care consultant/coordinator/manager, adult day centers, and other caregivers. You can also participate in Caring.com's Online Alzheimer's Support Group right now.
How do I find one right that's for me?
The trick to getting the most out of a support group is to find a good fit. Consider whether a group is convenient to your schedule and location, addresses your specific needs, and feels comfortable to you.
It's important that you feel at ease and can open up about your experiences and ask questions -- if not on your very first visit, then after you've sat in on a session or two. You may need to try out a few groups before settling on the right one. Don't be discouraged if one (or several) doesn't feel right to you -- investigate another.
Some people benefit from joining more than one group. In addition to an Alzheimer's support group, you may want to consider a group for caregivers of people with dementia of all forms, or a group for caregivers in general.
If your schedule is tight or you can't find an appropriate group locally, try looking online. Numerous online support groups are available through reputable websites and organizations. One example: Alzheimer's List, a group organized by the Alzheimer's Disease Research Center at Washington University in St. Louis.