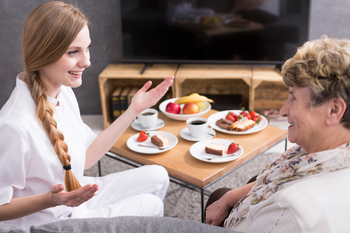 All Rights Reserved
Caring for a loved one with Alzheimer's disease or dementia typically requires the help of those outside a patient's circle of loved ones and friends, especially as the disease progresses. And while their loved one's disease is still in the mild to moderate stages, many families may opt for in-home care over a residential care environment.
Understanding your in-home care options for Alzheimer's care is vital to choosing the support that's best suited for your loved one and your budget. That starts with knowing what in-home care options are available. The types of in-home care available for those living with Alzheimer's include:
Basic companion services
This service can include visiting and supervising the patient or personal care services, including assistance and supervision for bathing, dressing, eating, and other daily routines," says Eddie Chu, owner of Qualicare Family Homecare, a home care service in Ottawa, Canada.
Home assistance services
Home assistance caregivers help with a variety of household and personal duties including cooking, cleaning and even grocery shopping, says Chu. This service can help alleviate pressure on the primary caregiver, and may include personal care for the person with Alzheimer's including bathing, helping feed or dress, etc.
Skilled in-home care
A skilled in-home caregiver is a licensed health professional who comes to the home to clean and treat wounds and dressings, administer vaccines and medications, perform physical therapy and other health-related tasks for the person with Alzheimer's.
Nurse-managed care
With nurse-managed care, family caregivers are supported 24/7 by a nurse or a qualified medical professional any time they're on shift when there are questions about care, medication or a sudden change in condition. This type of in-home care is a significant source of professional support and security for the client, the family, and the caregiver.
Chu says nurse-managed care may be provided alongside the primary family caregiver or in the family caregiver's place. "The latter is more common because often the purpose of hiring a caregiver is to provide respite for the family member who has the primary care accountabilities," he says.
Depending on the need, the frequency of visits typically ranges from weekly to 24/7 around the clock care.
Choosing a care provider
Along with the level of care, families also have a variety of options when deciding the type of person to hire to administer that care.
"You can often choose to hire from licensed agencies which provide Home Health Aides, LPN and even RN level of care," says Nancy E. Avitabile, an Aging Life Care manager and fellow of the Leadership Academy for Urban Eldercare in New York City. "You can also hire a professional who works directly for the family and not a third party (agency) employer," she says.
Avitabile says any caregiver you're considering hiring, whether through a licensed agency or working directly for the family, should have certification or credentials such Home Health Aide (HHA), Certified Nursing Assistant (CNA) or Personal Care Worker (PCW). However, she adds that holding a certification is no guarantee of a home care worker's dementia care skills. "Most workers possess the basic training in personal care and chore services. But I usually encourage families to look for workers who have sought additional training specific to dementia care, have dementia care experience and are able to connect and engage the patient," she says.
Regulations on minimum certifications for care providers vary by state, so Avitabile says the decision to hire from an agency vs. a direct hire worker is often based on the patient's skilled care needs.
"Most home health aides, whether provided through a licensed agency or direct hire referral should be expected to handle daily personal routines, light housekeeping and chores, such as laundry, and well as skin care, toileting, oral hygiene and the like," she says.
The cost of care
In major metropolitan areas, Avitabile says in-home care costs can range from $20 per hour or more for basic companion service to about $150 per hour for care provided by a registered nurse. The rates for LPN, RN and HHA are typically set rates and not contingent on medical complexity.
However, if you opt to hire direct rather than using an agency, you may have some flexibility over which hours are covered.
Some services provided through state assistance programs offer a modified price structure, but in general, all agency workers are paid an hourly rate. Agencies and private workers alike may also set a minimum number of hours they'll bill for.
Offsetting the cost
The cost of in-home care can be daunting, especially for those on a fixed income. But numerous state and national programs provide volunteer options that offer support and respite to family caregivers of those with Alzheimer's. And while these programs don't provide direct care to the person living with cognitive impairment, the chance to have a break while knowing a loved one is safe can be invaluable to a caregiver.
Health care institutions like Cabrini Medical Center in New York City train volunteers to provide education, support and respite to caregivers of loved ones with mid- to late-stage Alzheimer's.
"Many of these services are completely free to the caregiver of a person with Alzheimer's," says Lynette Whiteman, Executive Director, Caregiver Volunteers of Central Jersey, a nonprofit that provides respite to caregivers of those living with Alzheimer's.
Through grants, donations and fundraising efforts, groups like Whiteman's also provide free in-home respite once a week, for 3 to 4 hours through trained volunteers. "Our service is completely free to the those 60 and older and their caregivers; our volunteers use their own cars and gas."
During this time, Whiteman says caregivers may choose to schedule their own doctor visits, visit with friends or even stay home and catch up on sleep because they are exhausted. "We don't provide "hands-on" care like dressing or bathing, but our volunteers who are pass background checks, often prepare lunch and eat with the individual," she says.
Veterans may also qualify for free or reduced-cost programs that support in home care such as adult day care offered through the U.S. Department of Veteran's Affairs.
Residential care options for Alzheimer's and dementia
If you begin to fear for your loved one's safety as their disease progresses and are unable to provide constant supervision or find an appropriate dementia day care option, it may be time to consider a long-term care facility. "Your loved one's safety and well-being has to be the top priority, and a medical professional will be able to help you make an informed decision on what's best for your loved one's care plan," says Chu.
A government-funded long term care (LTC) facility is the most affordable option. However, the quality of care and the amount of attention a client receives may vary greatly depending on the facility.
Privately operated memory care communities are more costly than government-funded LTCs. Their accommodations range from basic to luxury, and from relatively independent living to full hospital-like care. As a result, the cost can vary widely from thousands of dollars per month to tens of thousands.
That's why if a person has a home with extra living accommodations, a live-in caregiver is often an economical care option, Avitabile says. In some cases, the cost is comparable to a mid-range retirement community.
"If an individual has the resources to stay at home, there are systems available to support aging in place until the end of life such as in-home hospice," she says. "In my view, long-term placement in a facility should occur when there are no longer funds to adequately maintain the individual at home, there is limited supervision or the caregiver has limited supports."
If you're uncertain what level of supervision and care your loved one requires, discuss his or her care needs and concerns with a doctor.