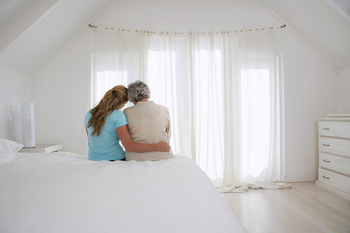 All Rights Reserved
While every one of the millions of Americans who have lost a family member or friend to Alzheimer's disease knows its devastating toll, new research indicates that without the discovery of some kind of treatment, the costs of caring for Alzheimer's patients in the U.S. could soon soar to over $1 trillion per year.
The Growing Financial Impact
In 2017, treatment of Alzheimer's patients is expected to cost $259 billion, according to a March report by the Alzheimer's Association. And this staggering figure doesn't even include the work done by the more than 15 million Americans providing unpaid care for people suffering from Alzheimer's and other forms of dementia, estimated at 18.2 billion hours of assistance or $230.1 billion in unpaid labor, according to the report.
Medicare and Medicaid will cover 67 percent of treatment costs this year -- including costs like hospital visits or prescription drugs -- roughly $175 billion. And with the U.S. population skewing older and living longer, it's projected that more and more people will be affected. Without a cure or treatment, medical costs for Alzheimer's patients will likely balloon to $1.1 trillion by 2050, the report states.
Dr. Keith Fargo, the Alzheimer's Association's Director of Scientific Programs, argues that investing in research toward a cure now would be wise since it could help prevent some of that spending down the line. But while the federal government currently spends $131 billion on Alzheimer's care, less than $1 billion is provided for research.
"One of our primary goals is to increase funding for Alzheimer's disease research," Fargo said. "It's a miniscule fraction of what the federal government pays for people who have the disease."
Between 2000 and 2014 the number of deaths from Alzheimer's nearly doubled. While this is likely partly due to better diagnosis and record keeping, the country's largest generation is now reaching the age group most at risk for developing Alzheimer's, so more diagnoses are expected than ever before. According to Fargo, up to 13.8 million people will be living with the disease by 2050.
A Heavy Emotional Toll for Families
While there is a massive economic cost to treating Alzheimer's, there's also an incalculable human cost, as a diagnosis can throw families into turmoil, destroy sibling relationships and shatter marriages. While the progression of the disease is different for everyone, with no known treatment or cure, the only thing families can know for sure is that it will only get worse, with their loved one's memories and personality slowly deteriorating before they eventually die.
"It is a very devastating diagnosis," said Janet LeClair, Chief Operating Officer of The Ivey, a non-profit day care center for elderly adults with dementia in Charlotte, North Carolina. The nonprofit organization provides adult day care with a variety of social therapies including music, art and recreation. "People really don't know what the journey is going to be like, it manifests itself so differently, no one really can know."
LeClair knows from experience: she was a caregiver for her mother for seven years, who lived with LeClair and her four children. She was working a very demanding job at the time and while she got some help from her three siblings, LeClair said that in many ways she felt like a prisoner in her own home. Her experience with her mother led her to join the Ivey's board and later as a full time staff member.
The emotional and financial challenges facing families can be overwhelming. As the patient gradually becomes less and less independent, they might forget that their mother already died and think they're waiting to be picked up at school, for instance. Families have to learn how to navigate this tricky emotional territory, keeping in mind that reminding their loved one that his or her mother is dead could bring on all of the grief anew as if it had just happened.
It's a situation that can easily lead to stress and depression. In 2016, Alzheimer's Association report estimated that $10.9 billion was spent on health care just for caregivers, to treat the physical and emotional toll of Alzheimer's caregiving. The progression of the disease can cause a snowballing effect that quickly overwhelms even the strongest of families.
While 60 percent of dementia caregivers were employed in the past year, working an average of 35 hours a week, 15 percent quit their jobs or retired early due to their care responsibilities, 57 percent reported sometimes needing to go in late or leave early, and 16 percent had to take a leave of absence, according to the Alzheimer's Association.
Alzheimer's Caregivers Face Unique Challenges
The task of providing care for patients with dementia carries its own set of hurdles and can be much more burdensome than for other conditions.
For example, Fargo said, "About half of people who are Alzheimer's disease caregivers say they have to help their care recipient get in and out of bed. That's much more common than it is with other caregivers."
In addition, 32 percent of caregivers say they have to help the person under their care go to the toilet, compared to only 12 percent for other conditions, and caregivers with dementia patients must contend with behavioral issues and even violence from a close family member who may not know who they are anymore.
Because of the added responsibilities dementia caregivers face, Alzheimer's treatment centers sometimes put nearly as much emphasis on caring for the caregiver. That is the ethos upon which The Ivey and a growing number of Alzheimer's care organizations were founded upon.
For families with the means to pursue it moving a loved one into a full-time memory care facility can be the best decision, though far from an easy one. Marcus Covar, regional director of Atlas Senior Living, which operates the Madison Heights memory care community in Evans, Georgia, said he frequently sees families visit who are at odds about how to handle their situation.
"We literally have tissues at the table," he said.
Full-time caregiving can be challenging for the staff as well, requiring extensive training and exercises to make sure that people are equipped to deal with the stresses of interacting with people with dementia on a daily basis. Many burn out, but some great caregivers stay on for years and years, Covar said.
"It takes a very special group of people to be able to work daily with cognitively impaired adults," said Mary Sparks, a certified dementia practitioner at Pathways Memory Care in Houston, Texas. Pathways serves residents who have become so cognitively impaired that they need a skilled nurse to take care of them on a daily basis.
Sparks stressed that families are also contending with a stigma around cognitive impairment that she is working hard to change. Alzheimer's patients are unable to be their own advocates and that task becomes their caregiver's as well. While caregivers have support groups among themselves, they often feel that what they're going through isn't widely known.
But while it's difficult to see someone's cognitive abilities deteriorate, Sparks said it's important to remember that their emotional needs stay the same. They still want to feel safe and cared for.
"Our challenge here at Pathways is to remember the person is still a person, they're still capable of love, they're still capable of all the emotions as everyone else," she said.