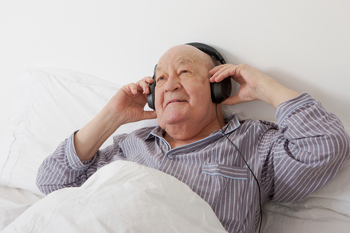 All Rights Reserved
Linda had always relied on her mother to be the family party planner. From birthdays to the holidays, her mother effortlessly catered to every special detail. But when Linda's mom needed extra help coping with the early stages of dementia, Linda struggled to find suitable activities to maintain the evolving relationship with her mother.
According to the Alzheimer's Association, studies show that maintaining strong social connections and keeping mentally active as we age may lower the risk of cognitive decline and Alzheimer's.
When you're seeking connection with a loved one who has dementia, the following 10 activities can help sustain your relationship and keep your loved one engaged.
1. Watch an old movie.
In a world that seems increasingly unfamiliar for seniors, watching an old movie together can remind your loved one of a time when he felt comfortable and confident. In an AARP article, Peggy Cahill, program coordinator for Massachusetts-based nonprofit Artists for Alzheimer's, reported that this simple activity is linked to a reduction of symptoms often associated with Alzheimer's, including anxiety, aggression, apathy, and agitation. After tracking results of caregivers' experiences, Cahill said surveys showed that even a week after the event, the people with Alzheimer's were still talking about it, asked to go again and encouraged others to join them.
2. Bust a move.
It's hard to resist tapping your toe to the likes of Dean Martin, the Beach Boys, Ray Charles, or Elvis Presley. Encourage your loved ones to talk about the dance moves they remember from high school. Who were some of their dance partners? What were dances like in those days? Who was their favorite artist? Did they ever have live bands perform? A room filled with awesome dance moves and peppy music can invite fond memories of younger years and happy times.
3. Follow a routine.
Experts agree that simple daily or weekly routines can significantly improve your aging loved one's quality of life. For example, knowing that every Tuesday is the standing date for lunch and a trip to the hair salon can reduce feelings of anxiety and depression and improve sleep quality.
4. Plant a bedside garden.
Although some memory care centers have garden space for residents, sometimes just creating a simple, personal splash of color that greets your loved one in the morning is enough. You may opt to start with seeds or select a large pot and arrange new plants for instant gratification.
5. Encourage artistic expression.
Amid all of the changes a loved one with dementia experiences, studies show that creative expression remains intact and can be used as a way to bolster communication. "Alzheimer's and other forms of dementia can strip an individual of their identity and lust for life," writes Krista Hillis for BrainTest.com. "But with art therapy, patients are able to achieve a unique sense of accomplishment — and that in itself is extremely powerful."
Try adult coloring books, painting pots, wood, leather, or other materials, or encourage freehand sketching on an art pad. Adults also enjoy working with sculpting clay or beading. Best Alzheimer's Products carries a wide selection of coloring books and art kits meant for people with dementia.
6. Take a short car ride.
When symptoms of dementia increase, sometimes the simplest of activities become the most meaningful. Inviting a loved one to take a ride around an old neighborhood or through a scenic area can be a peaceful and welcome respite from the care facility.
7. Feed the ducks.
If your loved one feels comfortable, part of the short car ride can include a brief, relaxing visit to a nearby park to enjoy the open air, the water, and feeding the ducks. Be prepared with some bird feed suitable for the local water life. If time allows, add a picnic and take full advantage of nice weather and personal time together.
8. Build a bird feeder.
Speaking of birds, creating an atmosphere that encourages bird watching either outdoors or via a window provides a delightful hobby for people of all ages. You can choose to build a shaped birdseed feeding block or construct and paint a bird feeder to install.
Websites like Flea Market Gardening and Instructables.com offer step-by-step instructions to help make your bird feeder plans a reality.
9. Help write a letter to friends or family.
The onset of dementia with a loved one affects the entire family, and it brings out different reactions from different people. Your loved one isn't the only one grappling with the inevitable changes that will surely impact the family dynamic, so take the initiative and help him or her express their feelings about the important people in their life.
This can also be an opportunity for family members to respond with a letter of their own. Such correspondence will become a treasured gift later on.
10. The healing power of music.
As Linda's mother reached the advanced stages of Alzheimer's, she found that the only way she could connect with her was through song. A simple nursery rhyme reminded her mother of the first song she taught her daughter on the piano. Our lives are intertwined with music, so share it often with your loved one.
Concetta Tomaino, co-founder and executive director of the Institute for Music and Neurologic Function, notes that music can increase engagement and quality of life even for those in the end stages of dementia.
---
Finding activities to share with a loved one suffering from dementia can be a sacrifice. But consider the benefits of making the commitment. "Keeping busy stimulates the brains of people with dementia while boosting a sense of usefulness and accomplishment," says Paula Spencer Scott, author of "Surviving Alzheimer's: Practical Tips and Soul-Saving Wisdom for Caregivers." "But they lose the ability to select satisfying activities and follow through on them -- so you need to initiate things to do for the person with dementia you are caring for."
By engaging in meaningful activities on a regular basis, you can reinforce valued relationships that will support you regardless of what the future may bring.