9 Home Care Services for Seniors Serving Felicity, OH
Felicity is a small village located just a mile or so north of the Ohio River, just east of Cincinnati and surrounded by medium-sized family farms. This town of just 800 people is part of the larger Clermont County community, where 16% of the 205,000 residents are seniors aged 65 and over. Summer highs in Felicity average 87 degrees in July. Seniors in Felicity can expect to pay 8% less for common living costs than the national average, though healthcare costs are only 7% lower than average.
Homemaker services in Felicity cost $4,195 a month, on average, according to the 2018 Genworth Cost of Care Survey. The same survey found the same price, $4,195 a month, is typical for seniors paying for home health aides in the area. Seniors across the nation also pay an average monthly cost of $4,195 for homemaker services, though the national average cost of a home health aide is just $4,004.
Note: Home care cost data wasn't available for Felicity, so data for the closest city, Cincinnati, was used.
At Caring.com, we've compiled a comprehensive directory of every home care provider in the Felicity area – complete with types of care provided, services offered and reviews from families who've actually used the service. In addition to our in-depth provider listings, we've compiled a list of resources to help seniors and their families access all the tools they need to age in place safely and gracefully.

Felicity Home Care Resources 
Home care services are only one of the pieces needed for seniors to gracefully age in place. There are many services and programs that are low-cost or free, that enable seniors to enjoy an independent lifestyle in the comfort of their own home, such as help with home modifications, meal delivery services, and more. Below, we've compiled a few of the most helpful resources in Felicity:
Address: 789 N. Nelson Ave., Wilmington, OH 45177
Phone: (937) 382-1234
Felicity seniors who own their homes and have limited resources may be able to get help preparing their houses for the winter and summer months through the Home Weatherization Assistance Program (HWAP). This program uses certified and insured local contractors to inspect, install and maintain a home's insulation, doors, windows and flashing in order to improve the home's energy efficiency. Seniors in Felicity who qualify for the program may apply through the Community Action Program offices, though income and asset limitations do apply.
Address: 77 South High Street, Columbus, OH 43215
Phone: (614) 466-2285
Seniors who wish to remain at home in Felicity may be eligible for help making their living spaces safe and accessible. The Community Housing Improvement Program (CHIP) pays professional home improvement contractors in the area to upgrade eligible seniors' homes to improve safety and the ability of a senior with limited mobility to live independently at home. Income and asset limits apply. Work must be authorized in advance and includes:
Roof repairs
Flooring replacement and upgrades
Installation of ramps, guard rails and plumbing fixtures for mobility-impaired seniors
Electrical work to eliminate potential hazards
HVAC inspection, installation and maintenance, including duct cleaning and furnace repair
Bathroom and kitchen upgrades
Address: N. Nelson Ave., Wilmington, OH 45177
Phone: (937) 382-1234
Seniors in Felicity can apply for reduced gas and electrical rates through the Low-Income Home Energy Assistance Program (LIHEAP), which is administered locally by the Community Action Program in Wilmington. This program may reduce a home's heating and cooling costs by up to 30%, though it is limited to homeowners with below-average monthly income.
Address: 514 Harry Sauner Rd. # 3, Hillsboro, OH 45133
Phone: (937) 393-1921
Seniors with very limited means may be able to get necessary repair work done to their homes through the Very Low Income Housing Repair Program. This program pays a cash grant to seniors in Felicity, aged 62 and over, who own their homes and cannot, for whatever reason, use a traditional home improvement loan to make needed upgrades. Proof of residency, income and assets are required during the application process, and all work must be approved in advance by a program worker.
Address: 2333 Rombach Avenue, Wilmington, OH 45177
Phone: (937) 449-0642
Seniors in Felicity can get the help they need to remain independent at home through the Elderly Services Program (ESP). ESP pays caregivers to provide in-home assistance to local seniors, as well as covering the cost and booking details for door-to-door medical transportation. The program also covers the cost of installing home monitoring equipment seniors can use to summon emergency help.
Determining Your Loved One's Need for In-Home Care

Aging can be a difficult process, and loved ones may not always ask for help – often times it's up to their family to evaluate their need for help around the house. While no two situations are exactly alike, this checklist can help you and your loved ones determine when it's time to start the search for a home care provider.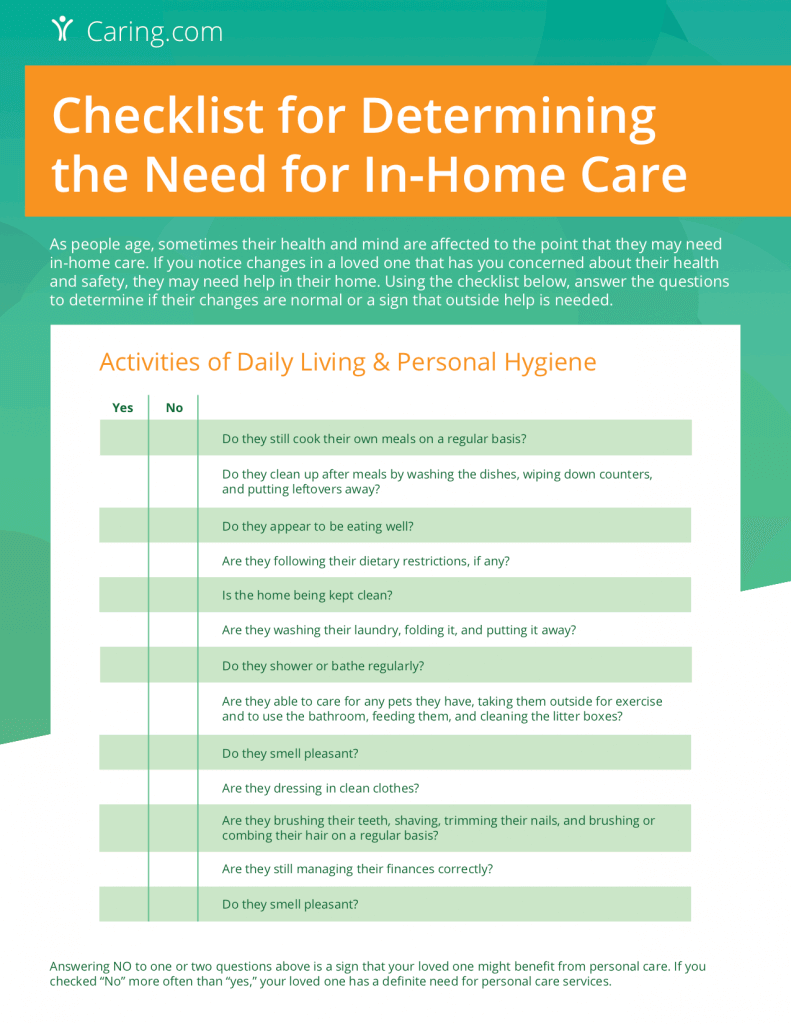 Guidelines for Talking About In-Home Care
If you've determined that your loved one needs the assistance of a care provider in their home, it may be time for a difficult conversation. Handled correctly, however, this process can bring a family together and ensure that everyone's concerns are addressed. Use this PDF as a starting point to help the conversation stay as positive and productive as possible.