19 Home Care Services for Seniors Serving Middleboro, MA
Middleboro is a community in the Taunton metro with over 7,000 residents, 14% of which are 65 years and over. This number is slightly lower than the statewide average of 17% and the U.S. average of 16,8%. It's located within close proximity of Morton Hospital, which specializes in emergency care, cardiology and orthopedics. It is also served by Compass Medical Middleborough which offers a wide range of primary care practices and specialists. According to the 2021 Genworth Cost of Care Survey, seniors in Middleboro pay an average of $5,720 per month for home care, with state residents paying a slightly higher amount of $5,911. Home care services are for seniors that only require personal care. Seniors also in need of limited skilled nursing services can make use of home health care services.
Below we've compiled a comprehensive directory of every home care provider in Middleboro– complete with services offered and reviews from families who've actually used the service. In addition to our in-depth provider listings, we've compiled resources to help seniors and their families to access all the tools they need to age in place safely and gracefully.
Paying for Home Care in Middleboro, MA
The Cost of Home Care in Middleboro, MA
Home care in Middleboro costs $5,720 per month, a slightly lower amount than statewide home care services costs. Neighboring Taunton shares the same care cost as Middleboro, while Boston, to the north, has a cost of almost $600 higher. West of Boston, Worcester also has a home care median of $5,720 per month, while Springfield and Pittsfield, on the state's western border, have slightly lower home care costs of $5,339 and $5,625 respectively.
The Cost of Home Care vs. Other Senior Care Options in Middleboro, MA
Home care costs almost $200 less than home health care, as home health care combines personal care with limited skilled nursing. Adult day care is a very affordable option but only caters to seniors in community center settings during the daytime. Nursing home care is the costliest form of care, as it involves 24-hour skilled nursing services in a long-term care setting.
Nursing Home Care (semiprivate room)
Note: Data for Middleboro was unavailable so data for the nearest city, Providence, RI, was used instead.
Financial Assistance for Home Care in Middleboro, MA
Given the high cost of in-home care, many people use one or more forms of financial assistance to cover the expenses. Below, we explain some of the most common sources of financial help for paying for in-home care. If none of these options are available to you, you can reach out to your Area Agency on Aging or Aging and Disability Resource Center to learn about local resources.
Reverse Mortgages:Home Equity Conversion Mortgages (HECMs) are federally insured loans that are available to homeowners age 62 and over. Reverse mortgages allow you to access a portion of your home's equity in cash, tax free. Many seniors use reverse mortgages to finance their care expenses, including in-home care. Note that although there are no monthly payments due on reverse mortgage loans, borrowers do have to repay the loan once the last surviving homeowner passes away, moves, or sells the home.
Middleboro Home Care Resources
Home care services are only one of the pieces needed for seniors to gracefully age in place. There are many services and programs that are low-cost or free, that enable seniors to enjoy an independent lifestyle in the comfort of their own home, such as help with home modifications, meal delivery services, and more. Below, we've compiled a few of the most helpful resources in Middleboro:
Address: 100 Cambridge St., Suite 300, Boston, MA 02114
Phone: (617) 573-1100
Seniors in Middleborough can apply to the Low Income Weatherization Assistance Program (WAP) for help improving their homes' energy efficiency. WAP provides free home inspections and advice about saving energy, as well as installation and maintenance of insulation and weather-resistant windows and doors. Eligible seniors in Middleborough must meet the program's income and asset thresholds to apply.
Address: 600 Washington St., Boston, MA 02111
Phone: (617) 204-3600
Seniors in Middleborough can get financial aid to bring their homes up to code, or to eliminate potential hazards and improve access for limited mobility, with a secured home improvement loan. The Home Modification Loan Program (HMLP) develops 0% interest loans through a local network of participating lenders to help seniors remain in their homes safely and comfortably, reducing the need for assisted living. Income and asset restrictions apply to seniors applying for a loan through the HMLP, and all covered home improvements must be approved by the program in advance of work being done.
Address: 100 Cambridge St., Suite 300, Boston, MA 02114
Phone: (617) 573-1100
Middleborough seniors can get help reducing the monthly cost of heating and cooling their homes through the Low-Income Home Energy Assistance Program (LIHEAP), which is also commonly known as the Fuel Assistance Program in Massachusetts. Seniors in Plymouth County who meet the program's income and asset limitations can apply online or via mail to get up to a 30% reduction in their monthly utility bills. The program can also help some seniors upgrade their home's energy efficiency and provide some emergency assistance to prevent a disconnection of service.
Address: One Ashburton Pl., Floor 5, Boston, MA 02108
Phone: (617) 727-7750
The Family Caregiver Support Program is a recipient-directed benefit that allows seniors in Middleborough with fixed incomes to find and hire an in-home caregiver to assist with regular activities, including some chores outside of the home. The same program also helps seniors aged 55 and over who are raising minor children, such as their own grandchildren, find and obtain benefits they may be entitled to, educational resources and respite care as needed.
Address: 60 Island St., Suite 214-East, Andover, MA 01840
Phone: (978) 685-8321
Neighbors in Need serves over 750 families every week from a network of 13 food banks. The organization can also help seniors get needed personal care items at no cost.
Determining Your Loved One's Need for In-Home Care

Aging can be a difficult process, and loved ones may not always ask for help – often times it's up to their family to evaluate their need for help around the house. While no two situations are exactly alike, this checklist can help you and your loved ones determine when it's time to start the search for a home care provider.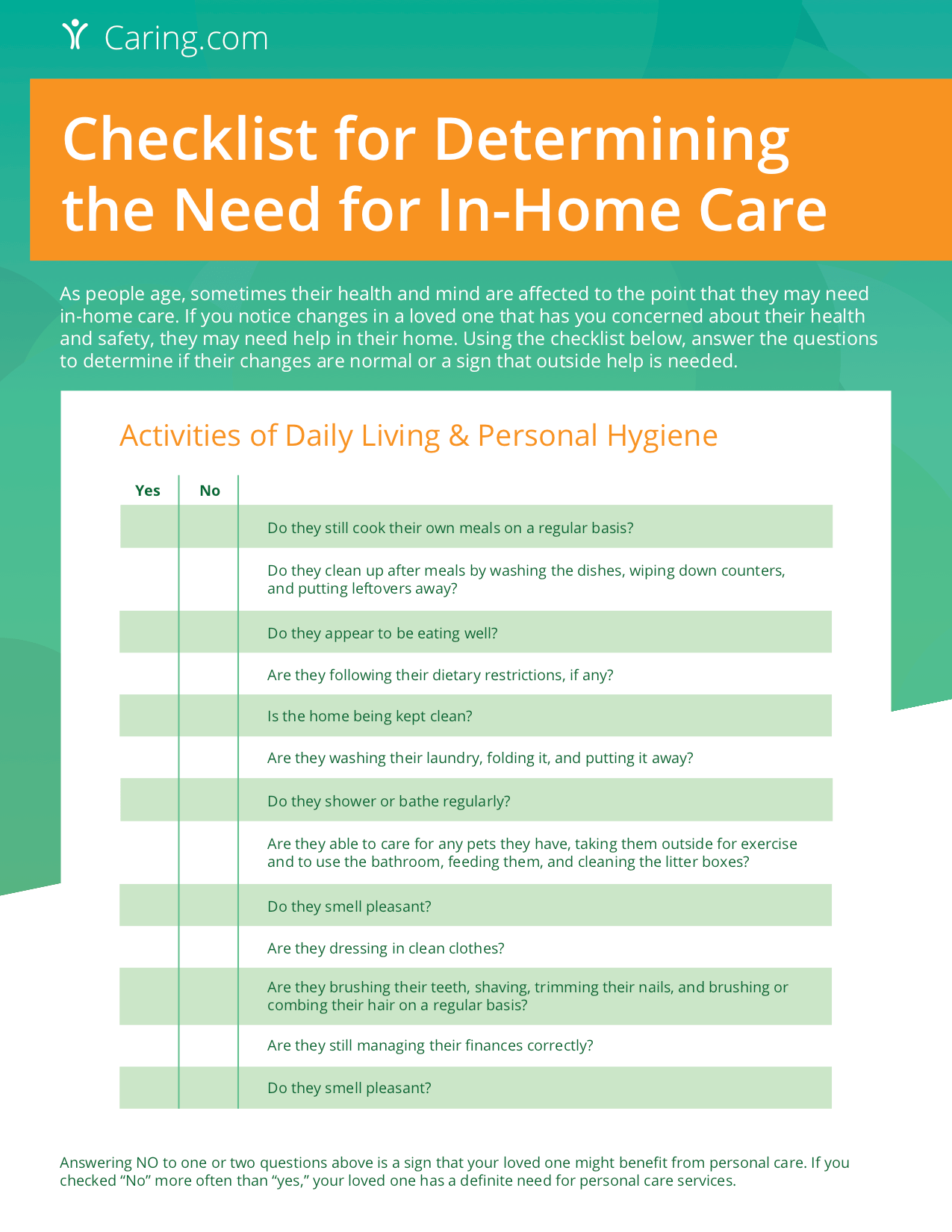 Guidelines for Talking About In-Home Care
If you've determined that your loved one needs the assistance of a care provider in their home, it may be time for a difficult conversation. Handled correctly, however, this process can bring a family together and ensure that everyone's concerns are addressed. Use this PDF as a starting point to help the conversation stay as positive and productive as possible.