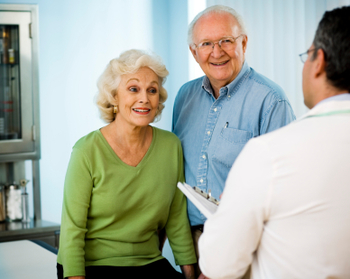 All Rights Reserved
You can't completely prevent falls -- accidents do happen. Adults over age 65, and older adults with dementia in particular, are at a higher risk of falling, for some well-known reasons. These include a higher use of prescription drugs, more night waking, shuffling and other coordination problems, and weakening musculature and balance.
Most falls in people with dementia are "multifactorial," meaning that a combination of problems contributed to the fall. This makes it especially hard to eliminate falls altogether. But it's almost always possible to identify risk factors that can be changed or risks that can be compensated for.
What you can do:
With your doctor's help
1. Understand what you're dealing with. Identify, with a doctor's help, which risk factors for falls your loved one has, besides dementia (which is itself considered a risk factor). The list varies by individual, but for many people with dementia these include such common problems as poor eyesight, poor balance, arthritis, and generalized frailty. People with dementia may also have a shuffling gait, muscle weakness due to past stroke, or neurological problems.
2. Minimize or avoid medications that have been linked to increased falls. Review a complete medication list with the doctor, and ask which ones might cause increased confusion or worse balance in a person with dementia.
Those to especially look out for include drugs from a class known as anticholinergics, which includes drugs for overactive bladder, itching/allergy, vertigo, nausea, and certain drugs for nerve pain or depression. (Diphenhydramine, or Benadryl, is a commonly used anticholinergic that's often included in over-the-counter sleep aids and PM-version painkillers.) People with dementia are also more likely to fall when taking sedatives, tranquilizers, and antipsychotics. Finally, blood pressure medicines can sometimes work too well and cause blood pressure to fall when a person stands.
3. Ask the doctor about leg strength, gait, and balance evaluations. These tests help determine physical risk factors. A doctor (or a physical therapist, to whom you may be referred for testing) will watch whether your loved one uses both hands to rise from a chair, for example, which indicates muscle weakness.
4. Ask about vitamin D supplementation. Many (but not all) older adults are deficient in vitamin D. Studies have found that treating vitamin D deficiency does reduce the chance of future falls. The doctor can help identify the right supplemental dose.
5. Ask about osteoporosis. Whether or not they also have dementia, adults with osteoporosis are more likely to suffer injuries if they do fall. Note: Both older men and older women can suffer from porous bone. But since osteoporosis is more common in women, all women over age 65 should be screened at least once.
More ways to cut down on the risk of falling
With other experts' help
6. Consider asking for a referral to a physical therapist or occupational therapist. These experts can work with your loved one to develop exercises that shore up weak spots. They can also evaluate the use of a cane or walker to see if the device (as currently being used) is more help or hindrance. Because forgetting to use devices is a common problem with dementia, a therapist may suggest ways to get around this.
7. Make sure your loved one has an annual eye exam. Low vision is a huge risk factor for falls, and many vision problems come on gradually but steadily. Some, like cataracts, are easily treatable. Also be cautious with bifocal glasses; although they're convenient, one study found increased falls when people wore bifocals compared to monofocals, possibly because bifocals can make it harder to gauge depth and steps properly.
8. Keep up with foot care. Trimmed nails help people walk more comfortably and therefore properly, yet this is an often-overlooked aspect of eldercare. A podiatrist can also check out other foot-pain issues that may be affecting gait and balance.
9. Get a home-safety assessment. Social workers and geriatric care managers routinely perform these. An expert comes to the person's home and targets danger spots (including fall risks) and suggests easy improvements. This assessment can focus specifically on the needs of someone with dementia.
10. Consider exercise classes. If your loved one is capable, consider an exercise class to improve strength and balance, such as tai chi or yoga for seniors. Even people with dementia can benefit. Bonus: It might be something you can do together, getting you out of the house.
Around the house
11. Make sure slippers and shoes are safe and stable. Discourage walking around in stocking feet, loose slippers, or flimsy open-heel styles. Overlooked footwear dangers include new shoes with smooth, unscuffed soles and walking shoes with heavy treads that "catch" on carpets.
12. Remove tripping hazards around where the person walks. Scatter rugs are a top tripper, for example. In the bathroom, you can lay a towel or rug in front of the tub or shower when the person is exiting, if the floor is cold; then pick it up right away.
Also tame unruly extension cords. Better than taping them to the floor is to remove them altogether. Remove piles of old newspapers and magazines and other clutter.
13. Maintain good household lighting. Poor vision is a leading fall-maker. Watch for darkened hallways and stairs that might need more light. Replace burned-out bulbs.
Don't forget night lighting. Keep the night path to the bathroom lit. Consider using holiday lights, spaced nightlights, motion-detector lights, or simply leaving the hall or bathroom light on.
14. Install grab bars in showers, bathtubs, and near toilets. These allow your loved one to catch himself or herself in a fall. Regular towel bars are insufficient; they can be pulled off the wall if grabbed during a fall, often worsening the accident.
15. Brainstorm ways to limit the potential hazard of pets that cause falls. For example, you might consider whether a pet could be limited to one area of the house, or let it wander freely only under supervision. Beware of chew toys and bones that get scattered on the floor, too. Children's toys can be another hazard.