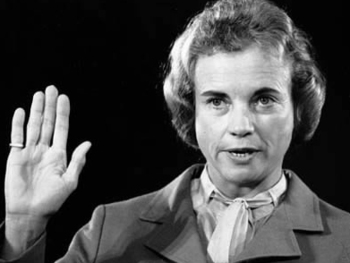 All Rights Reserved
November is National Alzheimer's Disease Awareness Month -- and this week (November 11) marks one year since Alzheimer's made a widow of former U.S. Supreme Court Justice Sandra Day O'Connor. She and her late husband, attorney John J. O'Connor, had lived with his diagnosis for almost two decades.
Seeing little progress against what she calls "this dreadful disease," Justice O'Connor is calling for the country to commit to developing a national strategy against Alzheimer's, with the goal of finding a breakthrough by 2020.
She stepped down from the high court in 2005 to help relocate her husband to a care facility. As his condition deteriorated, she and her family coped with many common Alzheimer's effects, including his failure to recognize them and his developing romantic attachments to fellow residents.
"I suspect that you will not hear from many of my fellow caregivers directly," Justice O'Connor testified before Congress in 2008, her first public remarks about her story, "simply because they do not have the resources to take time away from their loved ones in order to come before you."
In an interview with Caring.com, Justice O'Connor talks about what the country needs to eradicate Alzheimer's -- and how individual caregivers can cope.
What's the one thing you'd like to see the new Congress do to help put the country on a clear path toward a cure?
So little national focus has been given to Alzheimer's, other than by private groups. We need to see the same effort on a national basis to take action concerning Alzheimer's that has happened in the past with other diseases, like AIDS and polio. We need to take stock of all federally financed resources available. Or perhaps designate a coordinator -- when this nation decided to take on AIDS, we got a leader or two to head the effort.
The biggest impediment has been getting the votes. They haven't been there so far. Why that is, I'm not sure, given that Alzheimer's is so prevalent.
You've said before Congress that many caregivers lack the resources to take time away from loved ones to lobby for a national Alzheimer's strategy or cure. What do you suggest an individual caregiver do to help bring about change?
There's still a lot they can do. They can send letters to individual members of Congress who are considering legislation about Alzheimer's policy. Stamps aren't that expensive! They can also become a member of any group advocating change for Alzheimer's, and be counted that way. Caregivers can still be a voice.
How did you and your family respond when you first learned your husband had Alzheimer's -- and at what point did you begin to think of yourself as a caregiver?
I think my three children and I realized the seriousness and the difficulty of the disease immediately. I don't think we had any misconceptions. We knew how dreadful it is.
I thought of myself as a caregiver from the outset. My husband and I were very close. If one needed help, the other was always there. So my caring for him happened on autopilot. That was the deal we made when we married, that we would care for each other.
Was there some aspect of your caregiving experience that worked especially well, that other caregivers might learn from?
One great thing was that I asked my three children to select a care place for their father when his condition went beyond my ability to care for him at home. It's something almost everyone has to do eventually because this is such a degenerative disease.
They did a wonderful job, and I was glad. If I had selected a place myself, they may have felt I could have done better. By talking together and collaborating, we avoided internal misunderstandings and disappointments. That was great.
More thoughts on Alzheimer's from Justice Sandra Day O'Connor
You've had some significant challenges in your life. Where does caring for a husband with Alzheimer's rank with things like being accepted as a woman attorney or serving as the first female member of the Supreme Court?
It's all hard. Probably the hardest part with the Alzheimer's was early on, when John couldn't drive any more. We Americans are wedded to cars. They're our independence. I recall so poignantly the day I had to have my husband be told he couldn't drive any more. I had the doctor do it, instead of me. John was in his 70s.
And did he listen to the doctor, or put up a protest? That can be so hard for families.
He did "hear it" from the doctor. His own father was a doctor, so I guess he was inclined to respect that opinion.
Given that you're now 80, and by age 85 people have a one in two chance of developing Alzheimer's, how much discussion have you had with your children about your potential future care?
Not much about me, because we've just been through that and all know what has to be done. But we did talk a lot about my husband's care.
It's hard for families. You don't want to acknowledge that your spouse or your parent or your child is incapable of managing anything anymore [because of Alzheimer's]. But the problem is, you have to. You have to go through the issues of having someone authorized to have legal action, to file tax returns, and apply for Social Security benefits, for example. Someone has to take those things on.
What was the most challenging emotion you had to deal with as a caregiver?
Seeing someone you love and care for falling to a totally disabling and fatal disease -- such sadness.
So many families dealing with Alzheimer's can relate to that. Is there one hopeful thing you see happening now?
What's hopeful is that there are many people and many groups focusing on this problem -- and that, finally, more of them are recognizing that we need to get together as a nation on this.