Robbinswood Assisted Living
Offers Assisted Living and Memory Care
1125 Robbins Road, Grand Haven, MI 49417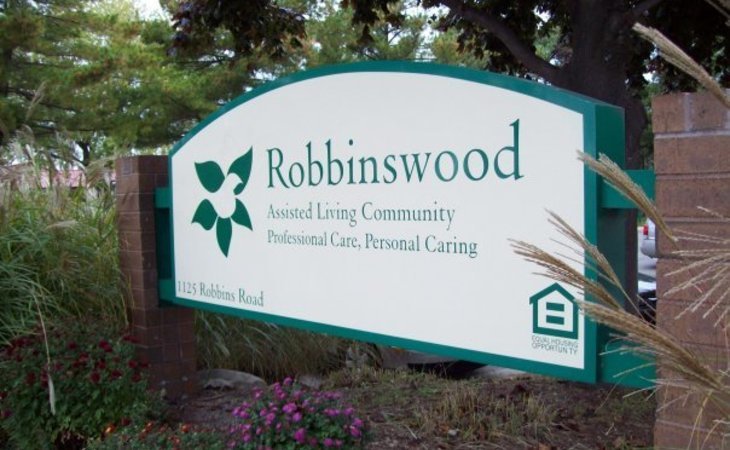 ---
Reviews of Robbinswood Assisted Living
Assisted Living Reviews for Robbinswood Assisted Living
June 05, 2021
I am a friend or relative of a current/past resident
Excellent care, and good communication with family. Compassionate staff. We would recommend in the future.
March 22, 2021
I am a friend or relative of a current/past resident
I chose Robbinswood Assisted Living for my mother because I felt comfortable after speaking with them, they were close to my work, and they were affordable. It's assisted living with a memory care aspect to it. She's only been there for a short time. They've been very kind to her and have explained things to me well. She's acclimated pretty fast. She seems to like the food. They have exercise classes, crocheting, and knitting. They're caring, and they get the job done.
Provider Response
Kristine, On behalf of all the staff here at Robbinswood, we thank you for the kind words. You have no idea what this means to our staff who work so hard daily, to provide the best quality care. This means so much to us all, and we appreciate the kind thoughts and words.
March 20, 2021
I am a friend or relative of a current/past resident
I went to Robbinswood Assisted Living. I liked it because my mother was there before. The staff was good, they were friendly, and the food was fine. They have bingo and cards. It was very clean. It was a very good value.
November 17, 2020
I am a friend or relative of a current/past resident
We moved my parents to Robbinswood just over a year ago, and it was the best decision we could have made for them! It was a very big change for my parents after having to leave the home they were in for over 50 years. The staff, the facility and the care provided over them is more than we could ever have imagined! My parents are loved, and cared for in such a way that we as family do not have to worry about them. The staff goes above and beyond in all that they do especially, during this unprecedented time during the pandemic. Beyond grateful!
October 10, 2019
I visited this facility
Robbinswood Assisted Living was very nice, but it's not what my sister was looking for. She didn't feel like she could have company there because the room was just a bedroom and a bathroom. She wanted to invite guests over to sit in her bedroom. The staff was thorough and nice. I liked it a lot, but it wasn't what we're looking for. She wanted her own kitchen, living room, and bedroom. She wanted more of an apartment, not a room.
November 28, 2018
I am a friend or relative of a current/past resident
The care my 96-year old mother received at Robbinswood (Loft & Manor) was wonderful. The care team treated her with respect, compassion and love. Words cannot express my gratitude. So appreciative!
November 27, 2018
I am a friend or relative of a current/past resident
I'm thankful every day that we found an awesome home for my mother. It's the best care anyone could ever hope for. The staff is like family!
November 07, 2018
I am a friend or relative of a current/past resident
My mother receives excellent care. She is provided with 24-hour on site care, 3 meals/day, 7 days/week, and medical personnel available on site for emergencies. Laundry service is an option also which she receives. She especially enjoys the food service provided and is very happy with the quality overall.
November 01, 2018
I am a friend or relative of a current/past resident
I can't express how amazing the facility and its staff is. My mother is treated extremely well. I leave there knowing she is in the best care and the biggest positive is that she feels the same way. She speaks so highly of every staff person there.
October 09, 2018
I am a friend or relative of a current/past resident
My mother is a resident at Robbinswood, and all the staff treat her excellent! There are many activities to participate in if one chooses, and the meals are very good. I don't worry about my mom's safety anymore, because I know she's taken care of.
June 19, 2018
I am a friend or relative of a current/past resident
The staff at Robbinswood went out of their way to make a place for my father when rooms were at a premium and did their best to make him comfortable and to ease the burden on me.
May 31, 2018
I am a friend or relative of a current/past resident
My mother started as a resident and within a short time was in hospice care at Robbinswood. The care was fantastic! From admin to the aides, everyone made my mom feel at home. They made my family feel welcomed.
October 12, 2017
I am a friend or relative of a current/past resident
Steve and I have been thinking about the anniversary of Elaine moving into Robbinswood this weekend. We can't go without saying thank you for you and your staff and all the promises made and kept to us. You truly saved the day and the weeks and months and now the year. With grateful hearts and is something we will never forget. Our best to you and special thanks to Vivian for all her help during this year.
August 21, 2017
I am a friend or relative of a current/past resident
Grace was very well taken care of. She was loved by all and wanted for nothing.
August 21, 2015
I visited this facility
I visited Robbinswood Assisted Living Community, and it was very nice. The staff who gave me the tour was wonderful. I would recommend this place.
July 06, 2015
I visited this facility
Robbinswood had 75 or 80 people there. We were concerned about the care because they didn't seem to have enough staff. They had a lot of activities, but we were just concerned that my father-in-law would not have enough individual care. It felt like a college dorm. It would be a good community if he could walk, but he was wheelchair bound. However, it was a clean, nice, and well-kept community. The room that they were going to put him in was far away from the nursing station, and we were afraid that him being wheelchair bound wasn't going to get the attention that he needed. If someone was really active and social, it would have been a perfect fit, but my father-in-law was very quiet and wanted to be left alone, so it just wasn't a good fit for him.
May 31, 2015
I am a friend or relative of a resident
We choose Robbinswood for my husband because of the way it is designed. It is very warm and simple. The people are very friendly. My husband likes it. They are veteran sensitive, and my husband is a veteran. There are other men there, so we think that will be a good fit. The interaction that I have and my husband has with the staff is often positive. They are very attentive to details. The place is well kept. The medicine is on time. Any question that we have is answered. So, the staff has been very good. What I really like about Robbinswood is that they have a lot of activities. So, he doesn't stay in his room. He is not all alone. That is very important to him because he needs to stay in contact with people and be stimulated to slow down Alzheimer's.
April 23, 2015
I am a friend or relative of a resident
Mother was at this facility for approximately 5 years. Excellent and compassionate care.
April 07, 2015
I am a friend or relative of a resident
Robbinswood is a well-managed care facility with a personable touch to the residents they serve. The staff personnel doesn't just serve, they care about the residents and extend their services as needed, for the best quality of life for their members.
March 30, 2015
I am a friend or relative of a resident
My brother and his wife were in Robbinswood Assisted Living. They have nurses there, and they dispense their medications. They give them baths; they have 3 meals a day. They got treated well, and it was nice and clean. I went to visit twice a month, and they had activities also. They had bingo, sing-alongs, and parties.
March 27, 2015
I am a past client of this provider
Hi Jolie, I was thinking of you this week. I hope you know, what a special individual you have and will continue to be, to our family. Your knowledge, understanding of our Dad and our family; as well as the medical assistance, guiding us in the right direction, will always be highly regarded. We thank you and Don, for staying with our Dad and our family…until the very end. You both showed that the individual, came first, in every decision you made regarding my Dad. That is amazing. We thank both of you for being genuine people and business individuals. Thank you for the caring spirit and the human factor you always provided. It wasn't about the business, but the human element. Robbinswood is so lucky to have the both of you and the amazing aids: Sonja, Jeff, Leslie, Andrea, Theresa and others just to name a few. The aids made Dad feel comfortable and special each day. Bless each of them. I know my Dad would thank each of you with a handshake and a smile. Know that you made a difference in his life, and ours.
March 27, 2015
I am a friend or relative of a resident
Robbinswood was a great value considering the outstanding care and attention my dad received given the cost of this facility. Dad formed personal relationships with most of the staff who went the extra mile when dad's care level increased.
February 17, 2015
I am a friend or relative of a resident
Professional, attentive, always willing to listen and problem solve, caring, and compassionate. Everything one would expect from an assisted living facility. An absolute A+!
July 22, 2014
I am a friend or relative of a resident
The staff in Robbinswood was great and wonderful. They treated my dad with dignity. My dad met many friends and knew some of the people who lived there from kindergarten. He was very close to everybody. There was always something going on and he enjoyed it. They answered my questions everytime. It was hard taking care of him from a long distance but they made it easier. Dad had a fracture in his hip so he went out for a rehab. He went back to Robbinswood and had his physical therapy there. Then, he had a heart attack in a hospital and ended up back in Robbinswood. I wanted to bring my dad in San Antonio but he said that Robbinswood was his home. He stayed there till the end of his life. I just had his memorial service there last Saturday. The activities director Kathy, Joshua the assistant director, and the nurse manager Jolie all came in during their days off and helped with the memorial service. I remember my dad saying that he had the best two years of his life living there.
July 17, 2014
I visited this facility
I am a Certified Financial Planner who recommended LT Care insurance for my mother in-law, noting it would cover assisted living. When it was clear Mom was not safe living alone, my wife and I were pleased to meet with the folks at Robbinswood. What a blessing that my potentially awkward position as advisor, revealed a place that was pleasing to Mom, my wife and me. Every interaction with management and staff has been so positive. The facility is not over-the-top, but is wonderful and well maintained.But mostly seeing Mom so HAPPY is the most we could ask for, at every visit.
June 30, 2014
I am a friend or relative of a resident
Wow! You have a truly remarkable staff. It starts from the top. Jolie, as a business owner for over 30 years, I believe I know the difference. Also, thank you for joining our family for the final celebration of my mother's remarkable life. Please let your staff know they will hold a special place in all of our hearts.
October 23, 2013
I am a friend or relative of resident
I was looking for a place for my Dad and wanted it to be his last move in life. I didnt want to have to move him because he ran out of money, or he needed more care or whatever. When I talked to Robbinswood, they said they would provide care until the end, and they did. Dad was there for almost 4 years when he took ill. After he became weak and frail, we put him on Hospice services right there. My Dad enjoyed life until the end in his apartment he loved and became his home. I am forever grateful to the staff there for their loving care and support through his last years. Thank you. MP
May 31, 2013
I am a friend or relative of a resident
Robbinswood has a convenient location. I chose it for the level of care they can handle, cleanliness and affordability, the value of it was very good. They had a lot of nice activities, they play bingo, arts and crafts and they do beauty break which I think my mom enjoyed most of all. They paint their nails and there's a hair salon available for the residents. My mom had a semi-private room with a shared bathroom. The food is great. What I like best is their caring staff, they were friendly and knowledgeable.
January 15, 2013
I am a friend or relative of a resident
Hi Don, Thanks for the great picture of Mom in her new room. Thanks to your staff for taking such good care of her. She is doing so much better than she was when she was all alone. I heard some terrible stories on New Years Eve about other facilities. Robbinswood certainly is the best in my mind. Keep up the great work. You are all appreciated so much! Linda
November 28, 2012
I am a friend or relative of a resident
We want to truly express heartfelt gratitude for the entire staff and administration at Robbinswood. You have all demonstrated what it is to honor and care for those who are not able to care for themselves independently with your amazing skills and compassion. It has always been my hope to get my father and mother to Florida, near me. It has been probably the most challenging 6 months of my life, with all their medical and emotional issues and my inability to be there for them as I have always been. Robbinswood has done such a wonderful job of picking that up. All of this, coupled with my move and new job, as well as the stresses of life have been a challenge. I continue to have so much heartfelt appreciation for Robbinswood. Thank you again!
November 20, 2012
I am a friend or relative of a resident
Robbinswood was very dull looking upon arrival. Everyone seemed listless and sad... can't really blame them, they were probably put there by uncaring children. My grandfather didn't have much to say about it, other than a hatred for the main nurse because she was "rough" with him once. There was a resident bunny that everyone seemed to love, I liked that aspect of it, it gave them something to do. Mealtime was pretty gross, food was mediocre. The nurses I met were warm and welcoming. There was a candy dish on the main floor with hershey's kisses in it. My grandpa passed away there after a couple of years, I don't really have anything bad to say about it, or good, it just was necessary. My mom thought it was a pretty good facility, but agreed with me that everyone just seemed very sad.
June 25, 2012
I am a friend or relative of a resident
My experience with the Robbinswood Assisted Living facility has been absolutely wonderful and beyond anything that I could ever imagine. We moved my grandmother in after she was through with her rehabilitation stint at a nursing home and even though she did not initially want to go to an assisted living center, she moved in anyways. She has been there almost two years now and during our almost weekly visits, I continue to be impressed by the staff and the upkeep of the center. The staff and nurses are very nice and seem to go above and beyond what is expected of them which greatly increases my grandmother's stay and overall happiness. The building itself is older but has been renovated and more projects seem to begin every month whether it be new paint or changes in the front or the back gardens. The overall quality of Robbinswood is above and beyond what we expected to get for my grandmother and I cannot imagine having her in any other place right now.
February 22, 2012
I am a friend or relative of resident
Robbinswood has been home to my Mother for over 4 years now. Mom says "the meals are home cooked and the best part about it is I don't have to do the dishes". The Nursing staff treats Mom with compassion and there extensive knowledge of Mom's health truly provides comfort to me knowing she is safe and well cared for. Mom loves the activities, her favorites are Walking Club in the Summer and Sit & Be Fit Exercising during the Winter months. I would recommend Robbinswood to anyone looking for excellent Assisted Living Care.
See all Assisted Living reviews (33)
See fewer reviews
Memory Care Reviews for Robbinswood Assisted Living
October 10, 2019
I visited this facility
The staff at Robbinswood Assisted Living seemed really pleasant, upbeat, and very happy. It's a nice community, very well done, a little older, but kept up well. It's a big place, and the apartments were spacious, light, and very nice.
May 30, 2019
I visited this facility
The experience at Robbinswood Assisted Living was OK. They took me on a tour and they explained everything. The rooms were small. The building had three floors. My wife would be in the memory unit because she has Alzheimer's, so she would be on the top floor. They didn't have a lot of rooms to wander around in. The girl who took me around was pretty knowledgeable and very nice. They have two different dining areas. My wife would be in the memory care dining area, which is on the third floor. I didn't see too many activities. It didn't seem like a real good place for me and my wife.
Get Costs
---
Services and Amenities of Robbinswood Assisted Living
Costs
Rent Plus Care Fees
Entry Fee
Assisted Living Starting At:

$2000/month

Memory Care Starting At:

$2000/month
Room and housing options
Companion Suites:

We Offer Companion Suites

Studio Apartments
Dining options
In Room Kitchenette
Dining Room Shared Meals
Features
Beauty Barber Shop
Resident Transportation
Party Space
General Store
Tv Room
Garden And Patio
Resident Parking
Cleaning services
Laundry For Linens
Housekeeping
Laundry For Clothing
Technology and entertainment
Cable In Rooms
Internet Enabled Rooms
Wifi
Health services
Hospice Care
Medication Management
Physical Therapy
Nurse On Staff:

We Have 24 Hour Nurses.
Activities
Offsite Activities
Music
Games
Stories
Lectures Discussions
Wii Sports
Fitness Room
Gardening
Cooking
Financial guidance
Va Benefits Consultation
Financing Advice
Guest services
Guest Parking
Guests At Mealtime
General
Minimum Age:

60

Pets:

No Pets Allowed
Licenses
Licenses:

Michigan

State Licenses:

AH700319383
Get Costs
---
About Robbinswood Assisted Living
Welcome to Robbinswood Assisted Living Community, where professional care and personal caring meet. We balance autonomy with supervision for each resident and work to make sure care extends beyond just health.
Offering cost-effective quality care
Foster independence
Treat each resident with dignity and respect
Promote the individuality of each resident
Allow personal choice of care and lifestyle
Protecting the right to privacy
Nurturing the spirit of each resident
Involving family in the caregiving process
Providing a safe, residential environment
Be a valuable community asset
What Makes Us Special
Robbinswood is designed, staffed and maintained to best meet the needs and desires of its residents. Security and independence, privacy and companionship, and physical and social well-being are the primary focus. Residents receive, as needed, supervision, personal care, and health care services that emphasize their right to control their lives. Robbinswood is in a country setting that provides personal care services, 24-hour supervision and assistance, activities and health-related services designed to: Minimize the need to relocate Accomodate residents' changing needs and preferences Maximize residents' dignity, autonomy, privacy, independence, choice, and safety Encourage family and community involvement
Get Costs
---
Map of Robbinswood Assisted Living
---
Senior Living Communities near Ottawa County, MI
Senior Living Communities near Grand Haven, MI
Other Senior Care in Grand Haven, MI