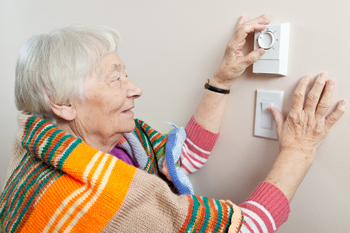 All Rights Reserved
People across the Eastern and Midwestern U.S. are digging out from under snow and ice after a recent record-breaking cold snap blanketed the region, and new storms and freezing temperatures are still expected in some areas. The onslaught of icy sidewalks and plummeting temperatures has more people committed to keeping loved ones warm this winter, especially those who are most vulnerable.
It's important to remember that older adults generally fall into this category.
As people get older, they're increasingly at risk for dying from extreme cold or winter-weather events, according to the Centers for Disease Control and Prevention – accounting for a significant portion of the hundreds of Americans who die each year as a result of winter weather.
"They are less likely to sense cold as they get older, and they don't shiver as much as younger people, so they can't generate as much heat," explains geriatrician Dr. Donald Courtney, interim chair of the University of Oklahoma's geriatrics department. Other factors, such as thinning skin and, in some cases, less body fat, means a higher risk of frostbite, he adds.
We talked to experts and compiled 10 potentially life-saving winter safety tips for seniors.
1. Stock up in advance
Courtney recommends stocking up with at least seven days of food and water when a winter storm is on the way. It's a good idea to have foods (such as canned items), that don't have to be refrigerated or cooked, in the event of a power outage. He also suggests encouraging aging parents to bake if they are going to be home for an extended period – it's something to do, and will keep the kitchen safely warm. Here are a couple more things to do to prepare.
Stash some cat litter. Cat litter can help you gain traction on icy surfaces. PT Meredith Harris, a physical therapist and spokesperson for the American Physical Therapy Association, recommends carrying a small baggie with a mix of cat litter and salt to spread on icy steps and walkways. Keep some in the car, too. Find your digital roasting thermometer. Keep this thermometer handy so you can use it to check the temperature of water before trying to warm up your hands or feet after cold exposure. Aim for a temperature around 104 degrees F.
Get absorbent pads for pets. Absorbent pads can be helpful if you have a dog oor other pet that usually has to be walked outdoors for toileting. Hire someone to shovel. "Some snow is so wet and heavy that it can be dangerous for certain individuals," says Dr. Neal Sawlani a structural heart cardiologist at Lutheran General Hospital in Chicago. Combined with cold weather, this increases the risk of heart attack, he says. Ask a neighbor to help out or hire someone else to do it, if possible.
Skip the alcohol. Sawlani says that while alcohol might feel warming as you drink it, it actually makes your body more vulnerable to the cold. If your loved one does drink alcohol, ask them only do so if they plan to stay indoors.
2. Build time in the schedule
Your aging loved ones will be safer it they can take their time when leaving the house or any building. The more time you have, the easier it is to pay attention to your environment. "I usually tell people that I am working with, whether they are in the house or when they are outside, to wait and stop and look at where they are before they even start moving," says Harris.
This is also important if your loved one is driving. Plan on the reality that driving, walking, getting in and out of cars or buildings, and every activity outside of the house will take longer when you take the time to scan your environment and make safe choices.
3. Stay indoors
Even the most active, physically fit older adult may have to stay indoors when temperatures are dropping as fast as the snow and ice. Unfortunately, this might mean canceling appointments to which you would normally drive. Use your indoor time to catch up on tasks at home or do some exercises, such using walking or stretching DVD programs.
The flipside to this advice is knowing when to leave – if the power goes out for any reason and doesn't come back on in a couple of hours, it's time to leave for a warmer location, says Courtney, who adds that aging adults should not rely on the stove and oven to warm the house.
4. Check the house and car
There are a couple of steps to take around the house to keep everyone safer and warmer. Wrap exposed pipes and keep a slow drip, in order to prevent burst pipes. Courtney recommends an indoor temperature of around 68 degrees F, and advises older adults not to sit next to drafty windows or doors, which can increase the risk of hypothermia.
Check outside the house to make sure that walkways are clear, lighting is bright and any railings are secure. While you're checking around the house, make sure space heaters are in working order and are not close to any draperies or upholstery, says Courtney.
Additionally, winterize the car. "Make sure your car is in good driving condition by checking the tire treads or having winter tires put on," advises Rachel Barakat, director of marketing and public relations at Magee Rehabilitation Hospital in Philadelphia. Take this time to check on the levels of antifreeze, how well your loved one's wiper blades are working, and whether they have cold weather supplies in the car, including jumper cables, a blanket and flares.
5. Watch the weather reports
Temperature and precipitation can change dramatically. Make sure your aging loved ones have working thermometers indoors and out, or can check the weather using an app or other online device, and plan accordingly.
6. Get help checking in
Check in on aging loved ones at least twice a day if they're home alone during winter weather. An alternative is to encourage them and their friends to stay in touch by phone or email through the worst of the weather. Harris recommends that older adults always carry their cellphone or an emergency response call device, and let someone know when they leave and return.
7. Dress in layers
Make sure your aging loved one has a warm wardrobe available. Layering up will keep them warm. Noah Greenspan, a Manhattan-based physical therapist who focuses on heart and lung health, emphasizes the importance of keeping hands, feet and heads warm, using hand and foot warming inserts as needed.
Layers should take into account that the cold, dry air can irritate respiratory conditions. He recommends covering the nose and mouth with a scarf or a breath warmer (cold weather masks for people with COPD or asthma) in order to keep warm air in. He also recommends the vogmask as a way to keep in warm air and screen out irritants such as woodsmoke or exhaust in the outdoor air.
8. Walk on spikes
Icy surfaces are a fall risk, so you'll want to make sure your loved one has safeguards in place to avoid slipping and falling. If they have to go out on icy surfaces, make sure they have a bag of mixed salt and cat litter to spread on the ground. But you can also invest in spikes.
Purchase ice traction spikes that can be attached to shoes. And, of course, make sure that your loved one has waterproof shoes that will keep their feet warm and provide a good grip as they walk.
If your loved one uses a cane or walking stick, put a spike on the bottom of it. There are a variety of attachments or prongs available. Another alternative is to sharpen the end of a cane, and using that cane only in cold, icy weather.
Or, try trekking poles. Replace your loved one's cane with a trekking pole designed for cold weather walks.
9. Prevent infections
Cold weather doesn't make you sick, exposure to bacteria and viruses does, says Greenspan, who authored the book "Ultimate Pulmonary Wellness." However, older bodies have to work harder to fight infection, so it's important to avoid people who are sick, wash hands frequently and use wipes to clean surfaces other people might have touched.
10. Check on medications
Courtney also recommends stocking up on your medications if a storm is possible. This is a good time to review your medications to understand how they might interact with cold-weather situations. For example, if your loved one has a respiratory condition, make sure medications are up to date and verify if any should be taken before going out into cold weather in order to keep breathing smooth. You should also find out whether your loved one's medications make them more vulnerable to cold temperatures.
When it comes to protecting against the cold, all of the experts seem to agree on one tip: pay attention to your body. If you're not feeling top-notch, stay indoors. If you do go outside, but start to notice your body is feeling different – particularly if you're becoming disoriented or confused, your fingers or toes are hurting or numb, or you feel pressure or pain in your chest, get indoors. If you suspect you or your loved one is having a heart attack or experiencing hypothermia, call 9-1-1.
"If you get out there and feel that you are in trouble, call for help even before you need it," says Harris. A self-described "elder" and triathlete, Harris says she knows how difficult it can be to ask for help if you're worried about looking vulnerable or frail – but, she says, it's better to be safe than risk a hazardous situation.
If your aging loved one is in a senior care facility, talk to staff about how wintery weather is handled.