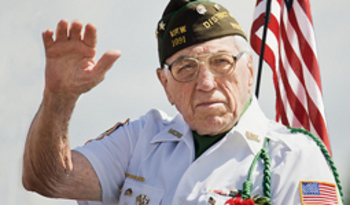 All Rights Reserved
If you're caring for a veteran, it's good to know that numerous veterans benefits programs from the Department of Veterans Affairs (V.A.) can provide financial support to a veteran, his or her spouse, and survivors. Even if he or she hasn't claimed veterans benefits before, the vet's age, physical condition, or low income may now qualify him or her for financial help. By assisting the veteran in the application process, you may be able to help them improve their quality of life or benefit their survivors.
How to determine if a veteran qualifies for financial benefits
"Service-connected disabilities" can first show up when a veteran ages. Many of the financial veterans benefits available from the V.A. are payable only if a veteran has what's called a service-connected disability. "Disability" means a physical, mental, or emotional condition that limits or prevents a veteran from performing some normal, everyday activities; "service-connected" means that the condition was caused while the veteran was in the military. But the veteran need not have actually become disabled while in the military.
For many veterans, a condition that began decades before in the military only becomes disabling as they age. If so, a veteran may qualify for service-connected disability benefits whenever the condition actually becomes disabling.
Compensation may be approved even if a disability is small or only appeared recently. Someone who served in the military may have a disability that has recently begun to limit his ability to perform normal daily activities. If the problem was caused by something that happened when he or she was in the military, the condition is service-connected.
If so, he or she may be eligible for a monthly disability compensation payment. When the vet applies, the V.A. will give his or her disabling condition a rating, starting at 10 percent or higher and moving up in 10-percent increments:
The lowest rating (10 percent disability) pays $117 per month.
The highest rating (100 percent disabled) pays $2,527 a month.
If the veteran is housebound or needs regular in-home care (called "aid and attendance"), the monthly amount can be higher.
If an older veteran has a 30-percent rating or higher, his or her spouse is eligible for additional monthly benefits.
Older, low-income wartime veterans may qualify for a V.A. pension. A veteran aged 65 or older may be eligible for a monthly V.A. pension if all of the following apply:
He has a low income.
He had 90 days or more of active military service.
At least one day of the veteran's active service was during a "period of war" (World Wars I and II, the Korean War, the Vietnam War, the Persian Gulf War), though he or she need not have been in combat.
The amount of the pension varies depending on need but can be as much as $930 per month for an individual or $1,220 per month for a couple. If the veteran is permanently housebound, his individual monthly benefits could be as high as $1,137 per month. If the veteran needs regular in-home assistance, he or she can get a pension of up to $1,555 per month (plus more for a spouse).
The V.A. may supply loans or grants to buy or refinance a home or to modify a home or car. The V.A. offers veterans benefits in the form of several types of loans and loan guarantees to help veterans buy or refinance a home or condominium. For some veterans with service-connected disabilities, the V.A. also gives Specially Adapted Housing (SAH) grants to pay for modifications to a home to adapt it to help compensate for their disability. These grants may also be available to modify the home of a family member with whom the veteran lives. A similar grant is available for some veterans to modify a car.
Veterans benefits for survivors
Veterans benefits for surviving family members may be available. There are several veterans benefits payable to a deceased veteran's surviving spouse. One benefit is also available for the surviving, low-income parents of certain veterans. These survivors benefits include:
Death pension. A veteran's spouse who has a very low income may qualify for a pension, as long as she didn't remarry. The veteran must have had 90 days or more of active military service, at least one day of which -- combat or not -- was during a period of war. The pension can be up to $625 per month, depending on financial need. The amount can go higher for a surviving spouse who is housebound or who needs regular in-home assistance.
Dependency and Indemnity Compensation (DIC). A DIC pension of at least $1,091 a month, and more than twice that much for some, is available for the surviving spouse of certain veterans. DIC benefits are also available to the surviving parents of these veterans if the parents have a very low income.
For a survivor to qualify for DIC payments, the deceased veteran must have met one of the following requirements:
Died while on active duty
Died from an injury or di sease incurred while on active duty or on inactive duty training, or
Had a 100 percent-rated service-connected disability for ten years prior to death, or for five years from date of discharge to death
How to apply for veterans benefits
How to help a veteran apply for veterans benefits. There are several ways to get further information about, and to apply for, veterans benefits. First, there's a general toll-free phone service, at 800-827-1000. Advisers can answer questions and direct you to a nearby V.A. benefits of fice, as well as start a benefits application for the veteran.
You can also get more information about specific veterans benefits by going to the V.A.'s website .
You can help a veteran apply for some benefits directly online at the V.A. website's online application page . Or you and the veteran you're caring for can make an appointment to talk to a V.A. benefits counselor in person at a local V.A. benefits office. To find a veterans benefits office near you, go the V.A. website's office locator page .