How to Talk to the Elderly About Tough Family Issues
How to Talk to the Elderly About Tough Family Issues
90% helpful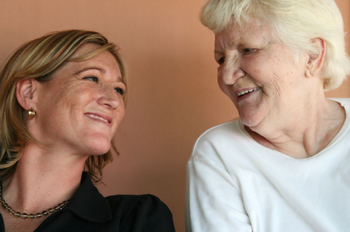 Adult children and their parents often have trouble talking effectively. Small disagreements can be irksome and frustrating; if they simmer and grow, they can poison your last precious months and years together.
What causes these misunderstandings? According to David Solie, author of How to Say It to Seniors, they occur in part because the needs and developmental tasks older parents face are starkly different from -- and at times even conflict with -- those of their middle-aged children.
Conflicting life stages
As a culture, we tend to view our elderly parents as essentially obsolete -- like old cars destined for the scrap heap. But Solie and other geriatric experts believe that aging can actually be a period of growth and personal development. Understanding and facilitating the developmental needs of your parents can make this stage of life a deeply rewarding one -- for you and for them. But it can be difficult for middle-aged adults to support their elderly parents in this process -- in part because they're focused on their own developmental issues.
For most people, midlife is a time of independence and mastery. You've gained confidence and a clear sense of what your values are, so this stage of life is focused on consolidating your gains and taking on new responsibilities. At the same time, midlife is a time to nurture and give back, whether by having children or engaging in mentoring or social activism.
As an adult in middle age, you move quickly and efficiently through the world, completing tasks and taking care of your many responsibilities, looking ahead to the next mountain to climb. Your elderly parents, in contrast, are letting go of duties and responsibilities as they settle into retirement. As their physical health and independence fail, they try to hold fast to the areas of life they still control. At the same time, they're looking back and trying to understand the significance of their experience and what they'll leave behind.
It's these different perspectives that can lead to breakdowns in communication between you and your parents. By understanding the pitfalls, however, you can learn to talk to your elderly parents in a way that helps to close the communication gap.