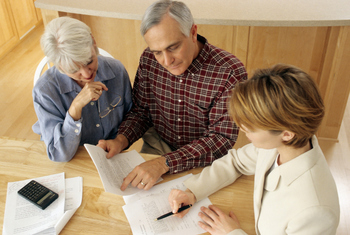 All Rights Reserved
What happens when your older loved one can no longer make medical or financial decisions independently? Almost every caregiver has been faced with this conundrum. And most of us have no idea what we're in for.
"Power of attorney" is one of the most common question topics on Caring.com, so we decided to go to the experts to see if they could give us their best advice.
Here, in a nutshell, are some key tips to keep in mind when you're considering becoming a primary agent for a loved one's power of attorney.
Understand What Power of Attorney Is
The primary agent for a power of attorney has complete control to make decisions on behalf of the parent(s) or another adult. You don't need to be related to the person you're representing, and many times agents are not relatives.
There are two types of powers of attorney: medical, which empowers the agent to make healthcare decisions, and financial, which allows the agent to make decisions regarding finances.
Know the Lingo
In common usage, you might hear, "I'm power of attorney for so-and-so." This is slightly inaccurate. The power of attorney is a legal document (not a person). You, the person, are a primary agent for a loved one's power of attorney.
Create a Circle of Advisors
Becoming an agent for a power of attorney is more than taking on a new role in your parent's life. It means a shift in your relationship and even in how you perceive yourself. When you hold power of attorney, you will be called upon to make some tough decisions for someone other than yourself -- decisions that impact the quality (even the time span) of someone else's health and/or financial well-being. This means you will need to draw on all of your strength and wisdom.
How do you prepare for taking on a power of attorney?
By creating a caregiver circle -- people who can advise you, be your sounding board, and point you to the resources you need in order to make the best decisions for your loved one.

By giving yourself permission to make mistakes.

By considering all of the ramifications and not giving in to what others may think, or being pressured by physicians or other professionals, but by carefully choosing what's best for your family member. Sometimes that even means that you must balance what your loved one said they wanted against the "new reality."

And finally, by choosing this and all of its challenges.
-- Carol O'Dell is the author of Mothering Mother: A Daughter's Humorous and Heartbreaking Memoir.
Do Your Research
The desire to remain in the role of someone's child is long lasting. Often, though -- especially when working with our parents -- we have to stand on our own two feet and say yes or no. The power of attorney role is one such way a person can help a loved one, in addition to taking on traditional caregiving tasks.
A friend lost her father, which left her mother with a failing business. After becoming primary agent for durable power of attorney, my friend discovered she could make decisions that saved the business, which supported her frail mother for many years and paid for her daughter's college fees as well.
As a medical power of attorney, you may have to make a decision to turn off the machine, or cut back a treatment, or add one, or interpret the wishes of a loved one. Advanced directives leave important decisions for the medical power of attorney based on events not predicted at the time of the signing.
To prepare:
Take a class in accounting or medical terminology or counseling.

Practice role playing, giving true but hard news to loved ones.

Study the art of deep listening.

Learn to trust yourself, be decisive, don't look back.
-- Ann Cason is a geriatric consultant with Circles of Care.
Learn, Know, and Establish a Cordial Relationship
Taking over the job of attorney-in-fact requires the mastery of three essential tasks:
Learning what the current state of affairs is for your parents, both financially and medically
Figuring out what you need to know in order to handle the tasks going forward
Establishing a cordial relationship with your parents and the rest of your family
The first task is rather mechanical: Get a list of all of the accounts (or medications) being handled, find out who is the contact person for each account, and ascertain the history of prior transactions -- especially if there have been complexities that may affect your responsibilities.
Task two is similarly bureaucratic: Make a list of the contact folks, get to know what particular forms each account might need, and make a detailed list of the work you need to do each month.
The third task, however, is perhaps the most important. As a mediator who resolves interfamily conflicts, I know it may be the most challenging one, but in many ways it is the most essential. Your family members may be your best experts, and you want to be sure that each of them will receive your call or e-mail, listen to your questions, and be a welcome part of the support team. Even if you are in charge, taking care of family members is a team effort, and your siblings are vital to your success. Be considerate and appreciative of what the others can do to help with the tasks, keep them informed on a regular basis, and include their input on all major decisions to maximize the likelihood that you can work together on an ongoing basis. Just because you have the legal authority doesn't mean the feelings and concerns of the others don't count!
-- Frederick Hertz is an attorney, author, and mediator in San Francisco.
Understand the Limits of Power of Attorney After Death
One of the things many people don't realize is that power of attorney ends when the person dies. This means that the POA agent does not now have the sole legal responsibility for making the person's funeral arrangements (unless she is also the spouse, only child, only sibling, etc). It also means that although the person with power of attorney has been writing and signing checks from the person's account for his/her expenses, she cannot simply sign another check from the account to pay for the funeral expenses after the person has died.
Although it is not a requirement in the primary agent's POA responsibilities, it would be wise to discuss what the person's funeral wishes are in advance, and even arrange payment. This may sound like an uncomfortable conversation, but much of the discussion of why a power of attorney designation is necessary revolves around a person's declining health, which, whether people talk about it or not, they all know can ultimately lead to that result. There are many ways to approach this in a kind, sensitive way.
-- Rebekah Peoples is a licensed funeral director and consultant with Funeral 411.
Bring Up the Conversation With Your Loved One
An agent on a durable power of attorney for finances document is usually given total control over the principal's (usually an aging parent's) money. The agent, however, may not fully understand the responsibility or limits of the role. In the worst cases, the agent misuses the DPOA to steal or to manipulate and sometimes coerce the elder into making gifts or transfers of assets to the agent. This violates the law and is financial elder abuse.
While a power of attorney is a useful document to allow adult children to assist loved ones who need help handling money, in the wrong hands it is literally a license to steal. The agent is authorized to act for the benefit of the principal, not for his or her own benefit. The takeaway is this: If your aging loved one has not appointed an agent, bring up the conversation and encourage her to do so. If your aging parent has not decided what to do if he becomes disabled and cannot write checks or make financial decisions, it is crucial that he appoint a qualified, honest person to assume that role when the time comes.
If an agent you know is abusing a vulnerable elder financially, contact Adult Protective Services in your area and report the problem. Most of these agencies have 24-hour hotlines. You need to provide specifics, such as who is suspected of abusing the elder, when the abuse occurred, and what amounts of money have been taken improperly.
Financial elder abuse is a worldwide problem. In the U.S. alone, it costs vulnerable people more than $2.9 billion per year. Paying attention to your parent's actions with finances and knowing what to do can prevent them from being abused.
-- Carolyn Rosenblatt is the author of How to Handle Money for Aging Loved Ones.