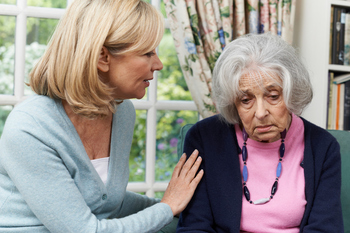 All Rights Reserved
Most older adults want to live in their own home for as long as possible, research shows. In order to do that, most will have to decide whether or not to welcome home health professionals into their home.
Home health assistance is often recommended after a hospitalization or because an older adult and their family can no longer manage specific medical needs on their own. But aging adults don't always welcome this help – it's not uncommon for a senior to refuse in-home care, at least initially, leaving adult children frustrated and unsure what to do next.
1. Try Empathy
"The first thing we all have to think about is, how would we feel, if we were in that position?" says Kristina Hash, PhD, a professor of social work at West Virginia University. "Would you want people directing your life when you've lived a long life, you've accumulated a lot of wisdom, you've had a lot of friends die, and yet you're still around?"
Hash says it's important to remember that many older adults, particularly those living independently in their 80s and 90s, are quite resilient and that their preferences should be respected and supported.
Every situation is unique, and your elderly parents may refuse in-home care for a number of reasons, including:
They just left the hospital and view in-home health care as a reminder of their hospital stay.
They're on a budget, and are worried about the cost.
They don't want a stranger coming into their home.
They're afraid that someone who comes in to help will decide they aren't managing at home, and call Adult Protective Services or send them to a nursing home.
They don't trust strangers in general, or perhaps just the specific person who might come to help.
They're afraid that this change means they will increasingly lose independence.
They would prefer a different solution to the problems at hand.
They don't want in-home care because these services are not accepted in their culture, or due to language barriers.
Talking to your elderly parent about why they don't want in home care, or what they're afraid of, may help you find acceptable solutions.
2. Educate your parent about home health care
Susan Sender, nurse and chief clinical officer of Amedisys, a Baton Rouge, Louisiana-based home healthcare company, explains that the home health services recommended after a hospital stay are meant to support healing and wellness, and lower the likelihood of returning to the hospital. She recommends the below strategies to educate yourself and your elderly parent about home health.
Take advantage of any service coordinators. For example, Amedysis provides families access to a Care Transition Coordinator whose job is helping families understand the benefit of care at home. Medical social workers can also help with this education.
Involve your parent in planning. "The beauty of home health is that we are on the older adults' turf," says Sender. "Make it clear that they are the one who gets to decide who comes into the house."
Create a calendar. Sender recommends displaying a calendar that shows which home health professional is coming on what day, and make sure your parent has some control over the days and times that work best for them.
Explain the timeframe. Knowing whether home help is short-term could make it more acceptable.
For older adults who are worried about strangers in their home, opportunities to meet and interview care providers could increase trust, says Sender.
3. Talk about money
Roya Agahi, RN, clinical director at Centers Health Care in New York City, says that in her experience, concern the cost of home care is one of the main reasons older adults resist it. Many seniors don't know about all the ins and outs of Medicare and insurance coverage, as well as various community resources that may be available.
Medicare covers home health in specific situations, typically on a short-term basis, if a doctor prescribes it. Ask a geriatric care manager or hospital social worker to walk through the details with you and your parent. In many instances, home health care is a covered service. Medicare.gov recommends asking home health providers how much Medicare will cover, and what you'll be expected to pay, before starting home health services.
4. Focus on how it will help others, too
If an older adult is living in an apartment complex or townhome community, or is relying heavily on a network of friends, family or neighbors, it can help to point out that in-home care can also help the people around them, says Lesley Harris, PhD, an assistant professor of gerontology at the University of Louisville.
Agahi recommends getting friends and family involved. Consider whether there are particular people whose argument in favor of home health – or whose positive experiences with home health – could help persuade your parent.
5. Start asking about their preferences early
"Have these discussions as a family and having them early on, because you don't want to get yourself into a crisis situation," advises Hash. Ask your elderly parent about how they prefer to handle the kinds of situations that might lead to needing in-home assistance, such as recovering from an illness, falling, losing vision, having difficulty driving or simply becoming too frail to manage all of the activities of daily living alone.
These can be difficult conversations, so you may want to invite an expert such as a geriatric care manager, to help facilitate these discussions.
6. Be honest about isolation
In some cases, seniors refuse home care because they're already isolated, says Yvonne Johnson, PhD, RN, associate dean of health sciences at Surry Community College in Dobson, North Carolina, whose research on the topic appeared in the September 2015 issue of Home Healthcare Now.
"Perhaps they have been really hurt by others, perhaps they just want to be left alone, and that's a way of keeping people out," she says. Some older adults are alone because their extended family lives far away, and others may have become estranged from family.
While some isolated older adults will welcome in-home care and the regular companionship that can bring, others seem to want to protect their seclusion, Johnson says. Take some time to think through what you know about your parent to better understand why they may want to preserve their isolation.
7. Accept their refusal – for now
If your elderly parent one is safe at home and cognitively capable of deciding to refuse care, Hash points out that you will likely have to accept their decision. Try to find some other solutions that work for all of you, such as having Meals on Wheels or other services come regularly to the home, taking your parent to an adult day care program or local senior center from time to time and checking in with them regularly.
If the stress of worrying about your elderly parent living alone is keeping you up at night, Hash recommends seeking counseling and learning stress management techniques.
However, if your parent is forgetful, disoriented, or physically unable to take care of themselves safely at home, you may need to consult a lawyer about how to obtain guardianship so you can make necessary decisions on their behalf.