Holy Family Manor Pittsburgh, PA
Offers Assisted Living and Memory Care
301 Nazareth Way, Pittsburgh, PA 15229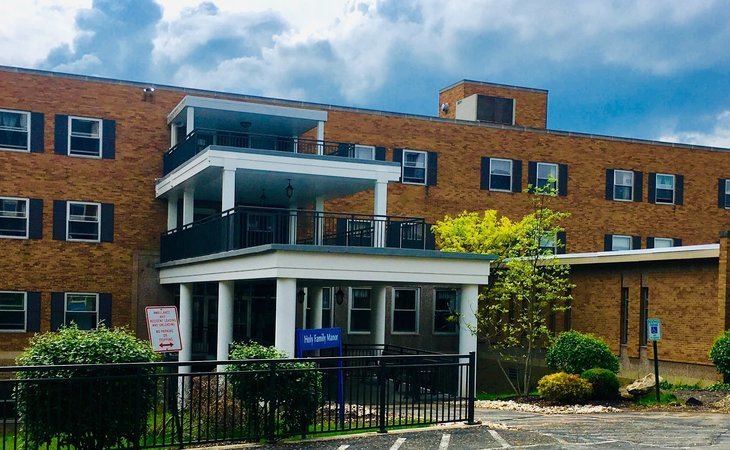 ---
Reviews of Holy Family Manor
Assisted Living Reviews for Holy Family Manor
April 19, 2021
I am a friend or relative of a current/past resident
This facility is very clean well run and my mother enjoys being there.
April 18, 2021
I am a friend or relative of a current/past resident
Following a home accident, my 95-year old aunt could no longer live independently. Through Senior Advisors, we scheduled an appointment with Holy Family Manor. On arrival, we first noticed the cleanliness of the facility, then the friendliness of the staff. The dining room was spacious, bright and cheerful. Having a chapel and Mass services on site was a definite plus for my Catholic aunt. We cancelled other appointments and enrolled her here. She has been a resident for more than a year. In the beginning she received excellent physical therapy and can now walk using her walker. Her room is clean, if not tidy (her doing), her clothes are laundered, and the food is to her liking...too much, she says. She says that the staff treat her like a queen. Most importantly, she has companionship, something she would not have living alone in her home. She enjoys the communal meals and the great variety of activities offered. She is truly happy here and tells me that regularly. Throughout the pandemic, HFM followed all health guidelines and provided great care to keep residents and staff safe, to keep families informed, and to provide communication between residents and families and visits when possible. This is a well-managed facility and has proven to be an excellent choice for my aunt.
April 16, 2021
I am a friend or relative of a current/past resident
Any concerns regarding my mother's care over the last 1 1/2 years has always been addressed immediately and to my satisfaction. This to me is so important. Thanks to a wonderful administration for all their hard work to make this happen
April 16, 2021
I am a friend or relative of a current/past resident
Mom has been here for two years, and even through all of the Craziness of COVID, their team has always put the Resident's first. HFM has a great team of Kind, caring, dedicated caregivers. Mom puts it best when she says, "I miss my home, but if I can't be there, this is the next best thing." We feel blessed to have found the people of Holy Family Manor - their dedication and the respect that they show each resident- the staff members truly are the difference! Thank you !
April 16, 2021
I am a friend or relative of a current/past resident
The management staff here tries very hard, but they are understaffed. Overall, operations and facilities are low tech and dated. Currently they do not take EFT for monthly payments, you must write checks. Resident quarters look like they have the original 1960s finishes. Front line staff need better training. On one occasion when I called a specific staff member so she could help my family member with an issue in her room, the worker who answered the phone told me she wasn't taught how to transfer calls. That was apparently my problem, since I was told to hang up and call back and hopefully someone else would answer who could transfer my call. The quality of workers who assist residents is very hit-or-miss. Once my mother who has dementia was being "helped" with a shower but then was left alone to finish the job. If she had fell, she would have been in real trouble. Other workers actually care and are helpful.
Provider Response
Thank you for sharing your feedback. As you pointed out, our staff is very dedicated to serving the needs of our residents. We take all concerns and criticism very seriously. We welcome you to reach out to Melissa, our administrator to discuss your experience in further detail.
May 15, 2017
I am a friend or relative of a current/past resident
When it came close to the time to place my father into assisted living, I checked into and visited a number of places. Some were not active enough. Some seem to have to much activity for my father. I wanted him to be in a place where there was activity but not be overwhelmed. The majority of the places seemed to be more interested in impressing the family than caring for the resident. Holy Family Manor is a simple place that seems to care more about the residents. Families are important, but the residents come first. The care staff enjoy their jobs, which make taking care of the elderly easier. They try to engage each resident several times of the day. Reminding them of activities and encouraging them to participate. They make sure they go down to the dinning area for their meals. If they don't show up someone goes to remind them it is meal time and coax them or assists them to go down and eat. Although the building is older the care that is provided and the cost is well worth it especially since he has his own room with a powder room. Always a hard decision to make when you have to place a loved one into assisted living. I feel comfortable knowing that my dad is being taken care of the staff are helpful and are attentive to his care needs. When I first went for a tour and information, I had a very peaceful feeling. I knew this was right place. Holy Family Manor may not be for everyone but it is worth your time to check it out and see what they have to offer.
December 30, 2014
I am a friend or relative of a resident
My Momma is in Holy Family Manor, and it is only 10 minutes from our house. We are impressed with it. We chose it because of the cost, location, and staff. They are very accommodating. She has a single room. They have entertainment, activities, bingo, dominoes, and crafts. They have a lot of activities for the residents. They have thanksgiving dinner where they have dinner at the auditorium. They have Christmas dinner there. Since she's not very mobile, we can have dinner with her as a family.
See all Assisted Living reviews (7)
See fewer reviews
Memory Care Reviews for Holy Family Manor
April 16, 2021
I am a friend or relative of a current/past resident
Smaller intimate facility. The memory care unit is a unique gem to be discovered. Personal care areas are welcoming and staff help residents fell like they are home. If you are in need of a loving environment for your loved one visit Holy Family Manor.
May 22, 2016
I visited this facility
The Community at Holy Family Manor had a room for the women filled with fancy dresses and jewelry, and a crib with a baby doll in it to hold for those whose mental capacities were failing. For the men, they had a room with mailboxes, office equipment, typewriters, and things so that they could feel like they were going to work. That sort of impressed me that knowing that they were providing these kinds of things that might make patients feel like they were going to work or taking care of their child. Each caregiver has to take care of six people, so that is an OK ratio. However, since they weren't allowed to use bed alarms, I was afraid that my dad would be on the floor all night long. The community was clean. It's an older building with small rooms that included a bed, a dresser, a commode, and a sink. The person who showed me around took a lot of time answering my questions, and it seemed like a very caring community. If I had to pick somewhere right now, I would lean toward Community at Holy Family Manor for the attention they paid to those in a very small memory care unit with a maximum of 12 people in it.
November 14, 2014
I am a friend or relative of a resident
My dad is at Holy Family Manor. They have private rooms for him and that was basically the main reason why we had him in there. They are also willing to take people who are combative at times, in their locked unit in memory care. The staff are really doing pretty as much as well as they can.
Get Costs
---
Questions about Holy Family Manor
What programs or activities does Holy Family Manor offer to enrich residents' well-being?
Holy Family Manor has a wide range of activities for the residents. We offer Catholic Mass 6 days a week and a rosary service. We have a wonderful intergenerational program with the children from Mt. Nazareth Learning Center. Silver Sneakers exercise program, bingo, tai chi, spa day, jeopardy, the price is right, varies arts and crafts to name a few.
What safety features or security measures does Holy Family Manor offer to assisted living residents?
Holy Family Manor has secured entrances and security cameras at all exits to monitor for safety.
How does Holy Family Manor keep residents' families informed about their loved ones?
Holy Family Manor personalizes communication with families with personal phone calls and/or emails to families.
What is the care staff-to-resident ratio at Holy Family Manor during daytime and nighttime hours?
Holy Family Manor offers above average staffing requirements. In personal care the ratio is 1 to 15. In memory care the ratio is 1 to 6.
How many staffers are on duty in the daytime and overnight?
Staffing ratios in memory care are 1 staff to every 6 residents.
What safety features or security measures does Holy Family Manor provide to protect residents who wander?
Holy Family Manor has a secured memory care unit.
What programs or activities does Holy Family Manor offer to keep residents engaged? How does the staff engage residents' long-term memories?
Holy Family Manor's memory care is specially designed to meet the residents needs, with life stations and tactile items throughout the unit for the residents.
---
Services and Amenities of Holy Family Manor
Costs
All Inclusive Rent
Assisted Living Starting At:

$4464/month

Memory Care Starting At:

$5952/month
Room and housing options
Companion Suites:

We Offer Companion Suites

Studio Apartments
Housing Extra:

Private Rooms
General
Resident Capacity:

47

Pets:

No Pets Allowed
Get Costs
---
About Holy Family Manor
Our residents treasure their personal routines and independence. Residents from all walks of life are welcome. To help each resident maintain their personal routine and to decrease the stress and expense that would be caused by traveling off-site, Holy Family Manor strives to provide the highest quality of in-house care possible, always managed with the warmth and kindness of our thoughtful staff.
Each resident at Holy Family Manor is unique and some require more assistance than others. An individual resident assessment is conducted as part of the admission process. A Personal Care Plan is reviewed with the resident and/or family so that the residents needs are met.
At Holy Family Manor, we believe in caring for the whole individual: the body, mind and spirit. Our care and strict attention to maintaining the dignity and privacy of each resident is important to us.
Assessments are reviewed on a periodic basis to keep care at the appropriate level. Caregivers are on staff 24-hours a day, 7-days per week to monitor each resident�s health needs and daily activities.
What Makes Us Special
Holy Family Manor is a community characterized by a cordial and simple hospitality, a healing and serene environment and respectful relationships rooted in the values of the Sisters of the Holy Family of Nazareth. Our personal care home is located on the beautiful and scenic campus of Mount Nazareth Center in Ross Township.
Get Costs
---
Senior Living Communities near Allegheny County, PA
Senior Living Communities near Pittsburgh, PA
Other Senior Care in Pittsburgh, PA