Mercy Neighborhood Ministries of Philadelphia, Inc.
Offers Adult Day Care
1939 West Venango Street, Philadelphia, PA 19140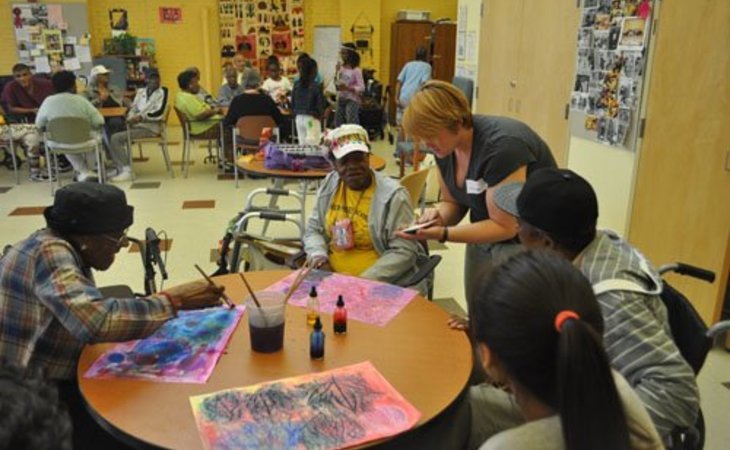 Top Nearby Adult Day Care
---
About Mercy Neighborhood Ministries of Philadelphia, Inc.
The mission of Mercy Neighborhood Ministries of Philadelphia, Inc. is to create partnerships and services that respond to the needs of those who are poor in the North Philadelphia community, especially women, children, and persons with special needs.
The Sisters of Mercy have worked in partnership with the working poor of the Tioga-Nicetown community for more than 40 years. As a result, they have developed relationships across generations that have been manifested in the work of our ministry. Since its incorporation in 2003, MNM has remained a beacon of progress for children, adults, and the elderly in North Philadelphia. In 2005, MNM purchased an abandoned warehouse that opened in 2009 as the Mercy Family Center - the first green building constructed in North Philadelphia and now one of 42 silver level certified buildings in the City of Philadelphia.
Mercy caters to needs of the senior community by offering a safe, caring, and stimulating environment: a comprehensive program that uniquely integrates social interaction, creative activities, personal care, and nursing services.
Based on our experience and the evidence of health and medical providers, Adult Day Care is "the least expensive and most desired form of Elder Care," in that seniors can age in place in their own homes while receiving the necessary services allowing them to live their last years with the dignity they deserve. (NADSA study comparing all Long Term Living options)
Who can participate?
Any adult age 60 and older can participate in our adult day program.
Also eligible for adult day services are those experiencing difficulty with daily activities due to health problems and/or disability.
What do we offer?
Personal care plan
Nursing services
Social services
Socialization and community
Health and wellness activities
Computer activities
Music and crafts
Recreational and cultural enrichment
Delicious, healthy meals
Necessary assistance to continue living independently in their own homes or with a family member
High quality care by caring professionals
Services that improve and enhance quality of life
Sense of belonging and community
Joy and peace of mind
Mercy Neighborhood Ministries offers compassionate, loving care. From the moment you arrive, until it's time to go home, you will receive plenty of attention, respect and a healthy dose of fun!
According to the Pennsylvania HealthCare Association, the median annual cost for a private room in a Pennsylvania nursing home is $99,280. Being able to age in place, attend Adult Day Care, and avoid placement in skilled nursing facilities has saved our current participants at least 85 years of nursing facility costs, which would be approximately $8, 840, 880.00 over 5 years.
In June, 2014, at the annual Adult Day licensing visit by the Dept. of Aging, Bureau of Quality Assurance, the licensing representative commended the Center for good fire safety training, procedures and nursing assessments, observations and goals which incorporate personal care issues which go above and beyond the expected regulations, helping to ensure the most current information is provided to caregivers about the participants.
Facility Type
Adult Day Care (social), Adult Day Health Care, Alzheimer's Day Care
Licensing
Pennsylvania Department of Aging
Costs
Daily costs: $65/Day
Reimbursement: Private Pay,VA, SSI, Medicaid/Medical
Client Care
Conditions Accepted
Incontinence, Limited mobility, Dementia/Alzheimer's, Stroke, Developmental disabilities, HIV/AIDS, Vision/Hearing impairment
Type of Onsite Care
Nursing, Occupational Therapy
Get Costs
---
Map of Mercy Neighborhood Ministries of Philadelphia, Inc.
---
Senior Living Communities near Philadelphia County, PA
Senior Living Communities near Philadelphia, PA
Other Senior Care in Philadelphia, PA