Bayfield Assisted Living & Memory Care
Offers Assisted Living and Memory Care
3932 Monitor Road, Bay City, MI 48706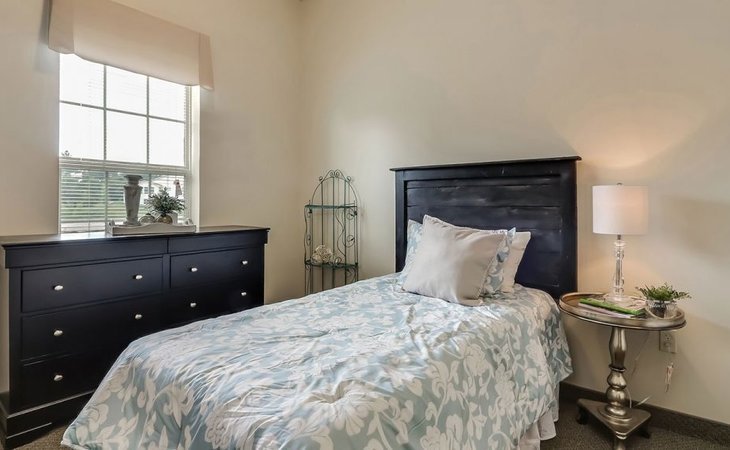 ---
Reviews of Bayfield Assisted Living & Memory Care
Assisted Living Reviews for Bayfield Assisted Living & Memory Care
September 29, 2021
I am a friend or relative of a current/past resident
The staff is friendly and attentive. Bayfield is clean and welcoming. Love the complimentary coffee and tea! 😊
July 16, 2021
I am a friend or relative of a current/past resident
My mom is very happy with the relationships between her and the staff. She loves the activities she wishes there could be activities on Saturday and Sunday because sometimes she says it's just too quiet there. Sometimes my family is not able to visit for whatever reason. One of the cooks there goes out of his way to really make my mother's day and I think that is very special. She feels safe and she does feel that her little place is her apartment. All of the caregivers are very friendly and they always pay attention to my mom and or the other residents. Sue has been accommodating on many measures and I always appreciate the updates on covid status. Our mom is in a good place. Thank you. Stan has also been very accommodating and helping my mom put up her pictures to make her room feel like her home and he helps her a lot with the thermometer in her room she doesn't like air conditioning so stand always helps her regulate so that she is comfortable with her room temperature. It's little things like that that never go unnoticed. When we come back from an outing staff is there to meet my mom and the fact that she has checked up on his priceless. My mom worries that they are low on staff but it does not impact the care that she receives she just worried that maybe they're working too hard. Laugh out loud. I know I can rest easier knowing that she is safe and I'm 2 to 3 hours away. We love her so. She's always been a good mom and a good grandma. Thank you for welcoming her with open arms.
July 15, 2021
I am a friend or relative of a current/past resident
My sister is a resident at Bayfield Assisted Living. She has many issues, both physical and mental, but has accepted the residents and workers as her extended family. They give her a reason to look forward to another day with arts and crafts, games, and exercise. Most importantly, to me, is the food and cleanliness of her environment. The staff has treated me and my family well, answering our questions and listening to our thoughts and suggestions. It is a safe place for her to live.
July 14, 2021
I am a friend or relative of a current/past resident
The apartments are very nice and spacious. The staff is very friendly and helpful. Obviously, the most important thing for my family is the care our mother receives. With that thought in mind, even during the many months that families couldn't visit due to the Virus and the caregivers workload was triple-fold...Bayfield met the challenge with flying colors. They were the only AL facility that the virus didn't take control of. That in itself says how diligent they are in caring for each individual resident. That being said, our mother suffered noticeable cognitive decline during those months. She has just moved from a large 1 bedroom apartment to a studio. Way smaller, but just as nice...and honestly all she really needs at this point. And the CARE is still A#1.
July 09, 2021
I visited this facility
I toured Bayfield Assisted Living & Memory Care for my mom. The people that I saw were happy and the staff was nice. I like the looks of it, and I came across a couple of residents that seemed very happy. I talked to a couple of staff, and the people seemed very nice.
May 05, 2021
I am a friend or relative of a current/past resident
Mom has resided at Bayfield Assisted Living for over seven years. We know that Mom is safe and well taken care of. The care she has received has been amazing. The staff is caring and professional. They interact with the residents in a compassionate manner. Mom looks forward to the caregivers coming in to take care of her. She enjoys talking with them and thinks of them as family. We have a good relationship with the staff. They keeps of advised of any issues that may arise. There are activities and social events that all are able to participate in. The facility is great. We looked around at several other facilities, but none compared to Bayfield. It feels like home to both Mom and us.
April 28, 2021
I am a friend or relative of a current/past resident
The loving care of the staff is wonderful! My Mom felt a sense of belonging immediately on moving in and has already made some special friendships. Activities and social opportunities are a priority, particularly those that involve families and friends of residents.
April 22, 2021
I am a friend or relative of a current/past resident
For the last 4.5 years our experience at Bayfield has been a good relationship. They took car of our Mom with kindness and concern. They were very accommodating working with our family needs.
April 21, 2021
I am a current client of this provider
We have a family member that currently resides here. I really can't say anything bad about this facility. The price for care is comparable and even slightly better than other facilities in the area. I have been helped with every situation that has popped up in the last year. They have managed the place well even in the middle of the pandemic and we were assisted by every means possible to keep the communication going with our loved one. Our needs have been met and I feel that my parent is being cared for in a loving manner. We have had to navigate some choppy waters but all in all things have turned out in better ways than expected.
April 21, 2021
I am a friend or relative of a current/past resident
My father was a resident at Bayfield for about 7 years. The caregivers not only gave him great care, but also developed relationships with him that he cherished. When talking with him he would often refer to his caregivers as his "buddies." The social interaction that Bayfield provided him was so good for his health and well-being. We never had to worry about his welfare, because we trusted that he would always be well cared for at Bayfield!
April 20, 2021
I am/was a resident of this facility
Friendly caring staff, food is excellent, rooms are big. Building is well kept up and very home like. Activities all through the day. Executive Director, and Director of Resident Care are both Nurses.
Provider Response
Thank you so much for entrusting us to care for your loved one. We strive to ensure purpose and meaning in all of the residents lives we serve.
See all Assisted Living reviews (11)
See fewer reviews
Memory Care Reviews for Bayfield Assisted Living & Memory Care
March 31, 2022
I am a friend or relative of a current/past resident
Bayfield is not a facility, it is a HOME and the staff and community quickly become family. Bayfield was an absolute blessing for my father as a resident and my family as his loved ones. We are forever grateful for the exceptional care he received and the beautiful people who provided it!
July 14, 2021
I am a friend or relative of a current/past resident
Bayfield is a beautiful, clean, spacious facility. It feels light and welcoming with large windows, open areas and cheery colors. The physical building really couldn't be better. We entered during Covid times, so our experience has run through the extremes. During the shutdown we depended fully on the Executive Director as our boots on the ground. Any time we had a concern with Mom's physical or emotional well-being, we had to rely on staff and communicate through them. It felt so intrusive, but they always reacted with patience and empathy. They were angels during a scary and hopeless time. As with most healthcare jobs, Covid has changed the landscape. There has been a lot of turnover in staff and it seems that they have been short-staffed at times. But this is the case everywhere. The staff is friendly, they care for the residents and I would recommend Bayfield to anyone. They also react very quickly to anything you bring to their attention.
January 03, 2020
I am a friend or relative of a current/past resident
I'm not real happy with Bayfield Assisted Living and Memory Care. My mother's bathroom floor was sticky because of dried up urine on the floor. They had no housecleaner so they were giving it to the maintenance man to do, but he wasn't doing it. They also lost all my mom's socks. It's a nice and very clean facility, but they don't do their job correctly. Her room is nice, has a walk-in closet, her own bathroom, and a big window so you can look outside. I have to supply her shampoos and deodorants. They have no batteries for her hearing aids and no denture tablets. It's a pretty place, but they have issues. She's paying way too much for what she's getting there. They don't even check her hearing aid batteries.
Provider Response
Hello, We appreciate your feedback. We are disappointed to read of your experience in our community, as we aim to provide a great experience each day. We would love the opportunity to speak further about your concerns and address any missed opportunities on our part. Please contact our Operations Manager Rochelle at your earliest convenience. Thank you!
Get Costs
---
Services and Amenities of Bayfield Assisted Living & Memory Care
Licenses
State Licenses:

AH090323912
Costs
Assisted Living Starting At:

$3900/month
Memory Care Starting At:

$4425/month
Get Costs
---
About Bayfield Assisted Living & Memory Care
Welcome to Bayfield, a Leisure Living Community in Bay City, Michigan. Here, our assisted living option allows seniors to maintain a level of independence while receiving personalized attention for daily needs. For those facing memory impairment, our care team places an emphasis on forming relationships that nurture and support both the resident and their family. At Leisure Living, we form close-knit and caring communities who share in life's journey together.
Amenities:
• Nutritious meals designed to meet a variety of dietary needs • Multiple floor-plan options • Wheelchair-friendly • Walk-in showers with safety bars • Interior walking areas • Life enrichment activities • Housekeeping and laundry services • Peaceful outdoor spaces • And more
Assisted Living:
Our Assisted Living community provides personalized care in a comfortable, home-like environment. Assisted Living residents stay active and engaged with robust life enrichment programs and maintain as much independence as possible while being supported by around the clock care. Residents are provided with freshly prepared meals and housekeeping services to meet their needs and allow for a worry-free lifestyle.
Memory Care:
Moments Memory Care™ is Michigan's first trademarked Memory Care Program. We focus on providing a safe, comfortable environment for those experiencing memory loss. Our Moments program balances residents' physical and emotional needs with individualized care planning and specially trained care team members.
Get Costs
---
Map of Bayfield Assisted Living & Memory Care
---
Senior Living Communities near Bay County, MI
Other Senior Care in Bay City, MI