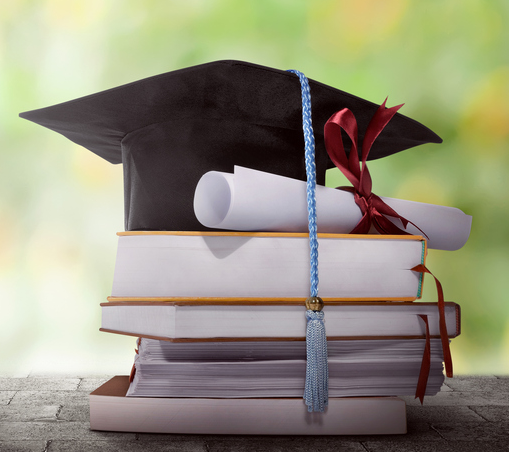 The Caring.com Student Caregiver Scholarship award provides university students in the United States with a $1,500 scholarship grant for tuition and/or books, based on each applicant's compelling 1,500-word essay or two-minute video story submission.
Venus Tadrzak is a student at Cleveland State University who is studying accounting and caring for her mother, aunt and their pet cats. Venus was among the nearly 250 student caregivers who applied for the latest round of scholarship grants, and was chosen by a panel of senior care expert judges as one of just two winners. This is her caregiving story, submitted with her scholarship application.
Who are you caring for and how are you involved as a caregiver?
A few years ago, my mother was diagnosed with a brain tumor. She underwent surgery to have it removed. The surgery was successful, but left her with mobility, memory and mood control issues. Later, she suffered a stroke that exacerbated those issues and left her with extreme tremors on her right side. While my mother was recovering from surgery, but before the stroke, my grandmother passed away. She had been caring for my aunt (my mother's twin), who suffers from schizophrenia.
After my grandmother's death, my aunt moved just down the hall from us, so that she would continue to have someone to look out for her. I am in charge of the entire household and all necessary decisions. I perform all cleaning, cooking, shopping and laundry duties. In the morning, I assist my mother with washing up and getting dressed. Then I prepare breakfast for everyone (including seven cats) and crush up my mother's medications, since she cannot swallow pills.
After everyone is settled, I get ready for class. Since none of us learned to drive, I take a one-hour bus ride to the University. During my lunchtime, I can be found on the phone ensuring that everyone is all right, my aunt included. I also often use that time to make any needed doctor's appointments, to clarify any medical directions or discuss veterinarian appointments and issues, especially since one senior cat suffers from epilepsy. In the early evening, I catch the bus and stop at the store for any needed supplies.
Once I come home, I start dinner and any necessary cleaning. I sanitize the bathroom floor twice a day due to accidents. After dinner, I crush up my mother's nighttime medications, wash the dishes, prepare the cat's medication, help my mother undress and study for classes. Since my mother is often too tired at bedtime, I will spoon feed her the pills in applesauce or pudding. If my mother wants to venture outside, she requires a manual wheelchair, but our apartment has outside stairs. Because of this, I will half-carry her down the stairs to the sidewalk where the chair is waiting, which is not easy since she outweighs me. After that, I wheel her to wherever we are going, a task made more difficult by uneven sidewalks.
I am responsible for making budgets for both households and stretching fixed incomes to ensure that all bills are paid. I have become the resident teacher for both my mom and aunt when it comes to using all technological devices (computer, cell phone, etc.), as well as maintaining them. My mother qualifies for various social programs, so I complete all applications for her and contact each of her workers. She receives mail-order medical supplies, which I monitor and reorder as needed.
I enjoy taking care of my mother, aunt and our cats. The hardest part is that I also have issues with major depressive disorder, post-traumatic stress syndrome, obsessive compulsive disorder and panic attacks, but I know that nine other lives depend on me.
How has your role as a caregiver influenced the decision for your major/career path?
Before finally deciding on a major, I needed to look deep into myself. I had to seriously ask myself what my strengths and weaknesses are. What is it that I most enjoy doing and where can I be of the greatest benefit for others? I enjoy going to the senior apartments where my grandmother lived and being a craft teacher for the residents, teaching them crocheting, knitting, quilting, and tatting.
I enjoy helping the residents with their book club to decide what should be next on the list. Perhaps I should become a teacher or librarian to help inspire others in the wonders of reading and all the adventures it can bring, and the moments when you get to become the hero/heroine of the story.
I enjoy being the caretaker of my cats. Perhaps I should be a veterinarian or a vet's assistant. With seven cats, I am well versed in how they communicate with each other and how best to assist someone in having a smoothly run multi-cat household. I know the problems encountered with multiple litter boxes and how to persuade a cat to take medication. I know the pain and sorrow of having a best friend on four legs pass away and the hole in your heart they leave behind that few others can truly understand.
I find joy in the role of home health giver for my mother and aunt. I am proud of the trust they place in me to handle their affairs and to make certain that the household runs uninterrupted. Perhaps I should be a nurse to take care of others the same way I provide for them.
The two support groups for which I am a sponsor view me as a role model. I provide guidance for new members and help them to form brighter outlooks. I help them gain self-esteem and to know that they are valuable, recognized, and loved. Perhaps I should become a psychologist and help others to see the world differently.
After so much soul searching, I reached one conclusion that may seem completely off-track, but I found that it is the best way for me to help others. My absolute greatest strength, my refuge, and my utmost interest is in the realm of numbers. I find myself striving for the highest potential when I am organizing the household budgets to provide the best possible outcome for everyone that allows for extra-curricular activities.
The path I chose was accounting. I want to volunteer for the National Alliance for Mental Illness (NAMI), to assist them in stretching their donations for the highest return. I want to donate my time to help lower-income seniors file their tax returns and receive the most in rebates. I want to assist those at the bottom to organize their finances so they can enjoy something as simple as a movie or dinner out.
How would this scholarship be helpful to you in your current student-caregiving role?
Receiving this scholarship would mean the world not only for me, but for many other people as well. In addition to caring for my mother, aunt and cats, I'm a sponsor in two support groups. The first group is Adult Survivors of Child Abuse (ASCA), and the second is Light of Hope, a group for those suffering from mental illness. As a sponsor, Iteam up with new members to provide guidance and support.
In the support groups, we help new partners with problems in their lives and listen and talk with them during mental "snags." The other members of the groups keep track of my accomplishments while attending Cleveland State University. I have achieved a 3.7 GPA and have been on the Dean's List every semester since I began my education, often receiving a 4.0 GPA for the semester while taking a full-time course load. Many in the groups view me as a role model to aspire towards.
This scholarship can very well mean the difference between my being able to complete my education or not having enough funds. My Pell Grant is almost expired, and I need three more semesters of five classes each to graduate. If I cannot complete my degree, I worry about the effect it may have on the other support group members. "If she couldn't do it, then what hope do I have?," they might think. I want so very much to prove to them that a brighter future is possible and that society will acknowledge our accomplishments.
The funds from this scholarship would be used for tuition and textbooks. It would take a great burden off my mind that I'm in danger of failing everyone I hold most dear. Often, my mother and aunt will ask how I intend to finish my education, and at this moment I don't know how to answer them. They're worried that after all my hard work and perseverance, I will not be able to afford my last semester.
So many other eyes are watching my accomplishments and rooting for me to cross that finish line as the first in my family to receive a college education and as a person with mental illness to be able to graduate summa cum laude, as I intend to achieve that distinction. I want more than anything to prove to others that a successful future is possible and to provide something for my mother, my aunt and our cats that we've never had: a house. Their greatest dream is to see me succeed and to help them cross the threshold of a house that they can enjoy, relax in and relish.
This caregiving story has been lightly edited for clarity and length.