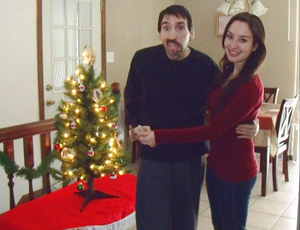 All Rights Reserved
The Caring.com Student Caregiver Scholarship award provides three (3) university students in the United States with a $1,500 #CaringScholar grant for tuition and/or books, based on each applicant's compelling 1500-word essay or two-minute video story submission.
Rashelle Quinn is a student at Regis University who is majoring in nursing and caring for her father, who suffered a severe brain injury in a car accident when she was a child. She was among more than 1500 student-caregivers who applied for the #CaringScholar grants in Spring 2015, and was chosen by a panel of senior care expert judges as one of three recipients.
This is her caregiving story submitted with her scholarship application, which responded to these three questions:
Who are you caring for and how are you involved as a caregiver?
How has your role as a caregiver influenced the decision for your major/career path?
How would this scholarship be helpful to you in your current student-caregiving role?
---
Please post a supportive comment for Rashelle below, share this story to inspire others who caring for a loved one while attending college, and/or learn more about our #CaringScholar program.