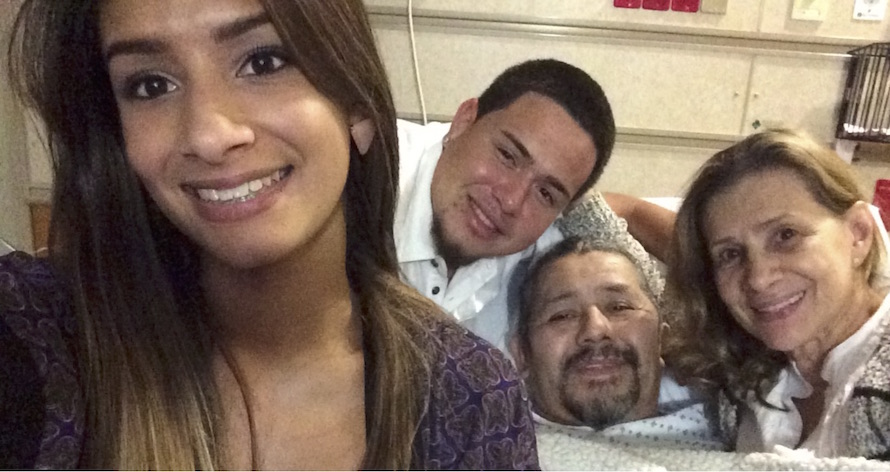 The Caring.com Student Caregiver Scholarship award provides three (3) university students in the United States with a $1,500 #CaringScholar grant for tuition and/or books, based on each applicant's compelling 1,500-word essay or two-minute video story submission.
Nicole Gambetta is a student at University of Central Florida who plans to study physical therapy and is caring for her father, who suffered a stroke. Nicole was among more than 725 student-caregivers and 25 finalists who applied for the latest round of #CaringScholar grants, and was chosen by a panel of senior care expert judges as one of just three recipients. This is her caregiving story submitted with her scholarship application.
Who are you caring for and how are you involved as a caregiver?
I became my father's caregiver on October 17, 2014, which is the day my father suffered from a stroke caused by an aneurism in his brain. It all started right then and there from the moment he was rushed into an emergency surgery to stop the bleeding in his brain, to the weeks of him being in a coma after his surgery. During this time I was enrolled in my fall semester as a full time student, but I had to also be at the Orlando Florida Hospital every single day and night to be by my mothers side who does not speak English, and to be there for my dad to make sure he was receiving the proper care that he needed while he was in this coma state.
Even though I had all the responsibilities of school and being with my mother so that she understood what was going on with my dad, I also had to learn that bills were still coming in and someone had to pay them. I had to make sure every bill was taken care of, but I had never paid any of their bills so I had to learn how to pay them and when to pay them.
When my father woke up from his coma we were told that he was disabled because of the fact that he did not know how to speak, write, read, and wasn't fully there with part of his brain being affected from the bleeding and the stroke. Before the stroke my dad was the only working person in our household, so we began to struggle financially because of all the money being used for bills, medications, and other expenses.
My mom and I handle taking care of my dad's needs that I can't do on my own like bathing him, and feeding him. I take care of all of my parent's bills and together there are so many, I drive them to appointments as well as schedule their doctor's appointments, I took care of doing all the applications that had to be filled out in order for my dad to apply for disability and any other form of government help, I make sure to give my dad his medications everyday at a specific time, I keep track of his blood pressure and make sure that his sugar is at a good level, I do anything to make sure my dad is getting the help he needs to recover and to make sure that he is healthy.
It has been a stressful and busy year with handling so many things all on my own and trying to continue to be a full time student. I can say that there have been times where I felt like I wasn't going to be able to do it all and I felt overwhelmed with my situation, especially since I had never had so many responsibilities put on me all at once, But I did my best to maintain a positive outlook on things and continued to push forward because I knew I had to not just for myself but for my parents as well.
How has your role as a caregiver influenced the decision for your major/career path?
I have always known that I want to have a career that had to do with helping people in any way possible. Previous to my dads stroke I had decided to be a psychologist because I would be helping people but I knew I truly didn't want to major as a psychologist I was just taking the easier way out. While being by my dads side as he recovered from his stroke I saw him receive physical therapy while being in the hospital so that he could learn to walk again and do any physical activity.
The first time I saw my dad stand up and realize he couldn't walk it tore me apart. He felt so confused and frustrated because he couldn't understand that he had been lying in a bed with no muscle movement for weeks so it affected his muscles and the rest of his body by making him extremely weak. I didn't know how to handle the whole situation it truly broke my heart. The next day Physical therapist from the hospital came in to help my dad get out of bed and try to get him to take a walk.
These physical therapist accomplished their goal and when I saw the smile on my dads face the second he was able to take a step it made me realize that I needed to do what makes me happy and what I truly wanted to do which was to be a physical therapist. Since then I have seen my dad receive physical therapy and I have seen the progress he has made and it makes me grateful to have people who help others in situations like the one my dad is experiencing.
I know that physical therapy is what I want to major in because I can't wait to help people regain the ability to walk or use a body part that they have been unable to use, I cant wait to help people feel happy and strong. This is the career of my dreams and I'll do whatever it takes to become a successful physical therapist that helps as many people as I can. Being a caregiver for my dad has only strengthened my decision more and more.
How would this scholarship be helpful to you in your current student-caregiving role?
This scholarship would be a tremendous help for my expenses for the incoming summer and fall semester. It would help me pay for my books, test that I have to pay to take, and the remainder of what I have to pay for my classes that my financial aid doesn't cover. Ever since my dad was left disabled he of course was told that he was not able to work, him being the only income for our household previous to his stroke has really caused a financial hardship for my family and I.
The money that my dad is now receiving for being disabled is not enough to cover all of my parent's bills and daily expenses as well as my school expenses, and since I have to take care of my dad the little jobs I do on weekends isn't much pay either. This year I did not receive as much financial aid as I thought I would because of the income that my dad made for the previous tax year.
It has been really tough for me to afford my classes because of the financial situation that we are in, I've had to drop classes this semester because of the fact that I cant pay for them and since I am a full time student my classes are expensive. I would greatly appreciate this scholarship and the help it would provide for my school expenses for this semester and my summer classes. My class for this summer being my last class to take in order to graduate with my associates degree in order to begin my Bachelors next fall are very important to me. This scholarship would be of much help to me and would be very appreciated from my family and I.