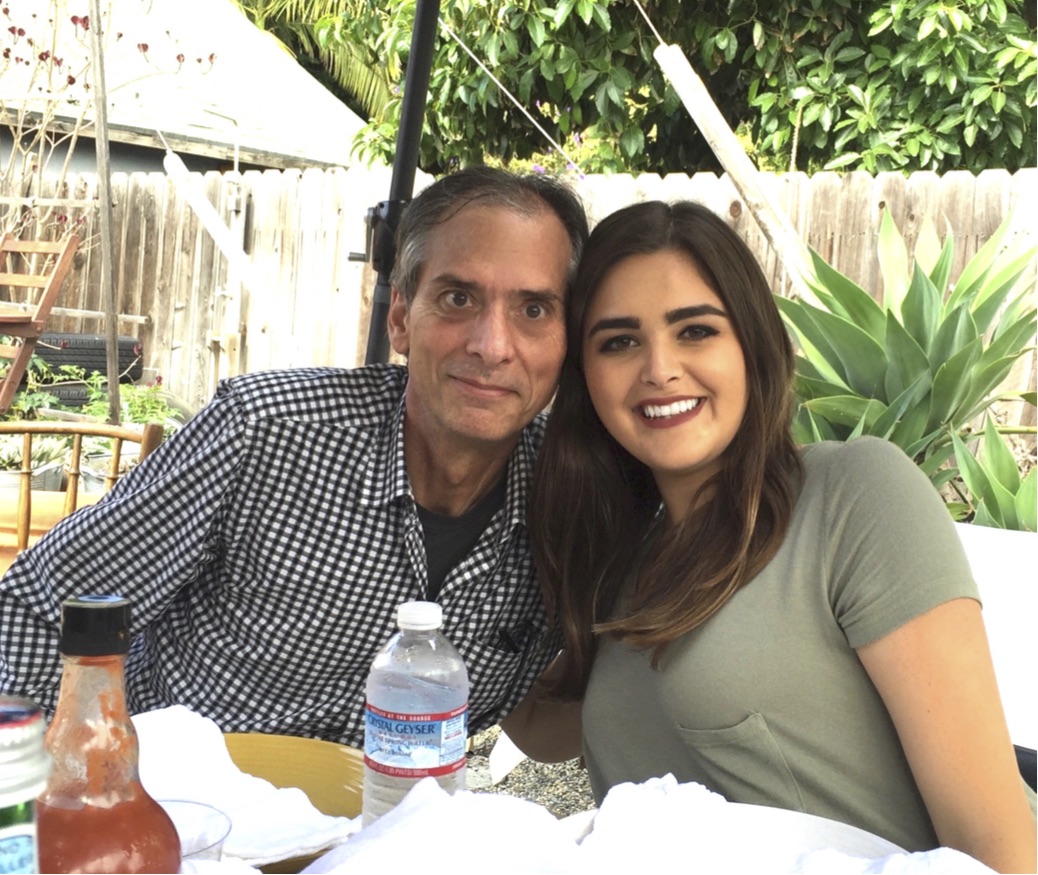 The Caring.com Student Caregiver Scholarship award provides three (3) university students in the United States with a $1,500 #CaringScholar grant for tuition and/or books, based on each applicant's compelling 1,500-word essay or two-minute video story submission.
Judy Lucente is an incoming freshman at California State University San Marcos who is majoring in psychology and caring for her father, a disabled cancer survivor. Judy was among more than 725 student-caregivers and 25 finalists who applied for the latest round of #CaringScholar grants, and was chosen by a panel of senior care expert judges as one of just three recipients. This is her caregiving story submitted with her scholarship application.
Who are you caring for and how are you involved as a caregiver?
My name is Judy Lucente. I am an 18-year-old girl from southern California. I will be attending California State University San Marcos in the fall of 2016 to study psychology. I have been my father's caregiver since I was eight years old. My father, Brad, is 54 years old and disabled. When I was two years old, my dad was diagnosed with esophageal cancer, a type of cancer that is almost impossible to beat. After months of chemo and radiation he was cancer free. There is only a four percent chance the survivors of esophageal cancer will survive five years after becoming cancer free. This is because of the huge toll it takes on the body. During cancer my dad lost a dangerous amount of weight. He was unable to eat and had a feeding tube. The cancer had spread and half of his stomach was removed. His body was producing enough stomach acid for a full stomach, causing him to feel sick lots of the time and be unable to eat. His health was not great, but it was was better than still having the cancer.
Five years cancer free was a cause for celebration, he had made it. The happiness was short lived though. Just weeks after, my dad came home from golfing extremely sick. That night he was rushed to the hospital and went into cardiac arrest and died. He was revived and put into an induced coma. He had severe pneumonia that was spreading rapidly. His body was trying to fight off infection while keeping his heart and brain alive. All of his blood drained from his hands, feet, nose, and ears causing them to die. My mom was left with the decision of amputating his hands and feet or letting him die. His ears and nose were saved, but he lost both his hands and feet. I was only eight years old.
When he became healthy enough, he was moved to a nursing home. Here he would learn to walk again with the help of prosthetics. That was the beginning of a long road. Around this time my parents filed for divorce. My mom moved out and when my dad returned home I was left to take care of him.
During his second sickness, the pneumonia, my dad had more of his stomach removed. He now had a quarter of his stomach, and no appetite at all. He weight no more than 120 pounds to this day. He suffers from phantom limb pain, acid reflux, anxiety, and depression. He has a very compromised immune system, allowing the common cold to become much more.
Beginning at age nine, I basically became a parent. I took care of my dad who was always sick and in pain. I cleaned, did laundry, packed lunches, and more. It was difficult to say the least. I do not remember my life before my parent's divorce. I don't remember getting to be a kid and play in the neighborhood.
How has your role as a caregiver influenced the decision for your major/career path?
I have gained so much from seeing a therapist. It has helped me get through the hard times, embrace the good times, and prepare myself for the future. I don't know what I would have done without someone to confide in. Let's be honest, being your father's caretaker is not all rainbows. Years later I am so thankful for everything I have gone through. I would not be the person I am today if none of these things had happened. I was forced to fight through it all and I am a better person because of it. The traumatic events I have gone through in my life have taken a toll on me as well.
I have been diagnosed with depression, anxiety, and PTSD. This has been a setback but has also improved my own work ethic. Caring for my father, being in school, and having a job is very hard, but I have made it work. My dad has been strong through everything, so I have to continue to stay strong for him. I love my dad and I would give anything to make him happy. He is my idol. Taking care of him has become a part of me. I am a caregiver naturally. This is why I am going to school to study psychology. I want to become a therapist. Family, marriage, and teen. It's hard and sometimes it seems impossible to keep going. I want to be that safe place for others going through hard times. A safe room to go to to spill out problems and rejoice the good things in life.
How would this scholarship be helpful to you in your current student-caregiving role?
One of the largest setbacks I have, and will be facing is paying for college. The medical bills that come from cancer treatment, amputations, hospital stays, ambulance rides, prosthetics, and medications is overwhelming. This has left my family with little to no money to get me to college. I will be the first person in my family to attend college and I have worked incredibly hard to get there. I have a 3.7 overall high school GPA and am also a Varsity athlete.
My family is so proud of me and wants to send me to the college of my dreams. Unfortunately, that is just not the reality for us. We do not have the funds to make that happen. So this is why I am working to find all of the means necessary to get myself through college.
Cal State San Marcos is just thirty minutes from my hometown of Dana Point. I will be living on campus but coming home frequently. My brother plans to become more available to help my dad, so that I am able to focus on school. It is going to be a huge change for me to focus on myself. I have never been able to just focus on school and work.
I am nervous to see how it will all go, but I'm so excited at the same time. I am doing whatever I can to raise money to reduce the student loans I will be left with. My family has been in debt for so long from all of my dad's medical bills that I feel guilty for adding onto that debt. My dad could not be more proud of me right now. He sees my passion for people. He is a great father and I am so thankful for him. Watching him panic about getting me to school is hard.
He feels like he has failed because we do not have the money. That is not how I see it. My father has been the biggest role model in my life. He has taught me how to treat others and to treat myself with the same respect. This scholarship would mean the world to my family. They are excited to see me begin my future.
---