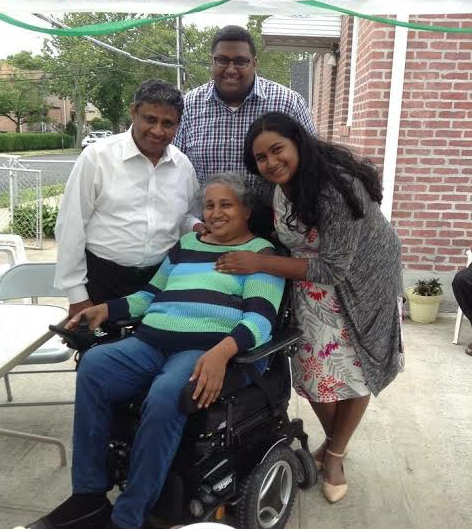 The Caring.com Student Caregiver Scholarship award provides three university students in the United States with a $1,500 scholarship grant for tuition and/or books, based on each applicant's compelling 1,500-word essay or two-minute video story submission.
Jessica Jacob is a student at Adelphi University who is pursuing a nursing degree and caring for her mother, who is paraplegic. Jessica was among more than 950 student-caregivers and 25 finalists who applied for the latest round of #CaringScholar grants, and was chosen by a panel of senior care expert judges as one of just three winners. This is her caregiving story submitted with her scholarship application.
Who are you caring for and how are you involved as a caregiver?
I am a caregiver for my paraplegic mother. On November 15, 2015, a drunk driver rammed into my family's car and caused a devastating accident. My mother endured the most injuries out of all of us; she was sleeping across the back seats without a seatbelt on, so she was thrown onto the floor of the car, which resulted in a spinal cord injury and paraplegia.
After the accident, my mom was on a ventilator for a month in an Intensive Care Unit (ICU) in Oklahoma where she endured multiple surgeries. She was then flown to an ICU in New York for another month and then stayed in a rehab for almost 3 months to learn how to live with her new disability and how to breathe on her own. I stayed with her during each step of the recovery process and traveled every single day to be by her side -- the nursing staff and employees at each facility knew me by my name.
My mother's paraplegia from her spinal cord injury left her wheelchair-bound and incontinent, and on top of her spine injury, she had numerous fractures that left her unable to do simple things like open a water bottle or comb her hair. This is where I came into play, doing little things to help, like positioning her comfortably in bed, fanning her when she felt hot and overall doing my best to keep her mood up.
I care for my mother in multiple ways - I'm her nurse who helps with her incontinence by catheterizing her four times daily and using an enema to empty her bowels. I clean her up if she has accidents and bathe her daily. On top of being her nurse, I'm also responsible for keeping track of her medicines, knowing when they needed to be administered and giving them to her. I'm in constant communication with the pharmacy and medical supply companies, because I keep track of ordering her prescriptions and medical supplies.
I am also my mom's secretary, because she's had more than 5 doctors to follow up with after coming back home, so I schedule her appointments for her. I have arranged her transportation, and accompany her on each trip, among other responsibilities. I also provide emotional support and try to make her as comfortable as possible, since she's still adjusting to life as a disabled woman. I am a relatively young caregiver -- I was only 19 when I began caregiving and I base my schedule and social life around my mother because she's my primary responsibility.
How has your role as a caregiver influenced the decision for your major/career path?
"I don't want you to be a nurse like me, I came to this country so you could have better opportunities and achieve more than I did," my mother, a registered nurse herself, said to me while I was in high school and trying to decide what to do with my life. At the time, I knew I wanted to do something related to healthcare but I just couldn't decide what.
I totally disregarded the concept of nursing because my mom had turned me away from it; referring to me endearingly as "daughter" in our language, she told me that although nursing is rewarding, she'd rather see me pursue a career like that of a doctor, because I have the opportunity to achieve that in America while she did not growing up in India. Little did we know, a few years later I would actually become my mother's nurse and end up loving it.
My mother has been a tremendous encouragement to me when the days are difficult, and more astonishingly, she has been my number one advocate to pursue nursing. She sees the care I provide her, and the relief on her face is evident as I provide that care. She constantly tells me that I'm the reason she has made it this far, and always provides me with an incredible amount of love.
I was scared to tell my mom initially that I wanted to pursue nursing because she was totally against it, but as soon as I told her, a smile lit up her face and she told me it was evident that I would follow in her shoes. By the time my mom was discharged from rehab, I was responsible to catheterize her four times daily because she was unable to do so herself. The nurses trained me how to do that, and also how to use an enema to to help with my mom's incontinence, and how to tend to her bedsore.
Performing these procedures and helping relieve my mother's tension gave me a sense of joy. This experience further stimulated my interest in becoming a nurse, since I already have some of the same responsibilities and I have the desire to help people who are unable to care for themselves.
How would this scholarship be helpful to you in your current student-caregiving role?
Unfortunately, my mother was my only parent employed at the time of the accident, and now that she is disabled we are solely living off of her disability income, which is a significant reduction from what she was earning. I attend Adelphi University, a private college in New York that raises tuition each year. I have some scholarships, but my family still has to pay a hefty amount out of pocket each semester, and that cost will only rise until I graduate.
I work part-time in an ophthalmology practice to support my family, along with being in school full-time and being my mother's full-time caregiver. The stress of juggling work, caregiving and studying has definitely been stressful and taken a toll on my quality of life, since I tend to stress over deadlines and assignments, and have very limited time to divide between caregiving, personal needs, and school work.
I'm especially nervous because this upcoming semester, I won't be able to work because I have to take extra classes to maintain progress in my program and graduate on time. I am unsure how we can afford to pay for my tuition, because I want to avoid taking on loans and I also want to devote my limited free time to studying. I came across this scholarship opportunity and was in shock, because it's an opportunity to help my family have one less thing to be concerned about.
We have multiple bills to pay due to the accident, along with costs for my mother's health and wellness. In addition to these expenses, the cost of living here in New York is quite high. My out-of-pocket tuition costs would be significantly reduced with the help of this scholarship, and it would provide me with the time I need to devote to studying that I would not otherwise have if I were working. I want to be able to maintain my grades so I can achieve my goal of becoming a nurse to help others and make my mother proud.
This caregiving story has been lightly edited for clarity and length.