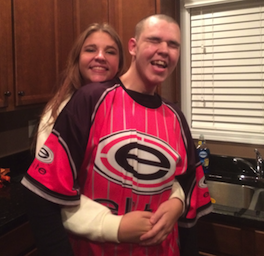 The Caring.com Student Caregiver Scholarship award provides university students in the United States with a $1,500 scholarship grant for tuition and/or books, based on each applicant's compelling 1,500-word essay or two-minute video story submission.
Hunter Johnson is a student at Clemson University who is studying health science and caring for her brother, who has severe autism. Hunter was among the nearly 250 student caregivers who applied for the latest round of scholarship grants, and was chosen by a panel of senior care expert judges as one of just two winners. This is her caregiving story, submitted with her scholarship application.
Who are you caring for and how are you involved as a caregiver?
My name is Hunter Johnson and I have been caring from my brother, Kyle, who is now 20 years old, from the time I was 14. My brother was diagnosed with severe Autism when he was 2 and a half years old and epilepsy at11 months old. I began caring for him because both of my parents had to work full-time jobs in order to pay for all of the medical expenses and therapy expenses that are associated with raising a child with severe medical conditions. I had to give up all-star and school cheerleading as well as the majority of any extra-curricular activities that I was involved in to become my brother's caregiver, but it was something that I gladly did.
My brother needs care in all aspects of his life, so I am there to help him dress, bathe and brush his teeth. I prepare his meals and make sure to cut his food into bite-size pieces so he doesn't choke on them, and I change his diapers and ensure that he has a wonderful, fun day filled with love and adventure. I take him out every day to make sure that he gets to enjoy the fresh air and the wondrous activities that nature provides.
While it can be a challenge to care for my brother as he has some very severe behavioral issues, it has been a blessing to grow up beside my very best friend and to be able to teach him simple things like how to place his dirty clothes in the laundry basket or how to put his socks in the correct drawer, things that other people take for granted. I get to ensure that he has a safe place in this world where he is always accepted and is never judged for what he "lacks" because in the eyes of myself and my family, he lacks nothing.
How has your role as a caregiver influenced the decision for your major/career path?
I believe that my role as a caregiver has directly influenced my chosen career path. Very early on, my dream was to be a veterinarian. I felt that since animals had no "voice," they needed someone who could be that voice for them. After having had the opportunity to be a caregiver to my brother, I realized that like him, there are many people who have no voice, and that made me want to be a voice for children.
Initially, I was hoping to become a special education teacher, but over time, I realized that the medical needs of my brother were very overwhelming for some people and that pushed me in the direction of where I really want to go, and I am now working towards being a pediatric nurse specializing in oncology. I am so grateful that in caring for my brother, I found my true calling.
How would this scholarship be helpful to you in your current student-caregiving role?
If I was awarded this scholarship, it would not only help me, it would help my family as well. It would allow me the time to continue on as a caregiver for my brother as I would not have to obtain an additional job in order to help with college expenses. It would allow my brother the opportunity to continue to be cared for by someone who has his best interests at heart and who will make sure he receives the services he so greatly needs and deserves.
It would give my parents the peace of mind knowing that their son is being cared for by someone who will make sure he is safe and happy, because that is one of the biggest fears there is; allowing someone to care for your child who might potentially abuse them, which is very prevalent in the disabled community. I am the first in my immediate family to be able to go to college, and this scholarship would allow me the opportunity that my parents did not have, to pursue the career of my dreams and make sure that I have the opportunity to do what I love, which is being the caregiver my brother needs.
This caregiving story has been lightly edited for clarity and length.