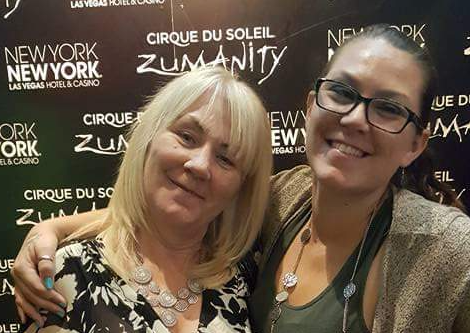 Heather with her mother.
The Caring.com Student Caregiver Scholarship award provides university students in the United States with a $1,500 scholarship grant for tuition and/or books, based on each applicant's compelling 1,500-word essay or two-minute video story submission.
Heather Elliott is a student at Hartnell College in Salinas, California who is a single mother studying to be a paralegal and caring for her own mother, as well as for an elderly woman and her daughter. Venus was among more than 950 student caregivers who applied for the latest round of scholarship grants, and was chosen by a panel of senior care expert judges as one of just two winners. This is her caregiving story, submitted with her scholarship application.
Who are you caring for and how are you involved as a caregiver?
My name is Heather Elliott. I'm 29 years old and am taking care of many people in my life. In 2014, my mother was diagnosed with breast cancer and began treatment, and by the end of 2015, she had surgery and was officially cancer-free.
In the years after the surgery, my mom has experienced some complications. A couple of months ago, her doctor wanted to do a mastectomy and suggested taking muscle and fat from her stomach to put in her breast. My mom agreed, and was in surgery for seven hours. I stayed with her for five days in the hospital.
Since that surgery, she's had a lot of complications. The skin on her breasts ended up dying, so now she will need another procedure once the skin falls off. She also has an infection in her stomach where the incision is and now has a drain in her breast because it was filling up with fluid. I've been taking my mother to all her appointments, going to her house every day to clean, run errands, cook and help with whatever she needs since she can barely walk and is still in a great deal of pain.
While all of this is going on, I'm also working part-time as a caregiver for an amazing elderly woman who was recently diagnosed with dementia. I started working for her a year ago as a personal assistant and helping with her businesses and rentals, but because of my professional background, her daughter wanted me to transition into her caregiver.
I go in everyday and clean her house, take her to appointments, make sure she's taking her medications, go for walks with her, prep meals and basically everything a caregiver does, aside from helping her bathe, dress, etc. because she's not at the stage where she needs that kind of help yet.
This woman has a son who's a police officer and has taken on handling her finances, so he cannot be there to care for his mother. Her daughter doesn't work because she has Stage 4 ovarian cancer. A few months ago, the daughter asked if I could help care for her too, since she is not doing well. She's about 45 years old with a 7-year-old son and is dying of cancer.
I love her and her mother so much that I agreed to take on the responsibility of caring for her, too. I have worked for her for a couple months now and go to her house daily to clean, cook, help her with her son and whatever she needs me to do. I basically have two official caregiver jobs, in addition to taking care of my mother and two children of my own; a 7-year-old and a 10-year-old.
How has your role as a caregiver influenced the decision for your major or career path?
As soon as I was 16, I started working,mostly in the retail and food industries. When I was 22, my grandmother was diagnosed with Alzheimer's disease. My aunt quickly moved her into a care facility and my grandmother hated it, so I ended up moving her back into her home and moved in with her to take care of her. While helping my grandmother I found happiness in caring for the elderly, so I decided to get a job as a caregiver at a care facility, where I worked for four years.
I cared for my grandmother during the five years before she passed away. I also loved my paid caregiving work and did almost every job at the care facility. In fact, I spent more time there than I did at home, sometimes pulling 18-hour shifts. I left that position after four years and began working in housekeeping at a hospital, where I worked for two years before moving to Arizona.
I was only in Arizona a short time because the boyfriend who I moved there with became dependent on alcohol, drugs and women, and things got physical, so I was forced to move back to California with my family. Once I was back, I had to go through court to gain custody of our children. That was a long and difficult process, but it ultimately led me to the path of school.
When I was at the courthouse, I would notice so many people who were confused about how to fill out paperwork, and I knew from personal experience how hard and stressful that can be. That's when it hit me that I wanted to be a paralegal. I would love to offer services and help people at a much lower cost than most places charge. Attorneys are very expensive and not everyone can afford one, so I want to help guide these people so they don't have to spend thousands of dollars on attorney fees.
While being a caregiver is not the career path I've chosen, my experience as a caregiver has guided me in the sense that no matter what, I know I want a career where I'm helping others and doing good in my community. And although I'm on the path to becoming a paralegal as my professional vocation, I know that I will end up taking care of others in one way or another in my future.
How would this scholarship be helpful to you in your current student-caregiving role?
As a single mother working part-time, this scholarship would be very helpful. I'm a very busy woman, yet I only work about 30 hours a week and am not well paid for what I do. I am unable to work more hours because my schedule has to fit my kids' school and activities schedules as well as time for my own studies.
I live alone and have been struggling to cover all of my bills. I mentioned all of the people I'm currently taking care of, but I failed to mention that the one person I'm neglecting is myself. I always make time for others and care for many people on a daily basis. From about 6:30 a.m. to 8:30 p.m. every day, it's all about others. I rarely have time to myself, and when I do, it's spent doing homework, cleaning, laundry, etc.
If I were given this scholarship, I would use it to catch up and on my bills so I could afford to have some time off -- not a lot, but enough to keep my sanity. While I love taking care of others and helping in any way I can, I've been doing that for so long and on such a constant basis that I feel I'm getting burnt out. I'm constantly tired, overwhelmed and stressed about bills, and when that happens I cannot be the best caregiver I have the potential to be. Like everyone, I need some time to myself.
Thank you so much for reading! Good luck to everyone out there! Stay strong, caregivers!
This caregiving story has been lightly edited for clarity and length.