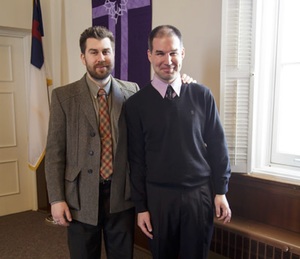 All Rights Reserved
The Caring.com Student Caregiver Scholarship award provides three (3) university students in the United States with a $1,500 #CaringScholar grant for tuition and/or books, based on each applicant's compelling 1,500-word essay or two-minute video story submission.
Ed Makowski is a student at University of Wisconsin Milwaukee who is majoring in journalism and caring for his brother, who has Huntington's disease. Ed was among more than 1,400 student-caregivers who applied for the #CaringScholar grants in the fall of 2015, and was chosen by a panel of senior care expert judges as one of just three recipients. This is Ed's caregiving story submitted with his scholarship application.
Who are you caring for and how are you involved as a caregiver?
My brother Ken and I are three and a half years apart. Since he was more athletic and I was more social my mom joked that I'd be his agent someday. But in high school my mother saw him fall over during a basketball game when nobody was near him. He just lost his balance and fell over. She got that sinking feeling, the same feeling she'd had with my dad. Several years earlier, when my father was in his late 30's, we were on the way to one of my dad's softball games. My father was driving, and my mother noticed his left foot gently twitching up and down. She tells me that she knew at that moment my father was developing Huntington's, the same disease his mother had.
If one of your parents has Huntington's disease, you have a 50% chance of developing it. Huntington's Disease (HD) is a neurodegenerative disorder. A person with HD gradually loses the ability for their body to do what their brain is telling it to do. A person with HD loses coordination, the ability to think critically and solve problems, and also often develops obsessions and dementia. Ken, unfortunately, has a pretty early onset. He quit working and has been on disability since he was in his mid-20's, when he moved in with me.
Right now, to someone unfamiliar with the disease, Ken probably just looks a little drunk. His balance is compromised, his coordination looks awkward, and his speech is slurred. Ken's body is intoxicated, but not with booze. The biggest thing I've tried to do is create an environment where Ken can have as much freedom as possible throughout every day of his life. That was and continues to be my goal when considering how I can help him the most. When shopping for a house, I looked for places that didn't have carpet, which could confuse his feet to step properly, or wouldn't enable the eventual use of a walker.
I completely gutted, redesigned, and rebuilt the bathroom to accommodate Ken's evolving physical considerations. The shower has a seating area, grab bars, and a low threshold he won't trip on. The kitchen is open and without obstructions. I basically took a couple years off from life to fix up the foreclosure that I could afford to accommodate my brother's developing physical needs. Ken likes watching football, documentaries, and travel shows, so I installed a large wall-mounted television in his room. He will be able to live where he is comfortable for a very long time, without needing to consider other living arrangements.
I take care of the yardwork, shovel our winter snow, and do the cooking. I try to make sure Ken's options of how he'd like to spend his day have as few barriers as possible. I feel this is the best gift I can give to my brother; a living situation that enables him to live life the way he wants as long as he possibly can.
How has your role as a caregiver influenced the decision for your major/career path?
When I watched my mom take care of my father for so long, I told her I didn't want to make her go through that again with her son. Especially with Ken having such an early onset, there were only a few years between my father's death and Ken becoming symptomatic. Being a caregiver, I must admit, is not my first nature. I struggle with it, and can't say it's always easy. But I feel like I'm doing the right thing to do and I'm proud to be caring for him.
I don't know that I can say caring for Ken, and the work involved with creating a home for him, has directly impacted the direction for my studies. But all of these various life experiences have made me a more well-rounded human being. Spending time in one place has allowed me many opportunities that may not have otherwise presented themselves. I've become pretty handy. You don't remodel a house built in 1907 without picking up a few skills along the way. I've found my way into becoming a decent rough carpenter, tile worker, painter, and interior decorator. These are all life experiences and skills I'd never have had or developed if I hadn't taken on the task of creating a home for my brother.
While here, I've been able to become a gardener and experiment with apple tree grafting. In summer Ken sits in the backyard for hours listening to the birds while I snip at the cherry and apple trees, pluck weeds and tend to the garden beds. I've gotten to know my home city, Milwaukee, in a more intimate way than if I'd spent the last few years traveling away from it. I've also been able to undertake a series of creative endeavors that would not have been possible if I had not been in the same place.
Now that he's comfortable and the house is sorted without any work needed for a few years, I'm finally in college in pursuit of a journalism degree. I'm glad to say I'm doing very well in my studies. When I do graduate in a few years and start my journalism career, I'll have a greater depth of life experiences to draw from when interviewing people, writing stories, and informing the public. A nuanced and perceptive view of the world, not good grammar alone, make a writer's work worth reading. In that sense, caring for my brother has entirely influenced my writing career going forward.
How would this scholarship be helpful to you in your current student-caregiving role?
Every week, especially during our cold Wisconsin winters, I make a different soup, partially because it's a fun weekly thing to try something new, but also because Ken can eat soup easily. At this point, with Ken's coordination, using a knife to cut things and a stove to cook on is not a safe option. As you can imagine, this is difficult for someone just past the age of thirty. But every week he tells me about all the oddball history facts he's taken in from the past week of documentaries, and I tell him about the papers I'm working on for school and poems I've written. All week while I'm at work or school he can reheat soup filled with fresh healthy ingredients instead of frozen microwavable meals. Between three jobs, going to school full-time, and helping Ken with his needs, finding time to sit down and be where I am is increasingly difficult. I wish I had more time to spend with my brother.
Additionally, I'd like to pursue looking into a service dog for him. I'm a strong believer that physical activity is good for one's mind as well as one's body. I encourage Ken to go for daily walks and be as active as he can be. But Ken has recently begun arriving back home with bumps and bruises after stumbling and falling during his daily walks. A few years ago we attended the national Huntington's disease convention so I could learn about how to properly care for someone with HD. There was a woman at the conference who had a service dog that helped with her balance, and also functioned as a companion while her husband was at work. I think a service dog might be able to help accompany Ken safely on his daily explorations, as well as provide him with a friend when I'm out of the house.
A scholarship from Caring.com will enable me to spend more quality time with my brother while his body and mind are as sharp as they will ever be. I could also take time to research a service dog to help aid him in being more autonomous while he is his most healthy. Your help will empower me to spend less time working and engage in more quality time with my brother. With your gift I can provide my brother Ken with more of the dignified, mindful, and considerate care that anyone hopes to receive from a family member.
---
Please post a supportive comment for Ed below, share this story to inspire others who caring for a loved one while attending college, and/or learn more about our #CaringScholar program.