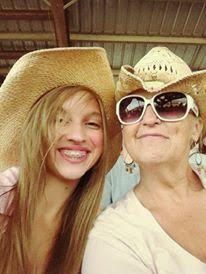 The Caring.com Student Caregiver Scholarship award provides three university students in the United States with a $1,500 scholarship grant for tuition and/or books, based on each applicant's compelling 1,500-word essay or two-minute video story submission.
DreAnna Perry is a student at Brigham Young University who is studying exercise physiology and is caring for her mother, who suffers from a number of chronic health conditions. She was among more than 950 student-caregivers and 25 finalists who applied for the latest round of scholarship grants, and was chosen by a panel of senior care expert judges as one of just three winners. This is her caregiving story submitted with her scholarship application.
Who are you caring for and how are you involved as a caregiver?
I have been caring for my mother, who is turning 58 in December. I'm the youngest in my family and the only one who is still living with her. I've had the opportunity to care for both her and my grandma during my last two years of high school while my mother and I were in a transitional state of residence and had to live with my grandmother, who was in the middle-to-late stages of dementia.
My mother has accumulated several health problems due to her being victim to 40 years of a very abusive marriage. Some of the conditions she suffers from are depression, forgetfulness, a left ventricle heart ablation, arthritis, gout, and chronic headaches, to name a few. I have been there to assist her with the things she struggles to do on her own due to some of these conditions.
She broke her knee during the last 5 months of my time studying at a technical school for massage therapy, and since then my responsibilities have increased significantly in assisting her with more of her basic needs such as helping her get motivated in the morning due to depression, helping her get up and down stairs due to arthritis in both of her knees and her broken knee, transporting her, reminding her to take her medications and to eat at the appropriate times, picking up her medications, reminding her of important appointments and offering supportive motivation.
I have been her caregiver for most of my teenage years, since my older sister moved out when I was 14. I love my mother and all of the service she has offered me without the expectation of any repayment. I feel it is my responsibility to follow in her footsteps and love unconditionally by helping her through this part of her life. It hurts me to see her struggle to do things on her own, because she is a very independent woman and struggles to accept help.
My mother is such a great, intelligent, wise and kind-hearted woman and I love to see her happy. It's hard for me to see her think that she is less than that because she is a little more reliant on others to help her do what she would've done on her own if she were still in her dysfunctional marriage.
How has your role as a caregiver influenced the decision for your major/career path?
This opportunity for me to offer my abilities as a caregiver to both my mother and my grandmother, who passed away in March, has helped me decide the direction I would like to devote my life to. I want to be able to share with others the needs of the body to nourish and love it fully. It truly hurts me to see the unhealthy habits my mother became accustomed to over the course of her marriage. She struggles to notice that these are unhealthy habits, so fixing them is even more of a challenge.
I got into fitness shortly after my mom started suffering more from her accumulated afflictions and it showed me how life can be enjoyed much more fully when we listen to our body and its needs. It took years of being out of her abusive marriage for my mom to even know what hunger pains felt like, she says she was so disconnected from her body and its needs that she never stopped long enough to "understand the discomfort."
I don't want other people to have to go without knowledge of healthy habits. I want people to experience their bodies going further than they ever imagined. I love my mother so much and love to see the happiness on her face when her accomplishments are recognized. I want her to know how much she's taught me, and that she wasn't "just a burden," as she would put it, but that she actually has helped to form me into the person who I am happy to be today.
The thing I would want most in my life is to be something like that for someone else -- to be someone who that person can look back at and see how their life has changed. My mother means the world to me and all I want is to show her that she is not less just because she needs me for some things, and that in fact, she is more now, because she can ask me for help.
Life is not only meant to be lived for yourself but to help others live well. I am so blessed to have such a talented, loving and caring mother who wants more than anything to see her children succeed. I would like to be able to offer that to her in return and to show her that she is and was the keystone in the decision of my career pathway.
How would this scholarship be helpful to you in your current student-caregiving role?
If I received this scholarship, it would help me achieve my education goals without causing me to lack on my responsibilities as my mother's caregiver. My mother has put so much pressure on herself to help me afford college, because she wants only the best for me. Due to my mother's limitations, she is unable to work and help me financially.
I don't want to cause her stress or for her to think that she is less of a mother because she's unable to help me with the expenses of college, as she was with her other children, my siblings. Receiving this scholarship will help me succeed in both my role as a caregiver and as a devoted student. I don't know about you, but a win-win situation sounds like a great deal to me. I thank you for your time and generosity in reading this essay.
This caregiving story has been lightly edited for clarity and length.