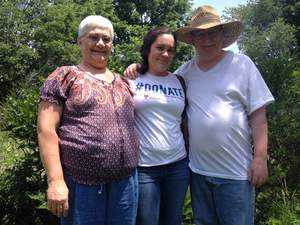 All Rights Reserved
The Caring.com Student Caregiver Scholarship award provides three (3) university students in the United States with a $1,500 #CaringScholar grant for tuition and/or books, based on each applicant's compelling 1500-word essay or two-minute video story submission.
Christina M. Fletcher is a student at The University of Akron who is majoring in nursing and caring for both of her disabled parents. She was among more than 1500 student-caregivers who applied for the #CaringScholar grants in Spring 2015, and was chosen by a panel of senior care expert judges as one of three recipients. This is her caregiving story submitted with her scholarship application.
Who are you caring for and how are you involved as a caregiver?
Both of my parents have suffered a rapid decline in health prior to and immediately following my enrollment as a full time student. My father had a massive heart attack, losing over 75% function of his heart and wasn't expected to survive. My mother is riddled with arthritis and atherosclerosis as well as suffering a break with reality after the sudden and violent death of my youngest sister in 2011.
Neither of my parents are capable of completing activities of daily living without assistance and both receive social security for disability. My responsibilities include meal preparation, grocery shopping, laundry services, medication reminders, emotional support and occasionally transportation to physician appointments, as well as providing them with useful and relevant information for healthy living. I've assisted with the construction of numerous raised garden beds to grow fresh produce, which also provides therapeutic activities for both my parents.
By living in their home, I am able to provide care on a 24-hour basis if need be. I also have a 6-year-old daughter that I have full custody of, and having her to help "grandpa" and "grandma" when they don't feel well provides additional therapy for my parents. They get to see their granddaughter on a daily basis, and my daughter gets to experience direct care of family members and loved ones.
How has your role as a caregiver influenced the decision for your major/career path?
By providing care to both of my parents, I have committed fully to becoming a registered nurse with the focus of community health and hospice/palliative care.
Throughout my clinical rotations and through summertime employment I have been able to see firsthand the burden placed on family members when a loved one is dependent upon their care. Home health aides are not always covered by insurance and many people aren't even aware of services available to them in the way of a home health aid so I feel it is my duty as a nurse to fulfill the role of caregiver not only in my home but also in the community where it is underserved the most.
By being a caregiver for my mother and father I get the unique ability to practice healthcare and refine my nursing skill on almost a daily basis. When either of my parents have questions on medication, I have the resources available to me through my education to help them understand everything they need to understand about their medications. When they are confused at a doctor's visit, I can help clarify information or rephrase questions to the healthcare provider so my parents are always kept well informed.
How would this scholarship be helpful to you in your current student-caregiving role?
Because of the demand of care my parents and my daughter require, I am unable at this time to work even part time. My parents do not have the means to assist with my college education and my source of income is limited to child support and to part time, minimum wage jobs during the summer when I am not attending school.
Because of my parent's declining health, in 2012, after the death of my sister, I was forced to relocate back to Ohio and transfer from the University of Milwaukee to the University of Akron. In the process of transferring, I lost a lot of credits from Milwaukee that did not transfer into the Akron curriculum for the nursing program. I also needed to take a semester off of school to grieve the loss of my sister.
I am expected to graduate December 2015. However I have exhausted my financial aid allowance and have become financially responsible for the remainder of my undergrad tuition costs.
Since I am unable to take on a full time, decent-waged job to help cover the expenses of this last semester, I am hopeful to receive scholarships to ease the burden of the cost. I have cut corners as much as I can by renting course books and relying on library reserve course books, carpooling to save on fuel, and homeschooling my daughter through kindergarten and part of first grade. But it has not been nearly enough to allow me to finish my BSN degree, and I know both of my parents would love to see me be able to graduate without feeling guilty for needing my support!
---
Please post a supportive comment for Christina below, share this story to inspire others who caring for a loved one while attending college, and/or learn more about our #CaringScholar program.