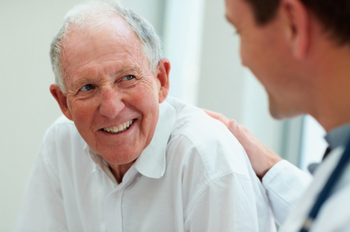 All Rights Reserved
Few things are more stressful than wondering if your loved one is sick enough to need urgent medical attention. If your loved one with COPD is complaining of more symptoms than usual, or if you're otherwise concerned about an acute illness, here's some help for figuring out what to do next.
Note: Always report symptoms promptly to a doctor if you're at all in doubt.
When to call 911
Certain signs indicate a medical emergency that requires immediate attention. Call 911 if:
The person is gasping, having difficulty speaking, or otherwise is much more short of breath than usual.

The person is having signs of a life-threatening heart problem, such as chest pain.

The person is too weak or dizzy to stand.

You notice signs of any other life-threatening medical problem, such as signs of stroke.
When to get urgent medical attention
If your loved one is having increased shortness of breath or other worsening COPD symptoms, you should always consider an urgent care appointment. This is especially important if the shortness of breath doesn't improve with use of whatever short-acting inhaler has been provided.
In particular, get same-day medical treatment from the doctor or a walk-in clinic if:
The person is showing signs of COPD exacerbation, such as increased cough or worsening shortness of breath.

The person is using his or her inhalers much more than usual.

The person has a fever.

The person seems much more confused than usual (also known as delirium).

The person is weaker than usual or is newly dizzy.
If you take your loved one in for an urgent care visit, don't forget to bring all of his or her medications in a bag to the visit. This will help the doctor determine if any medications need to be changed to better manage your loved one's symptoms.
What else you can do
Many doctors' offices provide access to an advice nurse, who can help you figure out what kind of follow-up is warranted by your loved one's symptoms. Also: Check your loved one's blood pressure and pulse (if you have a home monitor) and report this information to the doctor. If you have a home pulse oximeter (which measures the oxygen level in the blood), report that measurement as well. You can also help by counting and relaying how many breaths your loved one takes in a minute.