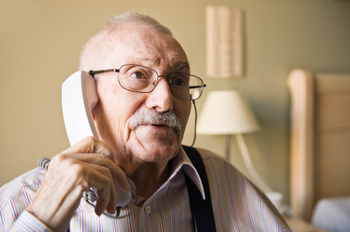 All Rights Reserved
If you're caring for an older adult who's living at home alone, it's wise to have a way to check in daily, in case of a fall or other medical emergency that leaves the person unable to call for help. Two such ways to make that happen: a daily calling service or a volunteer visiting program.
Daily calling services
One simple, free solution -- practically a must for older adults living alone -- is a daily calling service, sometimes referred to as "Are You OK?" services. These are run by police or sheriff's departments in most counties and are provided free of charge.
How they work: A computer calls subscribers at a designated time each day; if they don't pick up, whomever the older adult has designated gets an in-person call. If that person isn't reachable, calls are made to backup people who've also agreed to check on the older adult if necessary.
The fallback if no one can be reached -- or if no one answers a knock on the door once the backup list is alerted -- is that police or other emergency services personnel will be dispatched to the home.
How to find them: Simply call the local police department's nonemergency number and ask about daily calling services for older adults. Once someone signs up, it's important to remember to suspend service when he's out of town or in the hospital. This helps to avoid unnecessary -- and potentially alarming -- calls to the people on his support list when he doesn't pick up.
Volunteer visiting programs
These are another great way to make sure that someone is checking in on an older adult on a regular basis.
How they work: Run by churches, community groups, or social services agencies, these programs vary in how they operate. Most provide trained volunteers who will visit an older adult -- usually for an hour or two once a week -- at home or in nursing homes or senior living communities, providing companionship as well as the reassurance that someone is checking in on a regular basis.
In addition to the comfort of knowing that a visitor will be able to alert someone if the person's health or living conditions start to decline, they provide the most fundamental of all supports -- company and social interaction.
How to find them: Local churches are a good place to start looking for these programs. Even if the person in your care doesn't already belong to a congregation that offers a visiting matchup service, he may still be eligible. Also, SeniorCorps trains retirees to volunteer as companions to older adults. In some regions, AmeriCorps volunteers visit with the elderly while also offering support for such needs as transportation to doctor's appointments.