Making the Kitchen Safe and Convenient for Seniors
100% helpful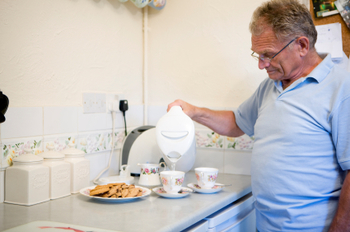 Many of the following suggestions are made to fit the needs of people who are handicapped or elderly who are able to help in the kitchen.
Safety
Use an electric teakettle.
Set the water-heater temperature at 120°F.
Use a single-lever faucet that can balance water temperature.
Provide an area away from the knife drawer and the stove where the person in your care can help prepare food.
Use a microwave oven whenever possible (but not if a person with a pacemaker is present).
Ask the gas company to modify your stove to provide a gas odor that is strong enough to alert you if the pilot light goes out.
If possible, have the range controls on the front of the stove.
Provide a step stool, never a chair, to reach high shelves.
Comfort and Convenience
Use adjustable-height chairs with locking casters.
Install a Lazy Susan (swivel plate) in corner cabinets.
Set up cabinets to reduce bending and reaching.
Put in a storage wall rather than upper cabinets.
For easy access, replace drawer knobs with handles.
Place a wire rack on the counter to reduce back strain from reaching dishes.
Adapt one counter for wheelchair access as pictured above.
Remove doors under the sink to allow for wheelchair access; also cover exposed pipes.
Create different counter heights by putting in folding or pull-out surfaces.
If bending is difficult, consider a wall oven.
Use suspension systems for heavy drawers.
Put pullout shelves in cabinets.
If possible, use a fridge that has the freezer on the bottom.
Prop the front of the fridge so that the door closes by itself. (If necessary, reverse the way the door swings.)
NOTE To reduce the chance of falls and to avoid reaching and bending, place frequently used items at a level between the shoulders and knees.